Watch 'Tie Your Mother Down': Episode 10 In Queen's 'The Greatest Live' Series
This week's episode concerns the song which held the Milton Keynes Bowl crowd spellbound in 1982.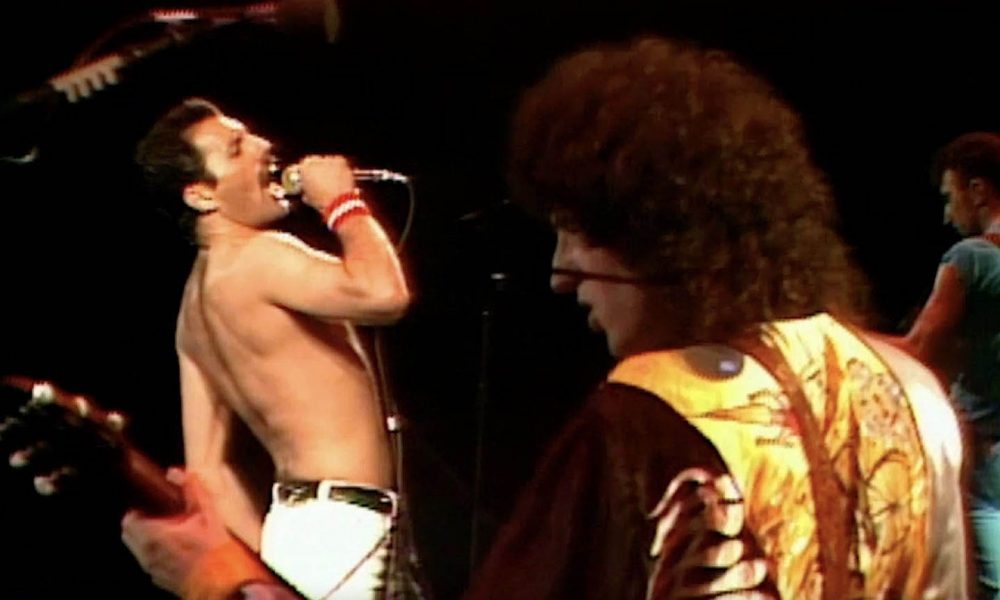 In last week's exclusive video interview, Brian May and Roger Taylor explained the vital role of lighting in the Queen live experience. Now, in this latest episode of 'The Greatest Live', we see the thrilling result of all the band's hard work behind the scenes, as the lineup power through an eye-popping performance of "Tie Your Mother Down" that held the Milton Keynes Bowl spellbound on June 5, 1982. You can check the footage out below.
Queen The Greatest Live: Tie Your Mother Down (Episode 10)
The last of four UK dates on 1982's 'Hot Space Tour' in support of Queen's tenth album, the Milton Keynes Bowl was then one of the nation's largest new open-air venues and demanded a performance to match. As Roger said in a backstage interview before the show: "It's a big field. I hope it goes well."
"Outdoor gigs are fraught with all kind of unexpected things," added Brian.
In the event, Queen's classic performance and epic production at the Milton Keynes Bowl would go down in rock 'n' roll history and later be released in full on 2004's DVD and CD, Queen On Fire: Live At The Bowl. While the band opened the setlist with the title track of their recent Flash Gordon soundtrack, they made sure to leave the crowd with a big number before regrouping for the encore.
Written by Brian and the opening track of Queen's 1976 album, A Day At The Races, "Tie Your Mother Down" was the perfect candidate. "It was built around a riff I'd had kicking around for a long time," Brian told Absolute Radio. "I know pretty much where I first played it. It was on top of a volcanic ridge in Tenerife where I was doing my PhD studies. I had a little acoustic guitar I'd bought down in Santa Cruz, and I remember beating out that riff and enjoying the feeling of bending the string. And I sat there watching the sun go down and singing along to it."
By the time Queen performed "Tie Your Mother Down" at the Milton Keynes Bowl, the song had grown into a driving hard-rock anthem – and with Freddie Mercury commanding the stage in the glow of the band's most ambitious lighting rig to date, it remains an electrifying moment in Queen's history.
Watch every episode of 'The Greatest Live' on Queen's official YouTube channel.