Tomorrow X Together Head To Neverland In 'Sugar Rush Ride' Video
The K-pop boyband's latest EP 'The Name Chapter: Temptation' is out today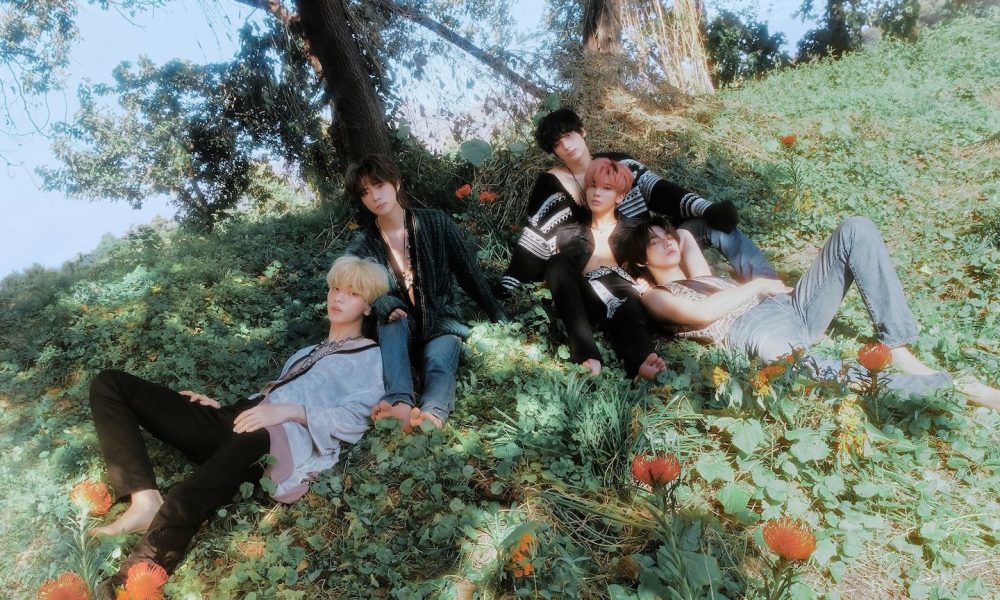 Tomorrow X Together has shared the music video for its new title track, "Sugar Rush Ride," voyaging to a Neverland-like paradise.
The track features on the group's latest and fifth EP, The Name Chapter: Temptation, which was released earlier today (January 27).
"Sugar Rush Ride" takes one of the lines of the Korean folktale Chunhyangjeon – "Come here, let's play" – to create an atmosphere of temptation, with the boyband detailing being unable to "resist it/That sweet devilish smile."
The video finds the group traveling to a paradisiacal land, where they find color-changing lizards, lush fauna, swirls of butterflies, and beautiful waterfalls surrounding them as they tumble into temptation.
TXT (투모로우바이투게더) 'Sugar Rush Ride' Official MV
The Name Chapter: Temptation sees TXT rack up more songwriting credits, with all five members contributing lyrics to the Coi Leray collaboration "Happy Fools," while Yeonjun wrote the topline for the song. Elsewhere, Yeonjun and Taehyun wrote lyrics for "Tinnitus (wanna be a rock)," and the former also helped pen the lyrics for "Farewell, Neverland."
The record takes inspiration from J.M. Barrie's Peter Pan, as evidenced in the ambitious concept trailer shared last year. The teaser followed the five members through a series of dreamlike scenes, starting with the band's members dancing among the clouds before introducing a demonic entity.
"I'll teach you how to jump on the wind's back. You might be flying about with me some funny things to the stars," reads a voiceover, referencing the famous passage from Peter Pan. The Name Chapter follows the group's previous Chapter installments, The Dream Chapter and The Chaos Chapter.
The new EP follows news of the boyband's second world tour, ACT: Sweet Mirage, which will kick off in Seoul in March. From there, it will travel across Asia, with multiple stops in Japan, before heading to the US.
Further details about venues and ticketing information have yet to be released. The tour poster also states, "More to come," suggesting that further cities could be added to the itinerary. Visit Tomorrow X Together's official website for more information.