Trailer Previews Revealing New Documentary 'Joan Baez I Am A Noise'
The film features the seminal singer-songwriter's unseen home movies, excerpts from her diary, and more.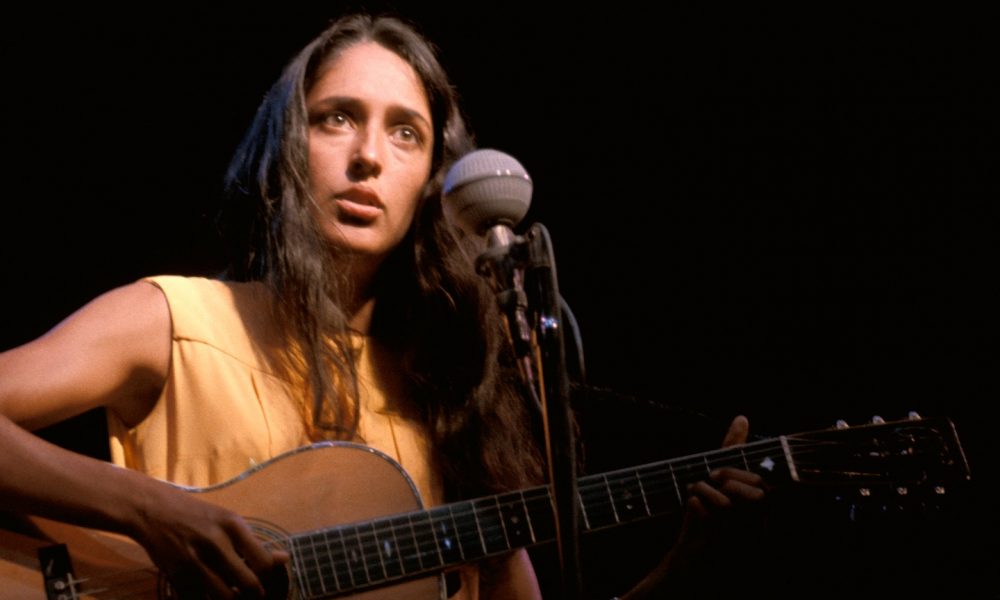 The new documentary Joan Baez I Am a Noise will premiere in New York on October 6, with a wider release a week later, including in Los Angeles. Directed by Karen O'Connor, Miri Navasky, and Maeve O'Boyle, it includes a trove of the seminal singer-songwriter's unseen home movies, excerpts from her diary, therapy tapes, art, and audio recordings, and follows Baez on her final tour, which concluded in 2019.
A press release says the work, one of whose executive producers is Patti Smith, is "neither a conventional biopic nor a traditional concert film." The trailer is available now, and has the artist musing: "I don't think anybody at a young age who gets famous has the slightest idea that it'll ever end. I was the right voice at the right time; it just shot me in another whole stratosphere."
Joan Baez I Am A Noise - Official Trailer | Music Documentary | In Theaters October 6
In a statement, O'Connor, who has known Baez for more than 30 years, said: "Because of my history with Joan, our team was able to embed with her on tour and at home and that extraordinary access enabled us to create an intensely intimate film filled with unexpected insights, heartbreak and humor.
"A biographical strand captures Joan's early years and meteoric rise to fame, a darker psychological thread delves into her inner 'demons' and a contemporary strand tracks Joan facing the end of a 60-year music career. Although we knew Baez's final tour would anchor her contemporary story, we weren't ever trying to make a concert film."
The publicity for the film describes it as "an honest look back and a deep look inward as [Baez] tries to make sense of her large, history-making life, and the personal struggles she's kept private." The documentary explores many aspects of her uniquely influential life and times, including her relationship with Bob Dylan and her commitment to the civil rights movement, when she worked with Dr. Martin Luther King, Jr.
"Joan's willingness to explore the uncomfortable and painful places in her life gives this film its emotional power," concluded O'Connor. "And by going there, Joan may be opening a door for somebody else to go there too. The film also features Bill and Hillary Clinton, Michael Moore, and Baez's mother, Joan Sr., who died at 100 in 2013.
Listen to the best of Joan Baez on Apple Music and Spotify.