The Vandals' Punk Classic 'Hitler Bad, Vandals Good' Turns 25 With Limited Vinyl Reissue
Released in June 1998, the album became an instant classic and, today remains the band's most successful title.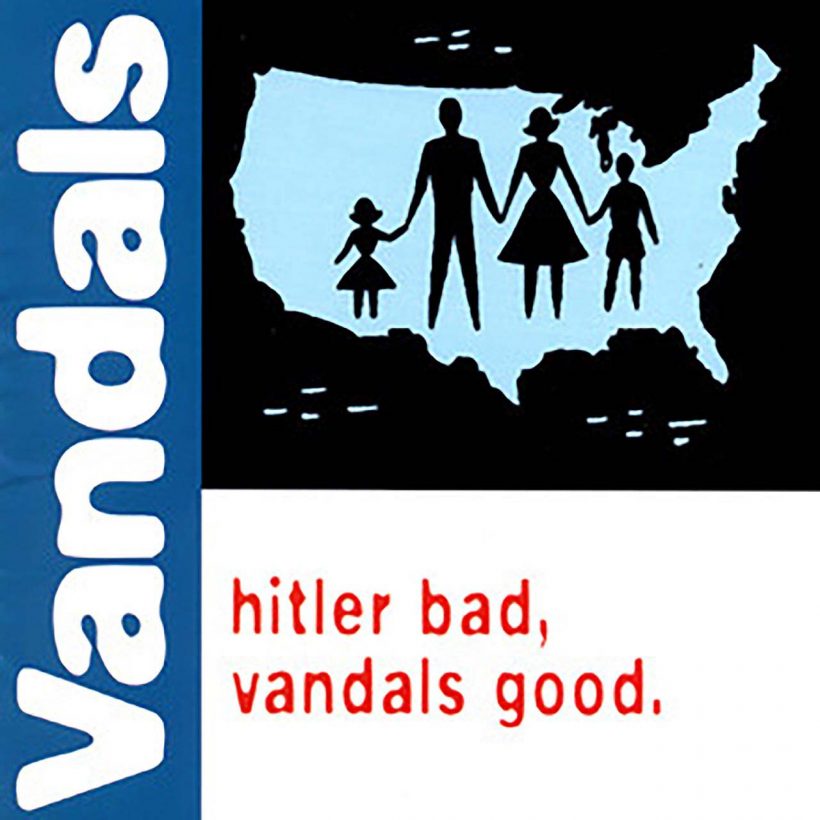 Craft Recordings celebrates the 25th anniversary of the Vandals' punk rock classic Hitler Bad, Vandals Good with a collectible vinyl reissue. Featuring such favorites as "My Girlfriend's Dead," "Idea For A Movie," "Euro-Barge" and "People That Are Going To Hell," the 1998 album has been pressed on limited-edition White/Blue Splatter vinyl and will be released on July 21.
One of the longest-running bands on Southern California's legendary punk circuit, the Vandals emerged in 1981, offering fans a heavy dose of humor, paired with solid musicianship and anthemic hooks. The Huntington Beach group quickly became a force in the scene, and in 1995, they signed with Nitro Records (founded by Dexter Holland and Greg K. of The Offspring). Over the next three years, the band built an international following, thanks to albums like Live Fast, Diarrhea (1995) and The Quickening (1996), non-stop touring with acts like No Doubt, as well as film and TV synchs—including tracks in the Glory Daze soundtrack, Walker Texas Ranger, and The X-Files.
By 1998, when they released their seventh studio LP, Hitler Bad, Vandals Good, the band was at the pinnacle of their success. Produced by guitarist Warren Fitzgerald and mixed by Jerry Finn (Morrissey, Green Day), the album featured the Vandals' current lineup, including Fitzgerald, singer Dave Quackenbush, renowned studio drummer Josh Freese, and bassist Joe Escalante, who remains the longest-running member of the group. Joining them were a variety of guests, including multi-instrumentalist Gabe McNair (No Doubt, Green Day) who played trombone on "F'd Up Girl" and No Doubt drummer Adrian Young, who served up breakneck bongos on "If the Gov't Could Read My Mind."
Other highlights include the sardonically poignant breakup tune "My Girlfriend's Dead," in which the protagonist laments, "My girlfriend's dead you see / It's a total lie but it's easier on me / Than having to admit that she likes someone else." Opener "People That Are Going to Hell" is a catchy number about the karmically doomed, while the irreverent "An Idea for a Movie" finds the band brainstorming wacky, Oscar-worthy film plots. The Vandals also skillfully interpret Rodgers and Hammerstein's "So Long, Farewell," from The Sound of Music, while, in a more serious turn, they cover Pennywise's "Come Out Fighting" in memory of the band's frontman, Jason Thirsk, who took his own life a year earlier.
Released in June 1998, Hitler Bad, Vandals Good became an instant classic and, today, remains the band's most successful title. Reflecting on the album, Punknews.org called the record "a turning point," adding that "the band's prowess and talent had been reinforced with [its] release." AllMusic noted that "the Vandals have a nice balance of…[being] funny and musically inclined at the same time." The Orlando Weekly called it "happy-core," adding "Hitler Bad, Vandals Good is sure to entertain and influence a new generation of punk rockers." Bassist Joe Escalante says, "we loved the current crop of punk bands that were part of the '90s resurgence so we worked hard to create our best record possible to keep up with the excellent song writing coming out of bands like NOFX, Lagwagon, Bad Religion, Green Day, Rancid, etc."
Today, with a catalog that includes 10 enduring studio albums, the Vandals are counted among the key players of the '90s punk revival, alongside the likes of Green Day, Sublime and The Offspring. Although the desire to release full-length albums is perhaps behind them, the Vandals still record occasional material for various compilations and continue to perform internationally. Escalante contends that "it was the hard work we did on the Warped Tour every other year from '96 to '06 that seems to warrant all these punk festival invitations around the globe, to which there seems to be no end" which includes an upcoming cruise ship festival with Flogging Molly, Pennywise, and Stiff Little Fingers in November of 2023.