Five-Disc Vinyl Edition of Andrew Lloyd Webber's 'Unmasked: The Platinum Collection' Now Available
The new vinyl edition has been half-speed mastered at Abbey Road and includes a detailed 20-page booklet.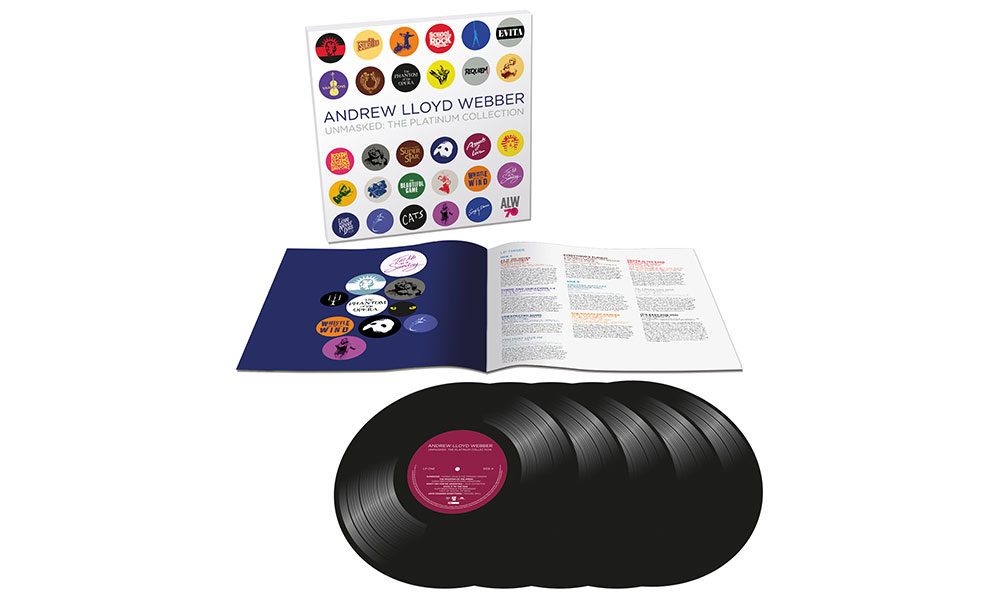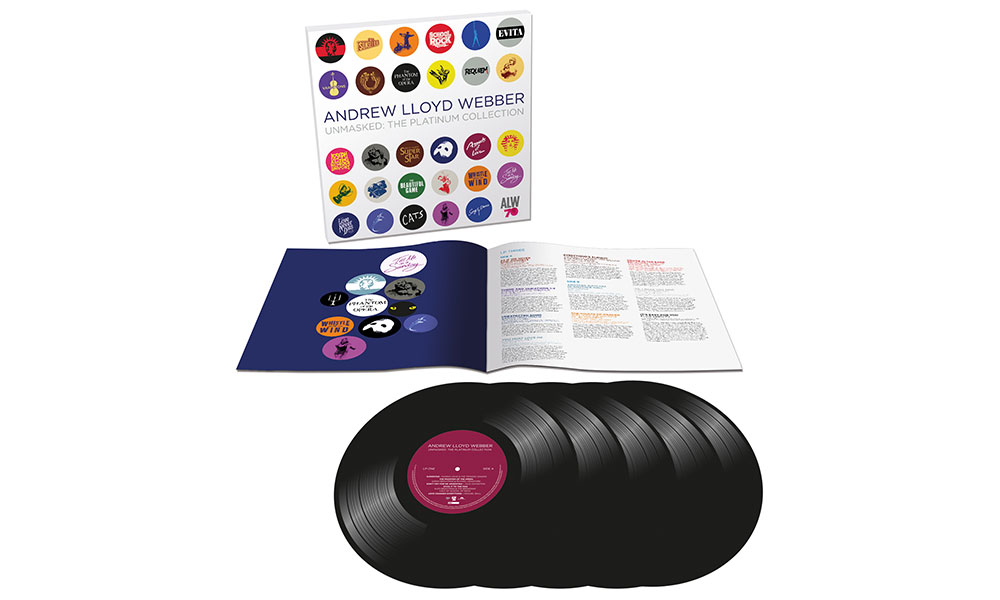 Following the success of Unmasked: The Platinum Collection, which reached the No. 1 spot in the UK Compilations Chart, Andrew Lloyd Webber continues his 70th birthday celebrations with release of the collection as a five-disc box set, which was released on 28 September.
As uDiscover Music previously reported, the box set features recently recorded songs from renowned artists Nicole Scherzinger ('Memory', Cats), Gregory Porter ('Light at the End of the Tunnel', Starlight Express) and Lana Del Rey ('You Must Love Me', Evita). It also contains recordings by world-class performers such as Barbra Streisand, Madonna, Michael Crawford, Sarah Brightman and Michael Ball.
The Orchestral Suites proved such a highlight of the 4CD version of Unmasked: The Platinum Collection that Lloyd Webber requested a special selection of them were gathered together for the exclusive fifth record of the vinyl box set. This will be the first time many of the tracks have ever been released on LP.
The collection is personally curated and overseen by Lloyd Webber, and is half-speed mastered at Abbey Road by Miles Showell, also containing a 20-page booklet with specially written tributes from Barbra Streisand, Glenn Close, Michael Crawford and Tim Rice among others.
Andrew Lloyd Webber's 70th has proved to be a memorable year, for earlier this year, he become one of an elite group of artists to have achieved EGOT status by receiving an Emmy for NBC's Jesus Christ Superstar, Live in Concert. Additionally, he renamed the New London Theatre, currently home to School Of Rock, after the late legendary West End choreographer Gillian Lyne – the first time a West End theatre has been named after a woman.
The 5-disc vinyl edition of Unmasked: The Platinum Collection is out now. Scroll down to read the full tracklisting and buy it here.
Unmasked: The Platinum Collection:
LP 1:
'Superstar' • Murray Head & The Trinidad Singers
'The Phantom Of The Opera' • Sarah Brightman & Michael Crawford
'Don't Cry For Me Argentina' • Julie Covington
'Stick It To The Man' • Alex Brightman & The Broadway Cast Of School Of Rock
'Love Changes Everything' • Michael Ball
'With One Look' • Barbra Streisand
'Memory' • Nicole Scherzinger
'No Matter What' • Boyzone
'Buenos Aires' • Glee Cast
'Take That Look Off Your Face • Marti Webb
LP 2:
'Light At The End Of The Tunnel' • Gregory Porter
'The Music Of The Night' • Michael Crawford
'Pie Jesu' • Anna Netrebko
'Gethsemane (I Only Want To Say)' • Ian Gillan
'Any Dream Will' • Donny Osmond
'Sunset Boulevard' • Kevin Anderson
'Amigos Para Siempre' • Sarah Brightman & José Carreras
'Macavity: The Mystery Cat' • Wendy Edmead & Donna King
'I Don't Know How To Love Him' • Yvonne Elliman
LP 3:
'As If We Never Said Goodbye' • Glenn Close
'Theme And Variations 1-4' • Andrew Lloyd Webber
'Unexpected Song' • Sarah Brightman
'You Must Love Me' • Lana Del Rey
'Everything's Alright' • Yvonne Elliman, Ian Gillan & Murray Head
'Another Suitcase In Another Hall' • Madonna
'The Vaults Of Heaven' • Tom Jones & Sounds Of Blackness
'You're In The Band' • Broadway Cast Of School Of Rock
'Til I Hear You Sing' • Ramin Karimloo
'It's Easy For You' • Elvis Presley
LP 4:
'Cold' • The Everly Brothers
'Come Back With The Same Look In Your Eyes' • Denise Van Outen
'Love Never Dies' • Sierra Boggess
'Mr Mistoffelees' • Paul Nicholas
'I Am The Starlight*' • Mica Paris & George Ure
'All I Ask Of You' • Cliff Richard & Sarah Brightman
'Rainbow High' • Elaine Paige
'Tell Me On A Sunday' • Michael Crawford
'Wishing You Were Somehow Here Again (Live At The Royal Albert Hall)' • Sierra Boggess
'Learn To Be Lonely*' (Live At The Oscars) • Beyoncé & Andrew Lloyd Webber
LP 5 – Bonus Vinyl:
'Phantom Phantasy'† • Original London Orchestra
'Love Never Dies Orchestral Suite'† • Original London Orchestra
'The Beauty Underneath'*• Ben Lewis, Casey Lyons
'Variations On Variations'† • Andrew Lloyd Webber
'Jesus Christ Superstar Overture' • Original Jesus Christ Superstar Orchestra
'Overture And The Beautiful Game'† • Original Cast And Orchestra
'Sunset Suite'† • Original Broadway Orchestra
'Aspects Of Aspects' • Orchester Der Vereinigten Buehnen Wien
'Anything But Lonely' • Sarah Brightman
*Premiere New Recordings
†2018 Orchestral Suites
Format:
UK English