Ahmet Zappa And Eyellusion Talk The Bizarre World Of Frank Zappa
Ahead of shows in the US, UK and Europe, Ahmet Zappa promises "a smorgasbord of awesome" from The Bizarre World Of Frank Zappa.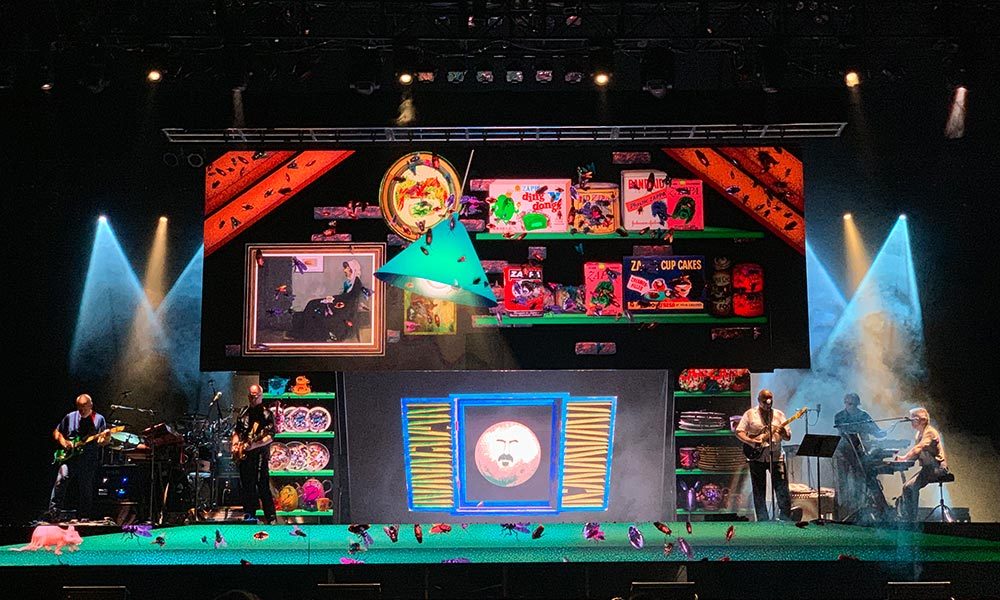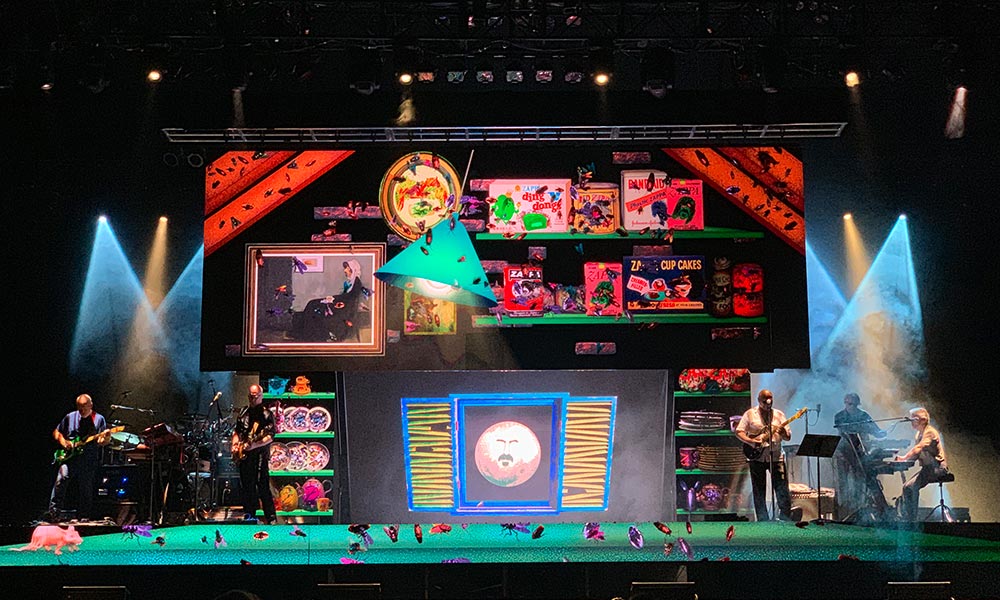 Frank Zappa, sadly, left us in 1993 and has been profoundly missed ever since. A razor-witted, prodigiously gifted iconoclast in his lifetime, his absence has thrown into sharp relief what an irreplaceable, maverick talent he was. Frank Zappa is now remembered as a composer's composer, a guitarist's guitarist and an incisive, withering satirist with a deadly-serious agenda: we won't see another like him any time soon. However, we can see him, and in an interview with uDiscover Music, Frank Zappa's son Ahmet Zappa promises that the forthcoming live production The Bizarre World Of Frank Zappa will be an unforgettable night.
Today, Friday, 19 April sees the dizzyingly ambitious The Bizarre World Of Frank Zappa tour opening in the US before heading to the UK and Europe in May. In this monumental undertaking, former Zappa bandmates – guitarists Ray White and Mike Kenneally, bassist Scott Thunes, drummer and Zappa archivist Joe "Vaultmeister" Travers, multi-instrumentalist Robert Martin and percussionist Ed Mann – will perform live versions of unique, unheard Zappa material… astonishingly, with the man himself.
The Bizarre World Of Frank Zappa - Sneak Peek!
At the heart of this process is today's most cutting-edge holographic technology. Impressive for sure, even a bit miraculous; but when you consider that the sight and sound of Zappa singing and performing with his old colleagues is just one aspect of what is set to be an exhilarating, eye-popping bombardment of surreal, startling visuals, the must-see nature of The Bizarre World Of Frank Zappa is double-underlined in indelible ink.
And none of this would have come to pass had it not been for the tireless efforts and technical expertise of Eyellusion, the LA-based hologram production company for which Zappa's son Ahmet holds down the role of Executive Vice President, Global Business Development alongside CEO and founder Jeff Pezzuti.
Both men are, to say the least, stoked at the prospect of The Bizarre World Of Frank Zappa finally hitting the road. Their enthusiasm is unstoppable and infectious: in trying to describe what the event means to them and what it will mean to Zappa's fans, epithets tumble over one another, and the emotion is palpable.
"An authentic Frank Zappa experience"
"It's fun, it's funny, it's topical, it's… an authentic Frank Zappa experience," Jeff grins. "It's impossible to get more authentic. It's a celebration of him, and his guitar playing – literally – and his vocals – literally."
"I'm so excited," adds Ahmet, "because I've been working on this for so f__king long. I've only been able to show people the content on computer before now, so to finally have people see it and experience it, with the whole stage, the whole performances, with a live band, I'm… even 'anxious' is the wrong word. I'm a f__king mess!"
"He wanted to start this kind of a business"
In terms of the project's lengthy gestation period, it's not overstating matters to suggest that the seeds were actually planted during Frank Zappa's lifetime.
"My personal interest in holography and the technology that it takes to do what we're doing started early on," Ahmet reflects, "through conversations I had with my father, and his interests in holography: he writes about it in his book [The Real Frank Zappa Book, Picador, 1989], and he wanted to start this kind of a business.
"Going back 15 or 16 years, I was already talking about working on projects like this, and I started some things while I was at Disney Imagineering. I've seen other [holographic] shows, but what's more interesting to me is messing around with scale, and being able to have other weird things show up on stage. As it pertains to Frank, I just wanted to do something that leaned into the things he liked.
"You know, Frank was also a filmmaker, a storyteller, and a lot of his songs are so funny, or have these stories inside them, and I wanted to bring them to life. And Jeff, to his credit, liked the insanity of what I was talking about, and we began this slow journey of figuring out how we were going to do this."
Frank Zappa Hologram Responds To Censorship
"You're going to see something you've never seen before"
Enticingly for hardcore Zappa fans, the basis for the tour is a collection of previously-unreleased Frank Zappa soundstage performances from 1974, unseen and unheard ever since by anyone other than the musicians themselves and the cameramen in the room.
"Starting there kind of dictated the setlist a little bit," Ahmet says, "but we've pulled in other elements from releases that are about to come out. We're in a unique position here because we have so many live shows, and the multi-tracks to all of them, so we can keep adding content. If people are receptive, we can keep adding new things to the experience.
"People are going to get a lot of music: the show is two hours, and we can change it up from night to night. If you go on a Monday, you're not going to see the same show on a Tuesday. That's the intention, and that will expand over time. And we've made visuals that allow us to do dynamic things in the show that celebrate the heritage of the band. It was really important to me to have their journey told as well.
"If you're a fan of Frank's music, I promise you, you're going to see something you've never seen before, and hear great music, and see some… very bizarre things on stage! You'll see many different versions of Frank, unexpected versions of Frank, not just a photo-real version. I want to say it's 'a smorgasbord of awesome!'" Ahmet laughs excitedly.
"You don't just have to be a fan of the music"
"You don't just have to be a fan of the music," Jeff points out. "The show was designed for everyone. It's a come-one, come-all scenario. We've tried to set the bar very, very, very high. Some people might have said, 'You guys are a little nuts to try this,' but we wanted to say, 'Right, here's the bar, here's what we set before… we're f__kin' taking it up here!'" Jeff punches the air to make his point.
"And it has been a Herculean effort because of that," he continues. "We still keep trying to raise that bar, instead of sitting on our hands saying, 'OK, we've done it all.' We'll keep tweaking the show, making it continually awesome every time it goes out, giving the fans something different. Nobody wants to see the same show twice, and you want them to keep coming back, so it's like Lego: taking out a piece, adding a piece, whether it's different band members, special guests, songs, visuals, all of the above. You keep making it grow."
"It's 3D without glasses," Ahmet reflects. "It's…" ("A real punch in the gut!" Jeff laughs.) "It's surreal, it's psychedelic," Ahmet continues. "It's… I mean, honestly, it's an acid trip! In a good way. The show is very much like a late-60s, early-70s version of Frank – that's the period I love the most, so I try to have that kind of vibe in there."
"If you're a fan of having your mind blown, you're welcome"
Warming to his theme, Ahmet sits forward. "If you're a fan of Frank's, but you are also a fan of technology, then how about that? It's a technological rock show unlike any other thing that's ever happened. If you're a fan of visuals, come out and see some f__king great visuals, if you're a fan of… lights! Come and see some lights!"
By now, Ahmet and Jeff are like carnival barkers, riffing off each other, intoxicated by the project they have been perfecting for years. "If you're a fan of getting high as hell and having your mind blown, then I promise you… you're welcome in advance!" Ahmet chuckles. "I think that a lot of bands when they see the visuals, they're going to go, 'Holy f__k, these guys have set the bar at a whole different level.'"
"This is a love letter to Frank"
When the laughter subsides, Ahmet's demeanour subtly becomes more earnest. "Listen," he concludes, "I care so much about the music, and my entire family, and the fans. I really have tried to make an experience for them that I think is unforgettable. It's a real celebration of Frank's music, it's a really fun night, and, again, we're going to keep adding to it if people want to go. The plan is to keep building upon the bizarre nature of the show we've put together, and really leaning into the name. The Bizarre World Of Frank Zappa is so f__king on the nose!
"This is a love letter I'm writing to Frank, and I'm really trying to honour the fanbase because they keep everything going."
You get the distinct impression that canonisation would not sit at all well with Frank Zappa. Any Zappa celebration worth its salt would have to be complex, provocative, offbeat, irreverent, screamingly funny, larger than life – and better than life. Eyellusion, in tandem with Frank Zappa's bandmates, have taken this challenge on the chin. It's a measure of the people involved, and the exceptional quality of the show they've assembled, that they literally can't wait to bowl audiences over.
The Bizarre World Of Frank Zappa opens in New York on 19 April. Visit www.zappa.com for full dates and ticket info.
Listen to the best of Frank Zappa on Apple Music and Spotify.
Format:
UK English