The Director Of 'R.E.M. By MTV' Reflects On 'Automatic For The People'
Alex Young, director of the acclaimed documentary 'R.E.M. By MTV', looks back on 'Automatic For The People', and reveals how it changed his life.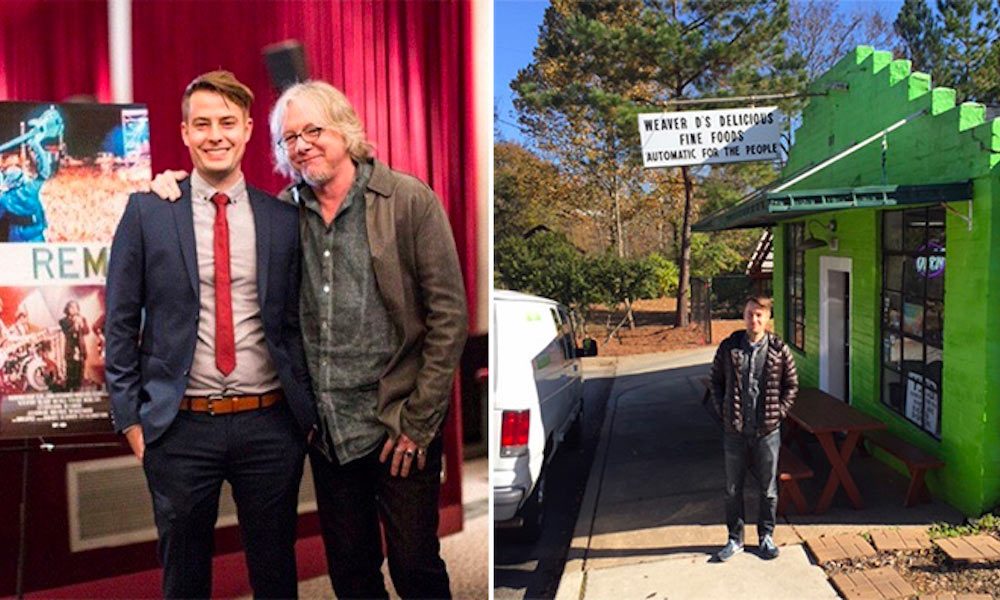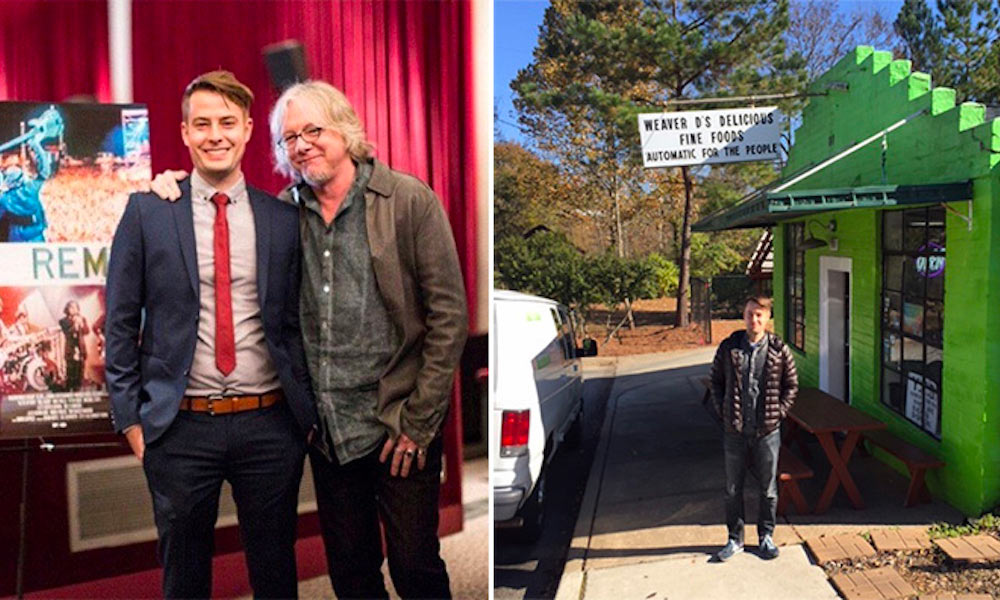 There are countless biopics out there devoted to musical icons, but rarely does a band get to tell their story, on their terms. Having come of age as a band at the same time as MTV, R.E.M.'s development was captured on the small screen over the course of three decades. With over 1,500 tapes from the MTV vault at his disposal, director Alex Young and editor David Leopold crafted a compelling narrative without the help of any interviews, narration or new footage to create their documentary, R.E.M. By MTV, in 2014.
When R.E.M. celebrated the 25th anniversary of one of their defining albums, uDiscover Music asked director Alex Young to talk about how Automatic For The People fit into the making of his film, and what the album personally meant to him as a lifelong fan.
Listen to Automatic For The People right now.
Alex Young writes:
Automatic For The People turned 25 on 5 October 2017, which would have made me 12 years old when it was released. My memories of the band at the time mainly consist of snippets of music videos playing in the background at friends' houses, as I had yet to explore the world of pop music myself. The videos for 'Everybody Hurts' and 'Man On The Moon' were ubiquitous; I preferred the latter, as the official 'Everybody Hurts' video was almost instantly replaced in my preteen brain with the Wayne and Garth parody from their MTV movie special.
Two years later, I was obsessed with grunge, R.E.M. released Monster, and my world changed. In the following weeks I would use mail-order CD clubs to fill out the rest of the band's discography. The next year I attended my first concert: R.E.M. with support from Luscious Jackson in Burgettstown, Pennsylvania. Nineteen years after that, I directed the feature-length documentary R.E.M. By MTV.
But back to Automatic. R.E.M. was the first band I ever loved that had a back catalogue. Much has been made of Automatic being the band's "death and mortality" album, and I was aware of this as a teenager. But my lack of life experience at the time (heartbreaking or otherwise) didn't give these themes any room to settle into my adolescent mind.
10 Things You Didn't Know About R.E.M.'s Automatic For The People I uDiscover Music
The concepts were abstract: "this is something you could say to suicidal person" (before I knew any); "this is the struggle in finding a life path" (before I cared); "this is the pain of being a queer man" (before I knew I was one). I was lucky enough to get invited to a listening session of the new Dolby Atmos mix of Automatic recently, and the tear in my eye wasn't just the result of the incredible sound coming out of the 22 speakers. This is an album that can be loved by a high-schooler and then grows more resonant and affecting with age. That's not to say the new mix doesn't sound incredible; John Paul Jones' string arrangements are particularly breathtaking.
We built R.E.M. By MTV entirely through archival content. No new interviews were conducted and no narration was added. This led to some sublime connections in the edit, but also some sections that could have used a little more content to work with. The Automatic For The People portion was one that I was never quite completely satisfied with, as we mostly constructed it out of questions answered on the Monster press tour. With the album now celebrating its 25th anniversary, I'll gladly take this opportunity to flesh out my thoughts on the album and touch on some of the elements I wish I had in the film.
'Drive'
The song contains the first of many pop culture allusions on this record, starting with the allusion to 'Rock On' by David Essex ("Hey kid, rock and roll…"). We later get mentions of Mott The Hoople, Montgomery Clift, Dr Seuss, 'The Lion Sleeps Tonight', various board games and, of course, Andy Kaufman. The conflation of these cultural figures and artefacts held within the album's dominant themes is striking. Are they given equal weight? Or does pop culture help get us through the tough times?
R.E.M. - Drive (Official Music Video)
'Try Not To Breathe'
This song contains the most satisfying R.E.M. backing vocals ever. The layers build in such an obvious way: with Michael first time around, then with Mike, and then Bill for the final chorus. But maybe this perfect structure is what makes it so pleasurable? 'Try Not to Breathe' would be thousands of other bands' best song.
'The Sidewinder Sleeps Tonite'
The laugh. Perhaps the greatest fourth-wall break in music. The story goes that Michael kept pronouncing "Seuss" as "Zeus", which prompted a laugh at finally getting it right. They kept it in. Not one moment has ever put me in the room with a band recording an album as that did. I didn't know the story for years, so I always wondered what he was laughing at. Who was there? Why did they keep it in? And so on. Mostly, though, it gave me the impression that Michael Stipe is an extremely decent man, which I later found out to be true.
R.E.M. - The Sidewinder Sleeps Tonite (Official Music Video)
'Everybody Hurts'
One of the most nakedly powerful songs ever recorded. It's been spoiled over the years for many through parody (see above) and an intentional lack of ambiguity. The last time you probably heard it was during Jimmy Kimmel's "Mean Tweets" bit. Clear all of that out of your head and listen again. It's still there. The version on 2007's R.E.M. Live brings equal heft as well.
R.E.M. - Everybody Hurts (Official Music Video)
'New Orleans Instrumental No.1'
It's a necessary palate-cleanser. This track has a job to do and it succeeds. It's also my favourite needle drop in the new Edgar Wright film, Baby Driver.
New Orleans Instrumental No. 1
'Sweetness Follows'
This is the track that benefits the most from the new Dolby Atmos mix. The cello not only sounded like it was in the room but also being played by the person sitting next to me. At 16 this track felt like a short story. Now it feels like a warning of impending sadness that I will experience at some point in the future.
'Monty Got A Raw Deal'
We used this track in the documentary during a section on the speculation over Michael's sexuality. Michael became more and more open about it over the years, to his credit. I still maintain an unsubstantiated belief that this openness lead to a decline in airplay on American radio for the band, despite continued growth around the world. One more reason to hate modern rock radio.
'Ignoreland'
I see 'Ignoreland' as a sister song to Radiohead's 'Electioneering'. Both are the most straightforward rock tracks on genre-pushing masterpieces. Both are angry political rebuttals to conservative politics. Both sit at track eight on their respective albums. And both were rarely played live. Radiohead hasn't played 'Electioneering' since the OK Computer-era tour, and 'Ignoreland' made its live debut all the way in 2008. Was it the specificity of the grievances that lead to their abandonment?
R.E.M. - Ignoreland (Official Lyric Video)
'Star Me Kitten'
A song that felt taboo in my teens now has an element of playfulness. Hearing this in Dolby Atmos felt like being surrounded by one hundred Mike Millses.
'Man On The Moon'
It's the one track that I understand just as well now as when I first heard it 25 years ago. I read recently in discussion about the new Twin Peaks reboot that a scene reminded the writer of Automatic For The People. I personally didn't see the specific comparison the writer was making, but I do see a connection between Stipe and David Lynch. Both are masters of oblique emotional content. At times you're not quite sure of the story being conveyed, but the emotional intensity is always vividly there.
R.E.M. - Man On The Moon (Official Music Video)
'Nightswimming'
A nostalgic ode to an innocent time, but as a teenager my thought was, Why don't I get to skinny dip with anyone? I was shocked by the nudity in the video when I bought the Parallel collection on VHS that included all of the band's promo videos from the Automatic For The People and Monster eras. Why would anyone make a music video that couldn't be played on MTV? Another outdated question…
R.E.M. - Nightswimming (Official Music Video) [British Version]
'Find The River'
The album opening up its heart one last time before going. At 37 I thought I would have found the river by now, but I guess I'm still looking.
R.E.M. - Find The River (Official Music Video) [Parallel Video Version]
The anniversary edition of Automatic For The People can be bought here.
Format:
UK English