Life After College: Asher Roth Remembers 'Asleep In The Bread Aisle'
From being discovered by Scooter Braun to creating 'I Love College,' this is the story behind Asher Roth's debut album.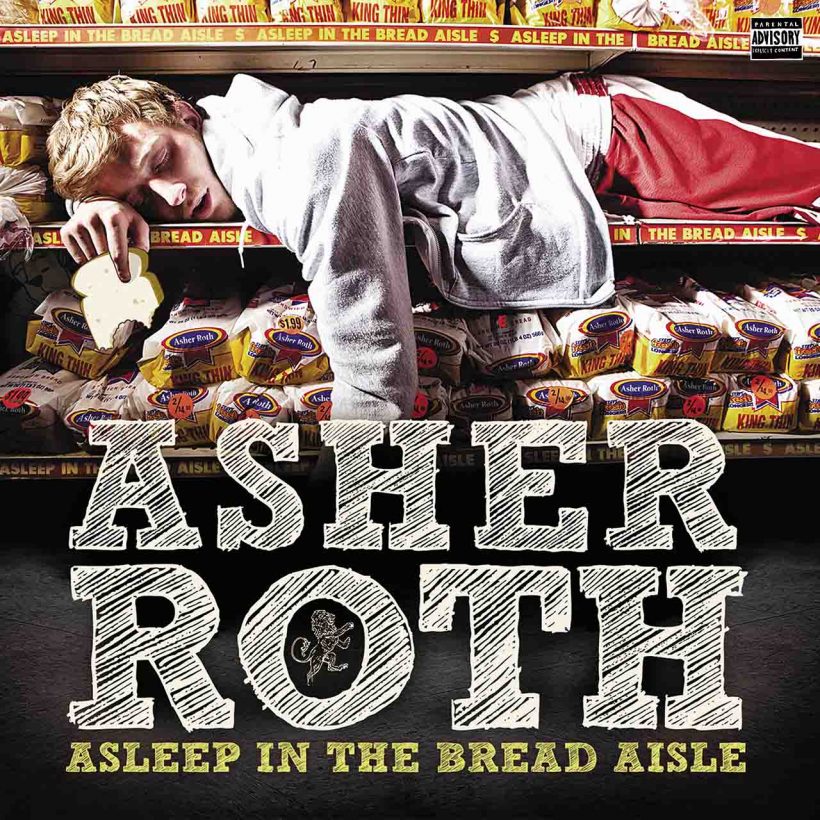 The Asher Roth story could have been my story. I was a white, suburban college kid who had dreams of becoming a professional rapper. Sure, I was in college about a decade before he was, but my plan to get on was similar to his – spit fire for my friends, record a couple songs over industry beats, take a few shots at getting the word out, and hope that one day the right person would take notice.
The difference between our stories is that for Asher, the right person actually took notice – which is a testament to both his MC skills and originality. That person was a young Scooter Braun, one of the most successful and influential music executives of the past decade, who is also credited with discovering Justin Bieber.
Listen to Asher Roth's Asleep in the Bread Aisle now.
"All these stories always have a little bit of luck and timing involved," Asher said during a two-hour conversation about the 10th anniversary of his door-opening debut album, Asleep In The Bread Aisle.
And that's not to take anything away from Asher. He's an incredibly talented artist who deserves all the success he's had. But even he'll admit: life could've easily gone in a very different direction if it hadn't been for a few key players and moments.
In the latter half of the 2000s, Asher Roth was entering his junior year at West Chester University in his home state of Pennsylvania, and was going through what he describes as "a moment that every college kid has." He was an elementary education major who was dabbling in rapping, and as he sat in his "moldy basement," he knew something was missing.
"This ain't it," Asher recalled over the phone from his Philadelphia home. "I want to do something else, but I've reached this point in my life where I need to commit myself to school."
This is where that little bit of luck and timing comes into play. It turns out, as Asher was going through a moment of uncertainty at West Chester University, Scooter Braun was simultaneously having a bit of a quarter-life crisis, trying to figure out his next move down in Atlanta after graduating from Emory University.
Then one day, after receiving a MySpace auto-friend request from Asher, Scooter stumbled across a recording of his titled "Family Man." And that's where the Asleep In The Bread Aisle story begins.
On the phone with Scooter Braun
"I was rapping over other people's beats. Everything was still very mixtape driven. NahRight, DatPiff, that was the thing. I'm rapping over the Puff record with Cee-Lo, and it was all about coming from a good family. I really love and appreciate my family. Scooter has 'family' inked on his wrist. I think that intrigued him when he heard it.
"Scooter does this rigorous research like he does when he hunts people down, and what he found on me was a Facebook page that had my friend Boyd's phone number. Scooter calls and goes, 'Tell me everything you know about Asher Roth.' Boyd goes, 'What, dog?' And Boyd hangs up on him. Boyd's like, 'Dude, we just had a party last night. I thought the cops were looking for you because of a noise violation.' Scooter calls back and says, 'This is the most important phone call of your boy's life,' which is classic Scooter – but he's right, though.
"I get on the phone with him, and it's one of those chops for like, three hours. He was familiar with rap music, but more from a celebrity standpoint. But he was still super impressive. When you have pictures with Ludacris and you're hanging out with Jermaine Dupri – you know, I bought Life in 1472 with 'Money Ain't a Thang' on it when I was 12. As a 20, 21-year-old kid I'm like, 'Hell yeah I wanna hang out with Ashton Kutcher and Andre 3000!'
"A little time goes by, and I'm still in school having that moment of, 'There's gotta be something better than this.' I had just seen the movie Borat and there's something about how he was operating like there were no consequences. That movie made me text Scooter. 'Trust your gut, let's make some moves.' Little did I know, Scooter's whole mantra is 'Trust your gut.' He calls me right after I send that text. And he says, 'If you can get down to Atlanta, I can get you in front of important people.'"
Atlanta
"I fly myself down to Atlanta. I think pops threw me a little bit of money to get me down there. Scooter had connections with Chaka Zulu and Jeff Dixon from Disturbing Tha Peace. He had just bought into a nightclub called Opera. I'm just legal to drink, and now I'm poppin' into Opera having bottle service. So it's like, 'This is way more interesting than West Chester University.'
"I was crashing on the couch at Scooter's place, going through beats and writing stuff. He took me to hang out with Tricky Stewart and The-Dream. This is right around the time of 'Umbrella,' and Dream is about to become 'the guy.' You're meeting these guys and seeing what they're working on. And you're like, 'Wow, these guys are really doing it.'
"It was enough of a little rendezvous for Scooter to be like, 'You should move to Atlanta.' And it was that moment in your life – one of those checkpoints – where you're like, 'What am I doing right now?' There wasn't a lot keeping me in West Chester. It was basically like, 'I can always go back to school. This is an opportunity.'
"I moved to Atlanta because the deal was in place. Don't get me wrong, that was an ass deal. It was like, 'Here's a couple bucks to record an album.' I think it was mainly because Steve [Rifkind] wanted to work with Scooter from a promotional standpoint. He believed in Scooter, and Scooter believed in me. So they gave me like a, 'Good luck, kid' deal. And that's when me and the homies moved down to Atlanta."
Recording The Greenhouse Effect
With his SRC Records deal in place, Asher and his boys relocated from West Chester and moved into a house in Brookhaven, a suburb Northeast of Atlanta. They set up a home recording studio in the basement, and dubbed it The Greenhouse. With no real plan in place to record his debut – or access to producers – Asher spent his days smoking honey Dutches and recording raps over industry beats.
Simultaneously, Scooter was taking Asher around to meet the 'who's who' of Atlanta hip-hop, including Akon, Ludacris, and Cee-Lo. And as the recordings began to pile up, Scooter wisely connected Roth with fellow Philly natives Don Cannon and DJ Drama, which resulted in them co-hosting The Greenhouse Effect mixtape.
Roth describes The Greenhouse Effect as his "first real offering in the league," which is true. Before the tape popped up on the blogs, the majority of hip-hop fans had never even heard of Asher Roth. And suddenly, he was the new white rapper in the industry that every site was posting about.
Asher reminisced about the time after the tape, saying "I didn't really understand the cultural significance of a white kid from Morrisville, Pennsylvania being on the cover of a Don Cannon and DJ Drama mixtape. I just thought it was super dope that I was working with DJs from Philly, and I liked those guys as people. Then I drop the 'A Milli' freestyle, and I'm like, 'Oh, people are paying attention.' That's when it was like, 'We gotta start making some original music.'"
From there, Asher embarked on a mission to create his debut album from scratch, with very little budget and professional guidance. Both him and Scooter had no experience recording a full body of original work, so they asked themselves, "What does making an album even mean?" But before they could come up with an answer, Asher had already recorded a hit record that would catapult him into the mainstream. And ironically, it was all about the college lifestyle he left behind to pursue his dreams of rap stardom.
I Love College
"'I Love College' wasn't anything out of the ordinary. We threw on a Mike Caren beat CD, and this Weezer sample comes on with 'Impeach The President' drums.
"There wasn't really anything going on in the physical world. Yes, there was buzzing on the blogs, but that hadn't translated yet to the physical world. And at the same time, Scooter starts bringing around a 13-year-old Justin Bieber. So now he's juggling.
"There were a couple people playing enforcer. We'd be ripping bongs and playing Mario Kart, and Allison Kaye would come over and be like, 'You need to be working.' It sort of just seeped in like, 'I kind of miss West Chester.'
"We had uprooted and moved to Atlanta. We were making a couple new friends, but for the most part, we were secluded. Just hanging out with each other. And the lyrics just started to naturally come out. 'I wanna go to college for the rest of my life / Sip Bankers Club and drink Miller Lite.'
"If Boyd is not there, this song never gets made. 'That party last night was awfully crazy I wish we taped it.' I remember thinking, 'Damn, that's like the worst line ever.' But Boyd was right there with me like, 'Yo dude, you gotta keep going, this is dope.' He's an encourager, and he's always been about the fun. So it was like, 'Let's keep this idea going.'
"I don't remember recording it and being like, 'Yo, this is crazy.' But then you wake up the next day, the song has been recorded, and people start to slowly come over. Cannon comes over, and he's like, 'Oh shit.' Our engineer at the time – he worked closely with T-Pain and then did a lot of live sound for Bieber – he hears it and he's like, 'Yo, you're outta here, dude.' I'm like, 'What is going on? This song is just like, 'Whatever, this is how we were feeling last night.'"
Asher Roth - I Love College (MTV Version - Closed Captioned - Edited)
"I Love College" was a smash hit and put Asher in the spotlight as the most talked-about major label white rapper since Eminem. With the help of a frat party-themed video and memorable performances on MTV's Spring Break, the record catapulted to No. 12 on the Billboard Hot 100 and racked up over one million downloads.
But even with the success of "I Love College," Asher still found himself with a minimal recording budget, digging through beat CDs to find the right tracks for his debut. And that digging led him to unknown Los Angeles producer Oren Yoel, who he would pair up with to produce – other than one cut by Don Cannon – the rest of Asleep In The Bread Aisle.
Oren Yoel
"I had a really interesting task ahead of me, about a song 'I Love College' that wasn't necessarily my sound or my core belief. It was just something that really resonated and was very relatable to a lot of people. And now we had to build an album around it.
"Apparently, this kid was shopping beats that weren't his. These were kids that Scooter knew from Emory. They'd come over, smoke some pot, and play beats. I really latched on to this one beat, and it was for this song I did that never resurfaced called 'Rap Addict.' That was probably the most 'Em-ish' thing I've ever done, because it was more aggressive. My style is not really an aggressive style. And it's funny because, people would try to push me in that direction – even Scooter. He'd want me to be confrontational, he'd want me to rap fast and things of that nature. I was never really with that. But I did that on one of these beats that this kid brought over, and it was dope. I definitely barred that song up.
"Scooter had to do his research about where the beat came from. It turns out that it came from this kid from L.A., Oren Yoel. I'm not super familiar with how that all happened. But it was just like, 'I really like this beat, who's this?' Next thing I remember was Oren visiting me in Atlanta. But it wasn't like Oren heard 'Rap Addict' and was like, 'Wow, this is my guy.' That wasn't actually the music we wanted to make.
"We got to know each other on a personal level more than we did on a professional level, off rip. And that ended up being much better for our relationship, because to this day I still go see him every day. It's not just like a hired gun. We really developed a friendship, which is hard to come by.
Developing a sound
"Now, I'm about to make my major-label debut with no producer co-signs at all. I don't have like, a Timbaland record. We got some last-minute cameos, but sonically it was like, 'Yo O, we got our work cut out for us. This 'I Love College' song is booming on the Internet, and we need to make sense of this shit.' So what do we do? We go to L.A. where Oren lives, I go into his closet and record 'Blunt Cruisin'.' [Laughs.] And we just start making sense of 'I Love College' sonically, so it didn't stick out like a sore thumb. And we did 'Lark On My Go Kart,' and a couple other joints.
"Oren is a classically trained pianist. And in a weird way he kind of saved my life, because he helped me do something that hadn't been done before. And I guess you can only really do that with people that are doing it for the first time.
"We were really starting to dive in and marry the alternative world. Rap music and indie. I remember Vampire Weekend coming to see a set and saying how much they liked 'Lark On My Go Kart.' I'm definitely not the first, but there weren't many kids in rap music that were starting to mess with alternative genres, listening to the Toadies, and having No Doubt be just as much of an influence on an album as DJ Premier.
"That's the reason why 'Lark On My Go Kart' is the first song on the album. We knew we had something very relatable with 'I Love College,' and now it was like, 'Back to the regularly scheduled program.' Like, 'Let's have some fun for sure, but let's make some rap music.' The song – and the video – were an intentional move to create my own world, so to speak."
Asher Roth - Lark On My Go-Kart (Explicit Version)
"I didn't think my personal story was that interesting. I didn't have a 'come from nothing' survival story, which was a really popular narrative in hip-hop. Between 'Fallin'' and 'I Love College' being like, 'This is who I am,' it kind of came down to, 'This is what I think about.'
"'Sour Patch Kids' is just as relevant now, if not more, than it was 10 years ago. I definitely was conscious of that – I wanted these songs to be about something. Which sometimes gets in the way of my writing. Sometimes I just need to go with it, and it's okay if a song isn't really about anything. Like 'Lion's Roar.' I honestly feel like the hook and the theme of the song got in the way of the lyrics.
"I definitely think at that time, I needed and wanted every song to be about something, rather than, 'This is just what's going on right now.' That's how you have any staying power, is to be able to write real songs. Like with 'La Di Da,' that has a really good message.
"We see it all the time in the rap world. Some of the best rappers can bar you up, but you can't write a song. You see it with battle rappers all the time. It's hard to write a song, with a chord progression and a hook that people can remember. It's not super, super easy. I was definitely making attempts to do that. That was my first real go at it."
Be By Myself
As the release date for Asleep In The Bread Aisle approached, Asher Roth dropped his third single, "Be By Myself" featuring Cee-Lo. It was his first star-studded collaboration to hit the market, and it came equipped with a more industry-standard, high-production value video. But the single missed the mark and derailed the momentum he'd built up going into the release of the album.
"Be By Myself" seemed like a logical progression from "College" and "Lark," and it's not like Asher didn't like the song. He had written the hook specifically for Cee-Lo, and was excited about having a single with one of his musical idols on it. But now, it seemed as though Asher was just another new major label rapper with a shiny video and an A-list co-sign.
The unique relatability of Asher's persona and perspective – which was more present on songs like "Fallin'" where he raps about how he fell in love with hip-hop as a teenager – took a backseat to industry protocol. And though the song was written from the heart, the music video forced fans to question Asher's authenticity.
"'I Love College' was a lead-off home run in the All-Star Game. Bo Jackson. Like, 'Whoa, that was crazy. I'm sorry, I just got a pitch I could hit. My bad.' And then 'Lark On My Go Kart' was a great follow-up. People are like, 'Yo, this is dope!' I just think we skipped a step. I think we got too far ahead of ourselves. A lot of the feedback, yes, is hate. But also, you're feeling yourself. I don't necessarily equate that to the decision-making, but I would say, it didn't feel like you could do anything wrong. You have Cee-Lo on the hook, it's this alternative record, and it's like, 'This is gonna be huge in Europe.'
"I remember being told after that record that it didn't test well at radio. And I had no idea what that meant. There's a lot to be excited about for sure. I'm about to go on tour with Kid Cudi, I'm on the cover of XXL. But underneath, it's like, 'You forgot to lay the foundation. There's cracks in the armor.'
"You have this grandiose run, and there's this one misstep. It wasn't that it was bad music, it was just the way the market responded.'Be By Myself' is cool, but it's not exactly what we wanted. What else is going on?' And once that moment where people started to look away, you could tell a lot of the support in terms of people I had in my corner from the business also were like, 'What else is going on?'
"I still look at that video and say, 'That was dope.' I remember hanging out with Cee-Lo and eating McDonald's, and that was an amazing moment. But as far as the evolution of Asher Roth, it's like, 'Yeah, this is great. Not yet.' I think the youth and inexperience played a role in not finishing the job."
Asher Roth - Be By Myself ft. Cee-Lo
Even with the so-called "Be By Myself" misstep, there was still plenty of excitement for Asher Roth's debut. He had slated features from Busta Rhymes, Keri Hilson, D.A. Wallach of Chester French, and even an uncredited appearance by Miguel. Plus, there were a few pertinent topics left to address on the album, most notably the never-ending comparisons to Eminem.
As I Em
Admittedly, I was one of the artists, bloggers, and fans who threw shots at Asher online. As an aspiring white rapper who was also getting posts on NahRight and 2DopeBoyz at the time, I saw an opportunity to flex my competitive side. So I released an Asher Roth diss track, where I rapped at him, "Homeboy don't play like you're nice / When you sound just like Em, no cream soft serve Vanilla Ice." It was just one of many questionable moments during Asher's ascent where someone called him out for sounding like, or trying to be, the next Eminem. But we were all wrong, and with his song "As I Em," he put us in our place and proved he was a one-of-a-kind artist that deserved to be categorized as such.
As Asher puts it, "The album was done. I was in the car looking through CDs, and I saw The Eminem Show. Then Eminem comes on the radio. I just got triggered, like, 'This is how I feel.' "I heard it the whole time. It was like the movie Role Models when the kid is like, 'You Ben Affleck. You white? You Ben Affleck.' That was basically what it was like. 'If you're a white rapper, you're Eminem.'
"When you're doing interviews, and people are constantly asking, 'What is it like to be compared to Eminem?' – I just had to say it. Did it need to be an album cut? No. To me, it was like, what they talk about with public speaking. You need to address the blockage in the room. What are people already thinking? That was the tactic that I took. Let me address this so I never have to talk about it ever again. And in a way, it kinda worked.
"But at the same time, I started going a little more underground, so I didn't have to deal with it as much. I'm rapping over Dilla beats, and Nottz Raw beats. But it was something that was definitely lingering, and I'm not into that stuff. If there's something with my relationships or my friendships that goes unsaid, it starts to fester and become something else. So it was like, 'What do I think about being compared to Eminem? Why don't I just write a song about it?'"
With the post-Eminem acceptance and success of Asher Roth came a wider doorway for white hip-hop artists in search of mainstream success to enter through. And what followed was a new crop of white MCs for millenials to latch onto, including everyone from Mac Miller to Macklemore to Yelawolf to G-Eazy to Lil' Dicky. Sure, being a white rap artist hasn't been completely destigmatized, but it's fair to say that Asher opened a door for the next generation of caucasian spitters – making the dreams of suburban hip-hoppers more easily attainable.
Asher Roth looks back
"So many people had expectations for me," says Asher. "There's always been talk about how my stuff happened so fast, from an overnight standpoint. It wasn't a ploy. We didn't have a bunch of marketing dollars. It was genuine talent and originality. I think the hardest thing for me was dealing with what everyone was projecting on to me, and their own expectations. And what they needed from me, even just from a business standpoint.
"I was at a very vulnerable age, in my early 20s. You're not even realizing what you're doing from a cultural standpoint. I knew that there was pushback racially, being that I'll never understand what it's like to be a black man in America. It's undeniable that rap music is black culture.
"But it's so funny, because the black community has always been very receptive to me and loving, because I was so authentic in my approach. Wearing flip-flops and coming out just being who I was. I don't feel like I was ever not accepted. I actually feel very much accepted. Even the work I do now, I get so much support from people as I move forward because of how I approached it from the jump.
"They always say, 'The first one through the door always ends up bloody.' And that's kind of what it was for me. I was in the front of the wave. And a lot of people were able to capitalize on a lot of the heavy lifting that we did to make it acceptable for a straight up and down white kid without a hard background to be using rap music as a medium. And there's nothing wrong with that. It's not crazy to think that a white kid from a middle-class community can use rhyming words to connect with a large audience.
"Things get weird though when money's involved. When people start making uber amounts of money, that's when things like 'culture vulture' and stuff gets thrown around. But if you're just an underground rapper, no one bats an eye. Asleep In The Bread Aisle is so appropriately titled. Because so much money was being made, or about to be made, and I had no idea what was going on. I was asleep in the bread aisle."
Asleep In The Bread Aisle was appropriately released in 2009 on 4/20. Asher remembered having fun in New York City the day of the drop, and loving the CD artwork when it was first presented to him by Scooter. But he also felt bogged down by how hectic his lifestyle had become, the critical reviews of his music, and the stress of the business going on around him. "I think it's safe to say I didn't savor the moment," he recalled.
Asher Roth in 2019
Still, Asher Roth has fond memories of Asleep In The Bread Aisle – ones that shaped his manhood and prepared him to make smart decisions about his career. And now ten years later, Asher is in position to begin a new chapter of his life, and loyal fans like me are still cheering him on.
"I still haven't strayed too far from Asleep In The Bread Aisle. I listen to it now, and I'm like, 'Yeah, that's me.' I don't hear a stranger on there.
"When I reflect on Asleep In The Bread Aisle, I smile. I think that's really important, and that's great. Asleep In The Bread Aisle as an album and the experiences it gave me – as a major label debut and for my life – it made me who I am, and led me to where I am right now. It gave me the most insight into how the world works, and who I want to be in this world.
"Asleep In The Bread Aisle set me off on this crazy, ten year journey. You wish that a chapter closed every time you put an album out. Like, 'Here's Retrohash, a completely different chapter.' That's not true. The past 10 years have all been one chapter. And I finally feel like I'm closing it after ten years, and starting on the next ten years of my life.
"It's funny, like, why have I been trying to scrub myself of a double Platinum hit? 'I Love College' made me so endeared and adored. Why am I trying to pretend like it never happened? I really don't know the psychological effects that popularity had on me.
"People try to stay young in that world, but for me, it's been about trying to age with grace. And so far, so good. I kind of feel like my best work is on its way. Which is really exciting for me."
Format:
UK English