Best Beach Boys Songs: 25 Essential Tracks For Fun, Fun, Fun
Hailed as America's band, The Beach Boys gave the world so much more than the surf-pop that made their name – as the best Beach Boys songs reveal.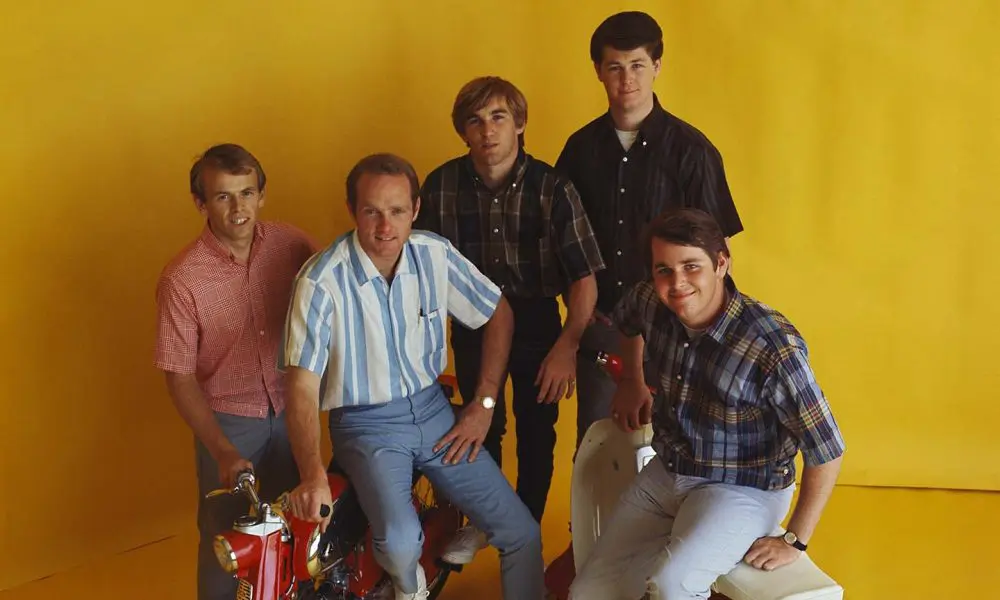 When a 19-year-old Brian Wilson gathered his younger brothers, Carl and Dennis; his cousin Mike Love; and school friend Al Jardine to record his original song "Surfin'," in October 1961, their wildest dreams wouldn't have allowed for what would follow. That debut single may have been an inauspicious start, hitting No.75 on the US charts, but it was the first of a run of sensational releases that would see The Beach Boys become bonafide superstars, and the best Beach Boys songs considered cornerstones of American music.
Producing singles and albums of increasing sophistication with each new release, The Beach Boys rewrote the pop rulebook in the 60s. As their sound matured in the 70s, the group released works that moved away from their original beach music focus, but which continued to influence the course of music in the years that followed. We celebrate that musical legacy with a look at 25 of the best Beach Boys songs.
Listen to the best songs by The Beach Boys on Apple Music and Spotify.
25: Surfer Girl (Surfer Girl, 1963)
While The Beach Boys' early hits reflected the boisterous rough'n'tumble of a surfing lifestyle, it didn't take long for Brian Wilson to find a melancholy angle to explore. "Surfer Girl" is a teenage daydream; it swoons over the object of his affections, imagining their future together seemingly before they've even said a word to one another. Wilson apparently wrote the melody from start to finish in his head back in 1961 as a kind of test to himself – a remarkable feat and the first flourishing of his songwriting intuition.
The Surfer Moon (Remastered 2001)
24: You're So Good To Me (Summer Days (And Summer Nights!!), 1965)
From the thumping beat to the infectious riff and the insistent "la-la-la"s of the chorus backing vocals, this is one of The Beach Boys' most infectious pop confections. Though the deft arrangement represents a stepping stone to the more upbeat moments on the following year's Pet Sounds ("Here Today," "I'm Waiting For The Day"), there's none of that album's bittersweet lyricism. Instead, "You're So Good To Me" is grateful to the point of being awestruck by the understanding and kindnesses that come with love.
You're So Good To Me (Remastered 2001)
23: Time To Get Alone (20/20, 1969)
This waltz-time slice of baroque pop, first attempted in 1967 for the Wild Honey album, was treated to a typically inventive Beach Boys arrangement, both musically (the push and pull of the bassline and harpsichord during the verses; the swirling strings of the outro) and vocally (somehow making multiple intertwined vocal melodies work on the chorus). The harmonies on the "deep and wide" of the middle eight make for an audacious cherry on top.
Time To Get Alone (Remastered 2001)
22: Feel Flows (Surf's Up, 1971)
"Feel Flows" emphasizes the talent and adventurous creative spirit of the youngest Wilson brother, Carl. Metronome-like cosmic Moog stabs give this Beach Boys song its momentum, over which a beatific-sounding Carl makes their then-manager Jack Rieley's impressionistic wordplay concerning the search for enlightenment sound utterly divine. As the song progresses, Carl's stinging guitar jostles with Charles Lloyd's improvisations on flute and sax, making for stormy interludes. Cameron Crowe chose the song to soundtrack the closing credits of his bittersweet coming-of-age film Almost Famous, causing Beach Boys fans in cinemas across the world to spill their popcorn.
Feel Flows (Remastered 2009)
21: Add Some Music To Your Day (Sunflower, 1970)
Brian and Mike Love joined forces with a friend of Brian's, Joe Knott, to write a profoundly uplifting song that celebrated the power of music to, well, profoundly uplift the listener. While the lyrics highlighted the myriad everyday ways in which music can soothe and provide joy, the tag-team lead vocals provide ample proof of how it's done. Musically, the song shares a bucolic bliss with much of the terrific album it came from.
Add Some Music To Your Day (Remastered 2009)
20: Don't Talk (Put Your Head On My Shoulder) (Pet Sounds, 1966)
When Pet Sounds was finished, the 23-year-old Brian Wilson rushed the acetate home, where he played it in full to his wife, Marilyn. She later said, "It was one of the most moving experiences you could ever imagine. As I heard each song, one by one, it was, gasp. It was so beautiful, one of the most spiritual times of my whole life. We both cried." It's a scene that's easy to imagine hearing in "Don't Talk." Essentially a Brian solo song, it conveys the feeling of wordless intimacy in a slow-moving, jazz-tinged ballad helmed by Carol Kaye's elegant bassline. "Listen, listen, listen," he implores. We urge you to do the same.
Don't Talk (Put Your Head On My Shoulder) (Mono)
19: All This Is That (Carl & The Passions – "So Tough", 1973)
The high point of Al Jardine and Mike Love's writing partnership, "All This Is That" is a spellbinding exploration of spirituality. When this writer spoke to Mike Love in 2018, he revealed that Carl Wilson was given a writer's credit on the song thanks purely to his trembling and ethereal delivery of the mantra "jai guru dev" that ushers in the drifting long outro. Listening now, it's not hard to see why.
All This Is That (Remastered 2000)
18: Friends (Friends, 1968)
A collaborative effort that typifies the sweet, gentle, and casual excellence that the fast-maturing band were becoming capable of. Much is made of the group's retreat from big-budget studio productions after the SMiLE sessions, but albums like Friends reveal a subtler progression. Written by Brian, Carl, Dennis, and Al, "Friends" is a countrified waltz festooned with stunning harmonies that celebrates companionship.
Friends (Remastered 2001)
17: California Girls (Summer Days (And Summer Nights!!), 1964)
There aren't many massive-selling worldwide hit singles that come with a 20-second prelude that doubles up as a pastoral symphony in miniature, but by this point in their career, The Beach Boys' creative urges and ambitions were racing ahead. "California Girls" itself was a jaunty slice of aural sunshine, embellished by a nicely abrasive horn arrangement and boasting singalong lyrics. But it's all about that intro.
California Girls (Stereo)
16: I Get Around (All Summer Long, 1964)
One look at the group circa 1964 suggests that the only member who might have fit into the sort of gang of hip tearaways described in "I Get Around" was their drummer, Dennis. But let's allow Brian and Mike some creative license here because they managed to take the sound of early smashes like "Surfin' Safari" and "Surfin' USA" and move it from the beaches to the roads, with giddily exciting results. The twangtastic guitar breaks, the exuberant handclaps, and Brian's soaring falsetto all helped The Beach Boys score their first US No.1 single – especially notable considering the chart dominance of The Beatles at the time.
15: Please Let Me Wonder (Today!, 1965)
The exquisite bridge between The Beach Boys' keening early ballads and the musically lush existential crises of Pet Sounds, "Please Let Me Wonder" saw Brian and Mike reflect on the uncertainties surrounding young love and whether it can possibly live up to an idealized version of romance. The singer would rather "wonder" than know for certain if their feelings are reciprocated, and would rather have the "beautiful image" of the object of their affections they've cultivated in their head than the real thing. There's little evidence of similar anxieties in the music – a meticulously arranged number peppered with neat ideas, like the luxuriant unspooling of the verse melody, or the gear change into the punchy, echo-laden guitar stabs and Farfisa organ showdown of the middle eight.
Please Let Me Wonder (Remastered)
14: I Just Wasn't Made For These Times (Pet Sounds, 1965)
While on the subject of Wilson and co's uncanny ability to make great art out of inner torment, there aren't many better examples than "I Just Wasn't Made For These Times." With lyrical assistance (as on all of Pet Sounds) from Tony Asher, a then-26-year-old copywriter who'd been working on advertising jingles when they met, Wilson laid bare his creative frustrations and feelings of alienation and disillusionment, with the chorus spelling it out bluntly: "Sometimes I feel very sad." It's a musical tour de force, with a confidence and willingness to break boundaries resulting in an arrangement that might have felt overly busy in another group's hands (the percussion alone is ambitious, the first-ever recorded Electro-Theremin solo even more so). Deftly handled, however, the song is dynamic and nuanced, and a staggering piece of music.
I Just Wasn't Made For These Times (Mono)
13: Darlin' (Wild Honey, 1967)
During the immediate post-SMiLE era, Brian Wilson started working with a new group called Redwood (later to become Three Dog Night). When Mike and the rest of The Beach Boys heard the sessions – in particular "Thinking 'Bout You Baby" – they convinced Brian to hand the songs he'd written to them. That song was revamped, given a stomping, Motown-inspired arrangement, and Carl Wilson was let loose on the lead vocal, revealing a hitherto-unknown capacity for soulful hollering. A much-loved staple of the group's live set, later performances are worth checking out purely for Carl's vocals as he hits the "More soul than I ever had" line – the delivery became more winningly throat-shredding as the years went on.
The Beach Boys - Darlin' (2017 Stereo Mix)
12: In My Room (Surfer Girl, 1963)
Here Brian and early collaborator Gary Usher recall the sanctuary of the childhood bedroom as a refuge from the harsh realities of growing up. "In My Room" is an especially poignant song considering the psychological trauma Brian suffered at the hands of his father, Murray, during adolescence. It's fitting, then, that the first verse features the three Wilson brothers singing beautifully in close harmony, just as Brian had taught them when they shared a room as children.
11: When I Grow Up (To Be A Man) (Today!, 1965)
"When I Grow Up (To Be A Man)" is unusual in that it's effectively a song from the perspective of a young adult remembering their fears about growing up. The outro sees the backing vocalists rattle through the years as Brian's lead vocal swoops over them: "Won't last forever, it's kinda sad." But, as with so many of the best Beach Boys songs, the worrisome lyrics are offset by the music: the harpsichord and glass harmonica are deployed inventively, Hal Blaine's percussion patterns are unique yet perfect for the song. The whole thing highlights Brian's ability to make complex arrangements sound totally natural, as proved by the single release's US Top 10 chart placing.
When I Grow Up (To Be a Man) (Stereo)
10: Heroes And Villains (Smiley Smile, 1967)
Following up Pet Sounds and "Good Vibrations" was never going to be easy. Looking for lyrics to match his grand musical ambitions, Brian turned to Van Dyke Parks, a well-connected LA musician and writer. Wilson and Parks set to work on a collection of material dealing with themes of US history (particularly Western expansion and the idea of manifest destiny), underpinned by ideas about the natural world, humor, and the cycle of life. Meanwhile, Brian had taken "Good Vibrations" to the next level by adopting a modular approach to production, recording fragments of songs with the intention of piecing them together to form a grand art-pop jigsaw puzzle.
The rambunctious frontier saga "Heroes And Villains" was to be the SMiLE album's centerpiece. Van Dyke Parks' lyrics delight in audacious wordplay and punnery while the music moves through sections driven by saw-like string bass with all manner of bells and whistles, to psychedelic doo-wop and sinister barbershop. But that's just the version released as a single from the Smiley Smile album; the 2011 The Smile Sessions box set had an entire disc of "Heroes And Villains" outtakes, allowing listeners to piece together their own version. (What do you mean there's no "Barnyard" in yours?)
The Beach Boys SMiLE Sessions - Heroes and Villains Music Video
9: Sail On, Sailor (Holland, 1973)
After delivering Holland, it was decided that the addition of a strong lead single would benefit the album. After some lyrical rewrites, a song that had first been worked on earlier in 1972 was recorded for the album and became a modest hit – deservedly so. "Sail On, Sailor" is a rollicking ride, a muscular and strident rocker sung soulfully by Blondie Chapman, who'd joined The Beach Boys on guitar the previous year.
Sail On, Sailor (Remastered 2000)
8: Forever (Sunflower, 1971)
Though the middle Wilson brother, Dennis, was considered the least musically advanced during his first few years in the group, by the late 60s the self-taught drummer's natural ability was making itself known. After experimenting in the studio with the instrumental "I Don't Know" during the SMiLE sessions, his first released songs ("Little Bird," "Be Still") added an element of plaintive soul to 1968's Friends. Dennis' songwriting matured quickly, to the point where he provided Sunflower with its stand-out ballad, the open-hearted and doe-eyed expression of eternal love, "Forever."
Forever (Remastered 2009)
7: 'Til I Die (Surf's Up, 1972)
Brian's main contribution to the album that saw an upturn in the group's commercial fortunes was this incredibly moving meditation on the lack of control he felt over his life. It begins with stunning harmonies singing, "I'm a cork on the ocean/Floating over the raging sea/How deep is the ocean?" It's heartbreaking to hear the genius who'd brought such joy to so many lives sounding so utterly despondent. But with the pay-off, "These things I'll be until I die," Wilson appears to make peace with his situation, mirrored by the optimistic upturn in the music.
'Til I Die (Remastered 2009)
6: The Warmth Of The Sun (Shut Down Volume 2, 1964)
While stories vary as to whether Mike Love and Brian Wilson finished writing "The Warmth Of The Sun" the night before or after the assassination of President Kennedy, on 22 November 1963, it's obvious that, once recorded, just over a month later, the song became emblematic of a nationwide feeling of loss. Brian's elegant wordless falsetto ushers in a stately ballad that may speak specifically of finding comfort in the memories of lost love, but which also works as a musical balm to soothe the soul, whatever the ailment.
The Warmth of the Sun (Mono)
5: Don't Worry Baby (Shut Down Volume 2, 1964)
The influence of producer Phil Spector loomed large over The Beach Boys, to the point where, obsessed with The Ronettes' "Be My Baby" (co-written and produced by Spector), Brian Wilson teamed up with lyricist Roger Christian to pay homage with "Don't Worry Baby." Whether it's the heart-stopping melody of the opening lines ("Well it's been building up inside of me for, oh, I don't know how long") or the impact of the backing vocals in the chorus, the fact that the lyric is ostensibly about an insecure man needing support from his partner before taking part in a drag race becomes irrelevant – the song taps into a universal need for reassurance. The recording is magical; Brian's vocals are captivating; the backing vocals take your breath away; and the music is prom-night perfect. In taking on Spector, The Beach Boys found something magnificent all of their own.
Don't Worry Baby (Remastered 2001)
4: Wouldn't It Be Nice (Pet Sounds, 1966)
Another iconic intro: a delicate, music-box-like opening is rudely interrupted by a hefty thwack of Hal Blaine's drum, announcing a riot of accordions (how many other hits of the time, or any other, are driven by not one, but two squeezeboxes?), a trio of saxophones, trumpet, and glockenspiel, along with breathtaking harmonies (best heard on the 1997 Pet Sounds Sessions box set's a cappella disc). Pet Sounds' opening gambit was an utterly euphoric song about yearning for something unobtainable; frustrated young lovers idealizing the very adult idea of marriage and equating it with happiness. The bravura arrangement and production, not to mention an endlessly appealing melody, helped "Wouldn't It Be Nice" become one of the best Beach Boys songs of all time.
Wouldn't It Be Nice (Mono)
3: Good Vibrations (single A-side, 1967)
With The Beatles inspiring healthy creative competition, the pressure was on to deliver a hit. It might have taken months of on-and-off recording (work on the song began in February 1966, during the Pet Sounds sessions, and finished it in October), with recording costs estimated to have been between $50,000 and $75,000 – a colossal sum for the times – but "Good Vibrations"' three-and-a-half minutes of zingy off-kilter pop did just that. Despite sounding otherworldly and moving in wildly unexpected directions, the song was also accessible. More than the sum of its parts, "Good Vibrations" went to No.1 in the US, selling a million copies, and was a worldwide smash hit.
2: Surf's Up (Surf's Up, 1972)
When Brian appeared on Inside Pop: The Rock Revolution – a 1967 US TV special presented by Leonard Bernstein that looked to understand the growing sophistication of pop music – the song he performed was not one of The Beach Boys' acknowledged masterpieces but "Surf's Up," a song he'd written with Van Dyke Parks for SMiLE. Sat in the half-light, Brian performed alone at the piano, giving viewers a tantalizing glimpse of a song clearly destined for greatness.
The song remained unreleased until it was plucked from the vaults and finessed to give the group's 1971 album a title track and some serious clout. All the while, its reputation had been a major part in fanning the flames of the SMiLE myth, the exquisite melody by turns foreboding, serene, haunting, and – most of all – exquisitely beautiful and fantastic, with oblique lyrics that painted a picture of opulence before suggesting a collapse of established order: an allegory for the seismic cultural changes of the 60s. "Surf's Up" was so good that when it was finally pieced together, embellished, and released, it actually lived up to expectations. Need evidence of Brian Wilson's genius? Here you are.
Surf's Up (Remastered 2009)
1: God Only Knows (Pet Sounds, 1966)
While it's entirely possible that "God only knows" was a homespun turn of phrase that had caught the ear of either Brian or Gary Usher and was filed away for future use, once it was set to music that was so formidable and capable of stirring the soul, it amounted to something deeply spiritual. Brian may have famously called SMiLE a "teenage prayer to God" but, in truth, The Beach Boys had already managed it here.
"God Only Knows" speaks from the perspective of a person so overwhelmed by love and the world itself that he is sure that only a higher power can possibly understand his feelings. It's a song looking to make sense of one of the harsh truths of love: the stronger it is, the more it is tied to loss. The singer loves somebody so much they are preoccupied with the reality that one day that love will be lost, and only God (a word not chosen lightly in pop songs back then) can really understand what that means. While that all sounds rather heavy, it's expressed with impeccable grace. And the lyrics are matched by the music – heart-swelling from the beginning, with a marching band-like harpsichord, regal French Horn, and luminous harmonies. It's the radiant jewel in The Beach Boys' crown; a song that will be treasured for as long as people love one another.
Looking for more? Discover how The Beach Boys captured the Californian dream.