Best blink-182 Songs: 20 Pop-Punk Staples
An introduction to one of the best pop-punk bands to ever do it.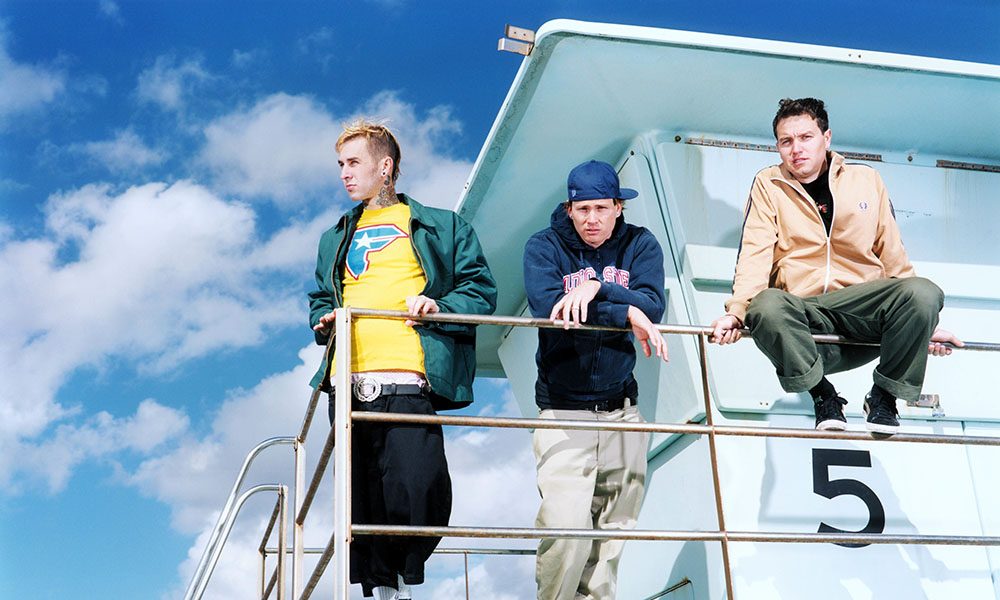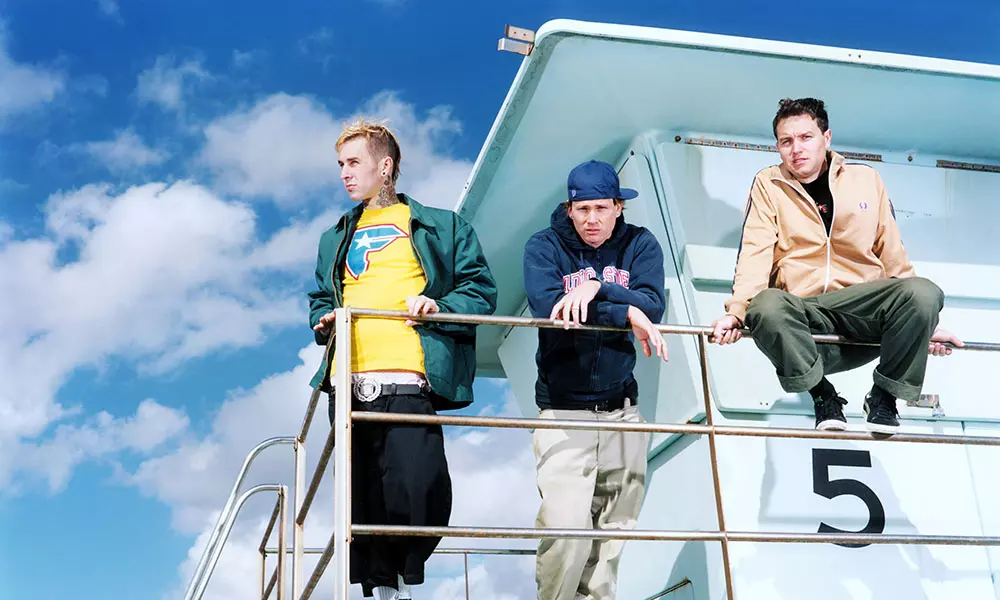 Pop-punk wouldn't be the genre it is today without the songs of blink-182. With the Descendents defining the 80s, and Green Day shaping the 90s, blink-182 were the logical next of kin to helm the turn of the century. Guided by a radio-friendly spin on the genre and goofy indifference to punk rock purism, blink-182 were a breath of fresh air.
Back in 1992, guitarist Tom DeLonge, bassist Mark Hoppus, and drummer Scott Raynor decided to start blink-182 after crossing paths in sunny Poway, California. In between catching movies and playing practical jokes, the trio would meet up to hash out potential songs and rehearse for gigs. Come 1994, they dropped their first release, Buddha, which caught the attention of local label Cargo Records, and blink-182 went on to put out their debut album, 1995's Cheshire Cat, through the label. The surrounding hype of those two releases landed blink-182 a deal with MCA Records who co-released their next album, 1997's Dude Ranch, and set them on the path for success. Due to schedule conflicts and other problems around this time, however, Raynor left the band the following year. Thankfully for Hoppus and DeLonge, The Aquabats drummer Travis Barker was a quick learner and stepped in to help them with a few shows, and quickly joined full-time.
Ever since then, blink-182 have only ever rocketed upwards. They dominated radio airplay, MTV blocks, and music magazine features with an excellent run of albums: 1999's Enema of the State, 2001's Take Off Your Pants and Jacket, and 2003's blink-182. The only thing that could have stopped their rapid ascension was themselves – a possibility that unfortunately became a reality. In 2005, arguments over the band's musical direction led to an "indefinite hiatus" and blink-182 stepped out of the spotlight, with members going on to form other side-projects, produce records, and dabble in TV.
Listen to the best of blink-182 on Apple Music or Spotify.
After a few years, all three members officially reunited in 2009, and they managed to squeeze out the 2011 comeback album Neighborhoods before DeLonge unceremoniously quit, leaving blink-182 once again at a standstill. Luckily, Alkaline Trio singer-guitarist Matt Skiba was happy and willing to step into the role. Hoppus, Barker, and Skiba got along so well that they tested the songwriting waters by penning 2016's California, a buoyant record ripe with anthemic hooks, which was followed three years later by the electro-pop-influenced NINE.
The New York Times wrote in 2011 that "no punk band of the 1990s has been more influential than blink-182." What makes this all the more amazing is that it's been decades since blink-182 were founded in a San Diego suburb and they're arguably still growing in popularity, regularly selling out amphitheaters around the world. This introduction to their best songs quickly shows why.
blink-182's Southern California Punk Beginnings
(Dammit, Carousel, Apple Shampoo)
In their hey-day, East Coast and West Coast pop-punk were as different in spirit as they were in sound. blink-182 are a prime example of the West Coast. Whereas their New York City peers were taking a colder, harsher approach to the genre, blink-182 put a sunny San Diego shine on their guitar tones and vocal styles from the very start.
"Carousel," the opening track on their debut full-length Cheshire Cat, flaunted a comparatively intricate bassline by Hoppus, DeLonge's quickening guitar work, and Raynor's rapid-fire drumming. It showcased all the melody and edge pop-punk was known for, while adding a regional carefree flair. Two years later, blink-182 honed that So-Cal style further with 1997's Dude Ranch. On "Dammit" that meant bringing the story of a breakup to life with an inescapably catchy guitar riff and dual vocals. It's evident on a song like "Apple Shampoo," too, where guys in baggy shorts and Vans cozied up to the microphone to harmonize lines that most definitely have not stood the test of time. With a blithe attitude in their hearts and an undeniable energy, blink-182 were unknowingly defining their regional scene.
The Radio Takeovers
(All The Small Things" "What's My Age Again?, First Date, I Miss You)
Once Barker replaced Raynor as the band's full-time drummer, blink-182 shifted into pop-punk high gear. They recorded and released their breakout album, Enema of the State, in 1999 to enormous success. Thanks to the relatability of lyrical arrested development and an iconic music video featuring all three members sprinting across Los Angeles in the nude, "What's My Age Again?" dominated the radio and quickly became an MTV staple. The same was true of the album's second single, "All the Small Things," which became their highest charting single on the Billboard Hot 100 and whose notorious music video saw the band mocking boy bands like Backstreet Boys, 98 Degrees, and NSYNC.
blink-182 - What's My Age Again? (Official Music Video)
blink-182's domination continued into the early 2000s. Take Off Your Pants and Jacket found everlasting success with "First Date," a single that perfectly encapsulates the nervous excitement of hanging with your crush. (It was a song DeLonge only wrote to satisfy their manager's request for a feel-good summer hit.) Unsurprisingly, the band balanced out the single's cheesy sincerity with a music video spoofing '70s teen culture. On their following self-titled album, blink-182 got sentimental yet again with "I Miss You," a cello-laden love song inspired by The Cure, The Nightmare Before Christmas, and everything in between. Its unshakable chorus wormed its way into listeners' brains and earned the song blink-182's second-highest spot on the Billboard Hot 100, a rank sustained in part thanks to its eerie, gothic music video.
blink-182 - I Miss You (Official Video)
The Pop-Punk Pinnacles
(Dumpweed, Anthem Part Two, Reckless Abandon)
With a little more experience under their belts and a bigger budget for production, blink-182 approached the turn of the century with what would become their defining sound. The trio got to flaunt just how excellent they were at writing addicting hooks and mood-lifting melodies with studio mixing that isolated each member's part. On Enema of the State opener "Dumpweed," blink-182 sprinted out of the gate with a rush of rubbery guitars, a flurry of drum fills, and the blistering realization that girls would always be too smart for them.
Two years later, with Take Off your Pants and Jacket, blink-182 turned their boundless, youthful energy into songs about realizing your worth and choosing what to do with it. With "Anthem Part Two," they delivered a generational opus about refuting political dogmas, questioning adults in positions of power, and defending your potential. Later, on "Reckless Abandon," blink-182 addressed the flip side of being a teenager: yielding to natural impulses, getting drunk, and having one last wild night with friends before the responsibility of adulthood pinned them down.
The Darker Realism Doses
(Adam's Song, Go, All Of This, Asthenia)
Despite centering themselves as indifferent pop-punk kids just looking to goof around, blink-182 wrote a string of serious songs that tapped into the darker realism of teenage life and young adulthood. Most of this takes shape on 2003's blink-182. On the punk-rock "Go," Hoppus recounts a mother being trapped in an abusive relationship and fearing for her life. "Why do evil men get away with it?" he yells, before wishing for the bliss of ignorance. Immediately afterward, on "Asthenia," DeLonge paints the picture of a hopeless astronaut stranded in space as he contemplates whether returning home – a place that's bleak and isolating in its own way – is worth it. blink-182 even linked up with The Cure's Robert Smith, the arbiter of all things goth, for "All Of This," a song about being used by an ex and consequently becoming too devastated to move on.
Arguably the darkest song in blink-182's discography is "Adam's Song," an Enema of the State single about crushing loneliness, depression, and suicide ideation. Over the course of the track, the narrator contemplates taking his life – at one point even referencing Nirvana's hit "Come As You Are" – before changing his tune and deciding to hold on to see what the future holds instead. The music video for "Adam's Song" regularly circulated on MTV as well, launching the track to commercial success and challenging the band's public image as carefree jokesters.
The Comedy Cracks
(Happy Holidays, You Bastard, I Won't Be Home For Christmas, Built This Pool)
Nonetheless, in the words of Rolling Stone, "Punk Guitar + Fart Jokes = blink-182." As a trio of 20-somethings guys who spent their time cracking jokes and playing pranks, blink-182 never felt the need to hide their immaturity, even when they were embraced by mainstream media. Peppered throughout their catalog are comedic tracks to remind you that blink-182 don't take themselves too seriously, so neither should you. From arguably the most popular of these songs – "Happy Holidays, You Bastard," a track about ejaculation, loathing, and watching your grandfather poop in his pants – to the tongue-in-cheek B-sides – "I Won't Be Home For Christmas" is the anthem for anyone fed up with tacky traditions and faux-cheer – there's something for everyone who needs a laugh.
Happy Holidays, You Bastard
Even when blink-182 outgrew the age window where sophomoric humor thrives, they still found a way to upkeep their band's beloved shtick: by centering themselves as the butt of the joke. On California, they filtered dad jokes through a jolt of guitar pop for songs like "Built This Pool." Clocking in at a mere 17 seconds, the track rides a giddy riff and chipper "woos" before Hoppus sings, "I want to see some naked dudes/That's why I built this pool," and Skiba responds, "Is that really it?" It's simple and it's mindless, but blink-182 commit to the bit in a way that makes their frat-ready humor still funny after all these years.
Built This Pool - blink-182 [LYRIC VIDEO]
The Revitalizing Reunion
(Up All Night, Cynical, Darkside)
blink-182's long-awaited reunion arrived at a bittersweet time. Jerry Finn, the band's longtime producer and a behind-the-scenes hero of 90s and 00s pop-punk at large, suddenly passed away in 2008, leaving the band to shuffle between a slew of new producers. Hoppus, DeLonge, and Barker announced blink-182's return on live TV during the 2009 Grammy Awards. Fans were rewarded with a celebratory world tour and news that the band was writing Neighborhoods, a considerably darker and fuzzier album compared to their previous releases. All of that pomp and circumstance was balled up into "Up All Night," a booming, heavy lead single about confronting your demons that ushered in a new era.
blink-182 - Up All Night (Official Video)
Over the next few years, though, DeLonge didn't quite feel right and eventually decided to part ways with blink-182. In a statement, he said that he "never planned on quitting" but found it "hard as hell to commit." Hoppus and Barker were unsure how to replace their original guitarist, but were too driven to stop making music as blink-182. They turned to Alkaline Trio singer-guitarist Matt Skiba, a fellow icon within the pop-punk scene and a musician Hoppus had longed to work with for years.
The three gelled together seamlessly and drew fresh inspiration from one another, consequently diving into the studio to record their 2016 glossy full-length California. Opener "Cynical" introduced a new blink-182 lineup and, with it, a new sound: urgent guitar melodies, emotional choruses, and the type of hyper-polished production that made their instruments sound slick and arena-ready.
Three years later, blink-182 doubled down on that style with their 2019 record NINE. On "Darkside," they turn to electric drum kits and Skiba's shouted lyrics to pinky promise that they're in this for the long haul. In that, it's a fitting reminder of blink-182's unique knack for hooks and, above all else, their commitment to having fun decades into their career.
Think we missed one of blink-182's best songs? Let us know in the comments below.