Perfect Christmas Gifts For Pop Culture Obsessives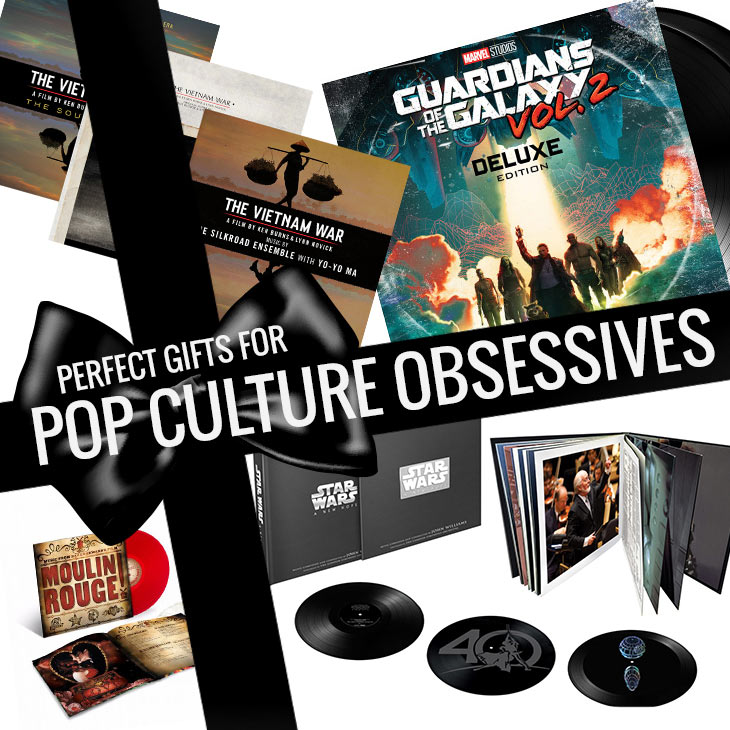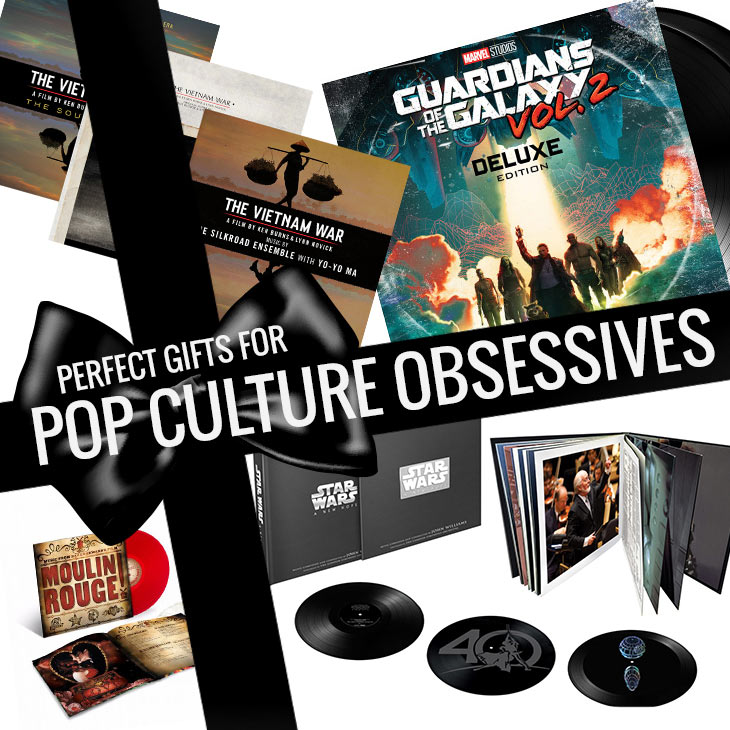 Stuck on what to get as gifts for pop culture fans in your life? You know the type: from film buffs who have seen everything, to the TV fanatics with a full Netflix queue and the bookworms who give the best recommendations, they help curate your life so why not return the favor? From a stunning new Star Wars box to a seasonal release from Frank Zappa, here are some of the best gifts for pop culture fans in 2017.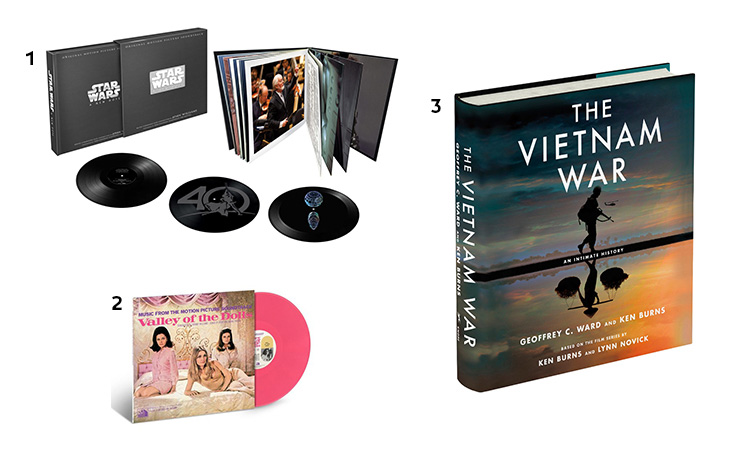 1. Star Wars: A New Hope Original Motion Picture Soundtrack 40th Anniversary
Has there ever been a more iconic score than John William's music for Star Wars? Music and film fans will covet this one-of-a-kind 3LP vinyl set, featuring a 48-page hard cover book and 180-gram vinyl hand etched by Tristan Duke that offers a 3D hologram experience featuring the Death Star.
2. John Williams: Valley of the Dolls Soundtrack LP
Another cult classic soundtrack from John Williams, Valley of The Dolls features a dizzying score that matches the drug-addled subject matter and songs by the legendary husband and wife songwriting team, Dory and André Previn. Based on Jacqueline Susann's blockbuster novel, the campy soundtrack is now available on pill-poppin-pink vinyl.
3. The Vietnam War: An Intimate History by Geoffrey C Ward and Ken Burns
From America's most lauded documentarian, comes Ken Burns' most ambitious series yet, a 10-part documentary on the Vietnam War on PBS and an in-depth companion volume co-written by historian and screenwriter Geoffrey C Ward. Going beyond just an American viewpoint, history buffs can delve into the fascinating experience of the North and South Vietnamese as well.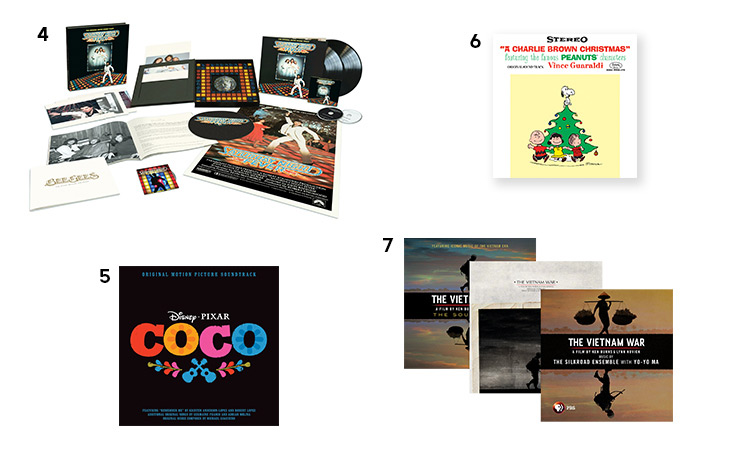 4. Saturday Night Fever: The Original Movie Soundtrack Boxset
This holiday season, the only bug you're going to catch is disco fever. Revisit the film and music that captured the craze with this 40th anniversary deluxe edition of Saturday Night Fever, featuring a 2CD edition of the remastered original album and four Serban Ghenea remixes; or the remastered 2LP edition that includes the director's and theatrical version of the film on Blu-ray, a 23-page book by Barry Gibb and the filmmakers, an exclusive turntable slipmat, a set of five art prints and a reproduction of the original Saturday Night Fever movie poster.
5. Disney Pixar's Coco: Motion Picture Soundtrack
Disney soundtracks have a knack for getting stuck in your head until you 'Let It Go', and it looks like their new animated feature with Pixar will be no different. As the studio's most music-driven film yet, it's a colourful homage to the various sub-genres of Mexican folk music, given a pop music polish thanks to collaborators like R&B singer Miquel and Mexican pop singer Natalia Lafourcade.
6. Vince Guaraldi: A Charlie Brown Christmas
Playing this enduring classic has become a holiday tradition and it remains one of the best selling jazz albums, second only to Miles Davis' Kind of Blue. Thankfully you don't have to scour vintage shops to find it on 180-gram vinyl, featuring the rarely seen artwork from the original 1965 album.
7. The Vietnam War: A Film By Ken Burns & Lynn Novick Original Score and Soundtrack
For fans of the critically acclaimed Ken Burns documentary, experience the music of this moving film with the soundtrack featuring iconic songs of the era or the chilling original score by Trent Reznor and Atticus Ross.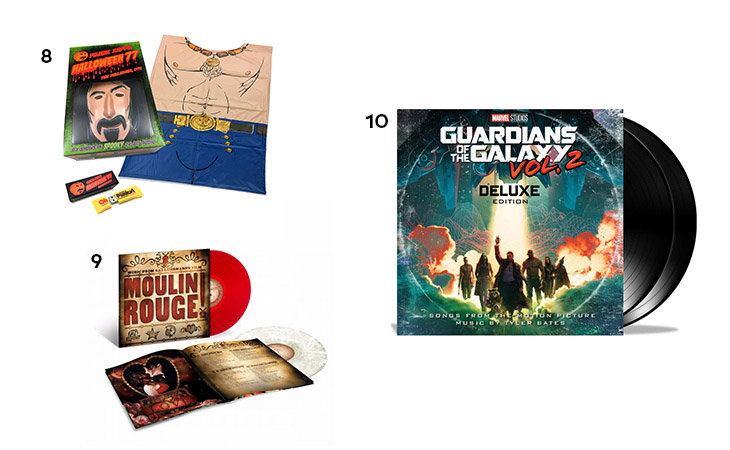 8. Frank Zappa: Halloween 77 Box Set
The ultimate collector's item for Zappa fans, relive his historic Halloween shows at New York's Palladium and freak out your family on Christmas eve by skipping the Santa outfit and dress up as Zappa instead with this costume box set.
9. Baz Luhrmann's Moulin Rouge Soundtrack
Leave it to the Australian auteur Baz Luhrmann to transform a turn of the century tale about the Belle Époque into a rock'n'roll musical. Featuring covers of Nirvana, David Bowie, the Beatles, and Queen by the likes of Beck, Massive Attack and Bono for U2, it's just one the perfect gifts for pop culture fans.
10. Guardians Of The Galaxy Vol 2: Deluxe Edition
Instead of the synth-driven sci-fi soundtracks we've grown accustomed to, half the fun of watching Guardians of The Galaxy is what classic track is going to pop up in the plot. The sequel was just as eclectic with songs from ELO, Looking Class, Fleetwood Mac, Sam Cooke, Yusuf / Cat Stevens and many others, soon to be part of your record collection.
For more gifts for pop culture fans, visit uDiscover Music's pop culture store here.