'How You Luv That': Big Tymers' Major Label Launching Pad
While Juvenile got all the headlines, this album was just as important in Cash Money Records' history.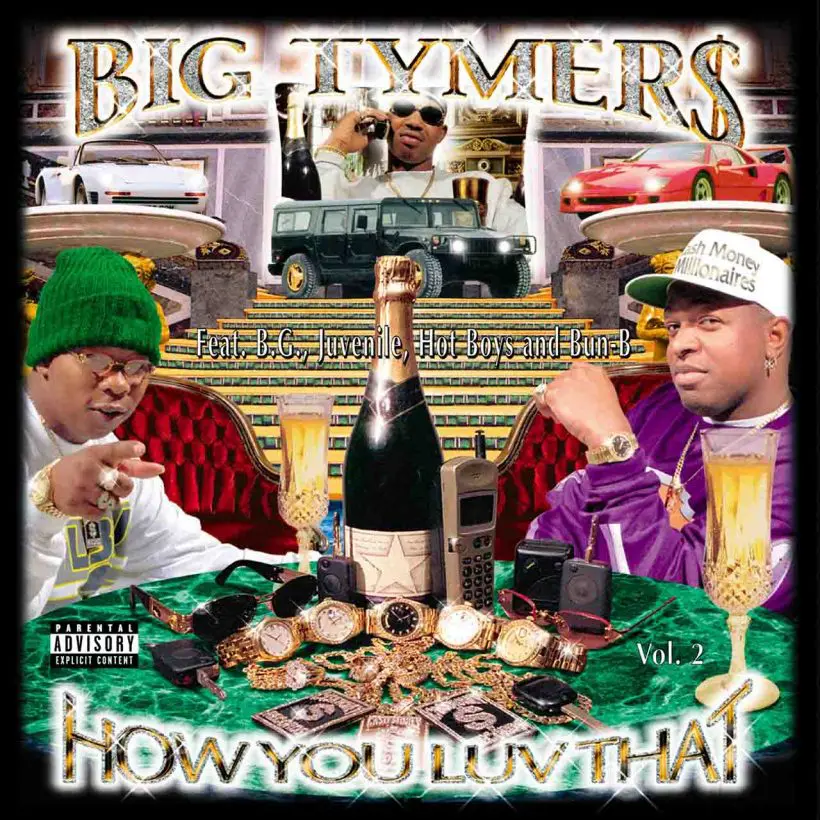 Those old enough to remember 1998 and the sudden yet electric emergence of Cash Money Records, will likely credit Juvenile's 400 Degreez as their first introduction to the world. Their big gift to consumers after inking that landmark $30 million dollar deal with Universal Records. It was lightning in a bottle. Some call it the perfect album. Others claim it was the best rap album of 1998 (which was one of hip-hop's best years). It was also Cash Money's best-selling album until Drake came along and crushed the buildings in 2016 with Views. Juvy nearly held this title for 20 years – an impressive feat for a label that was awarded for selling a billion units in 2017.
Tracks like "Ha" and "Back That Azz Up" were inescapable smash hits, showing a side of New Orleans rap the world had yet to see. The sound, the slang, the style of dress, the jewelry – it was all different. It was fresh. It was unique. It was a game-changing album that set the standard for the label, which is essentially the last man standing from the bygone '90s-era of boutique labels and music industry excess. Cash Money has had a run like no other, changing and re-inventing itself to adapt with the times, surviving and thriving in the most fickle business on the planet. And it all kicked off in 1998.
Listen to Big Tymers' How You Luv That now.
But one footnote that has been conveniently – or inconveniently – left out of history, is that the first album the label released after inking their major distribution deal with Universal wasn't 400 Degreez, but actually Big Tymers How You Luv That Vol. 2, a repackage of their original release, which was distributed across the South on March 17, 1998. How You Luv That is widely considered a classic among Cash Money enthusiasts, yet it only met with modest success when it got the national push in September 1998. One of the newly added tracks, "Big Ballin," rings out and is a fan favorite now, but only received minimal airplay on BET's Rap City when it dropped, despite having an incredible video, it looks like the prequel to Juvenile's much-heralded clip for "Ha."
Decades later, though, we can look back at the album and appreciate its greatness, and recognize it as catalyst for changing the trajectory of Southern rap. As much as I hate to use the term "ahead of its time," this album was exactly that. If only by a few months.
What you have to understand about March of 1998 is that this was the absolute height of Master P and the No Limit Records run. P was on top of the world at this very moment, and only three months into the biggest year of his career – where his juggernaut label dropped an astounding 23 albums, most of which were certified Gold or Platinum. Master P was only six months removed from the release of his 3x Platinum album, Ghetto D, which made the colonel of the tank an omnipresent figure in the rap game. So it's understandable that the Big Tymers release was buried between the release of Silkk The Shocker's Charge It 2 DaGame (which dropped a month prior) and C-Murder's Life or Death, which dropped on the same day (March 17, 1998) – two of the most anticipated albums of 1998. No Limit was the face and sound of New Orleans at that very moment – with Cash Money impatiently waiting in the wings.
While No Limit's in-house team, Beats By The Pound (who was headed up by the legendary KLC), was churning out music so rapidly they weren't even mixing the albums prior to release, Cash Money solely used Mannie Fresh behind the boards. Cash Money Records had a much smaller roster at the time, which almost exclusively consisted of the Big Tymers and the Hot Boys – a boy band of sorts that included Juvenile, Lil Wayne, BG, and Turk. The smaller roster gave Mannie more time to work on the albums, perfecting the sound, and the quality of the mixes.
While Beats By The Pound's sound was a bit darker and harder, Mannie's drums, bass and keys were shinier, happier, and bouncier. Having come up in New Orleans bounce scene, Mannie was able to incorporate those elements along with his own flair that helped shift the sound of music, and has made him one of hip-hop's greatest producers – with an elite level of important songs and hits in his catalog.
On top of handling the label's production duties, Mannie was also one-half of the Big Tymers – and served as the defacto comedian of the duo. 1998 was still very much the era of "real hip-hop" and "real lyricism," and what the Big Tymers lacked in traditional NYC-graded lyrical abilities, they made up for in natural charisma, charm, and light-hearted, hilarious jabs. Birdman, who was simply known as Baby at the time, never even bothered to anoint himself as a lyricist or a rapper, preferring to define himself as a game-spitter. Whatever the case, the Big Tymers made for a much more enjoyable listen than a lot of the "real hip-hop" that was being pushed at the time.
How You Luv That wasn't just the intro to Mannie Fresh and Birdman, but also further stamped the rest of their burgeoning label, including top-notch features from Lil Wayne, BG, and Juvenile. In fact, one of the album's standouts "Tear It Up" was the first time this writer ever heard Wayne grace the microphone, and immediately made me a fan. Wayne was only 15 years old (gasp!) when How You Luv That hit shelves, and he sounded equally as ferocious and skilled on the track as those who were 10 to 15 years older than him at the time.
Bun B, who was very much the southern rap ambassador that he still is today, shows up twice on the album, which helped stamp Cash Money as next up from the South. While UGK wasn't the highest selling group in the south, they were arguably the most important (next to Outkast and 8-Ball & MJG). Bun's cosign on the early Cash Money albums was very important.
While "Big Ballin" would become their first notable single later in the year thanks to the album's reissue, videos for "Stun'n" would begin to dominate cable video shows like the New Orleans staple Phat Phat N All That and no doubt helped grow their brand throughout the south. Songs like "Suga & Pac, Puff & Big" would accurately predict the trajectory of Birdman and Wayne (even though Baby favored BG at the time), while fantasies on "Millionaire Dream" would become fully realized in just a matter of months.
By the end of 1998, Cash Money Records was well on its way to becoming a household name thanks to Juvenile's mammoth release, 400 Degreez. The album put pressure on No Limit's reign as their over-exposure and over-indulgence made interest in P's soldiers wane. The Cash Money Millionaires brought something unique, and quickly proved that No Limit wasn't the only game in town. While 400 Degreez is their foundation album, How You Luv That helped secure their well-deserved $30 million dollar deal with Universal, and introduced the world to an unforgettable duo who would go on to release a number of platinum albums and undeniable and often-copied hit singles. (How many songs have used the "Big Tymers flow" over the years?)
The world may only associate Cash Money with 400 Degreez when celebrating 1998, but without How You Luv That, that album may not have happened.
Editor's note: This article was originally published in 2018.