Best Juvenile Songs: Hip-Hop Essentials
The best songs from one of the most talented hip-hop MCs to ever emerge from New Orleans.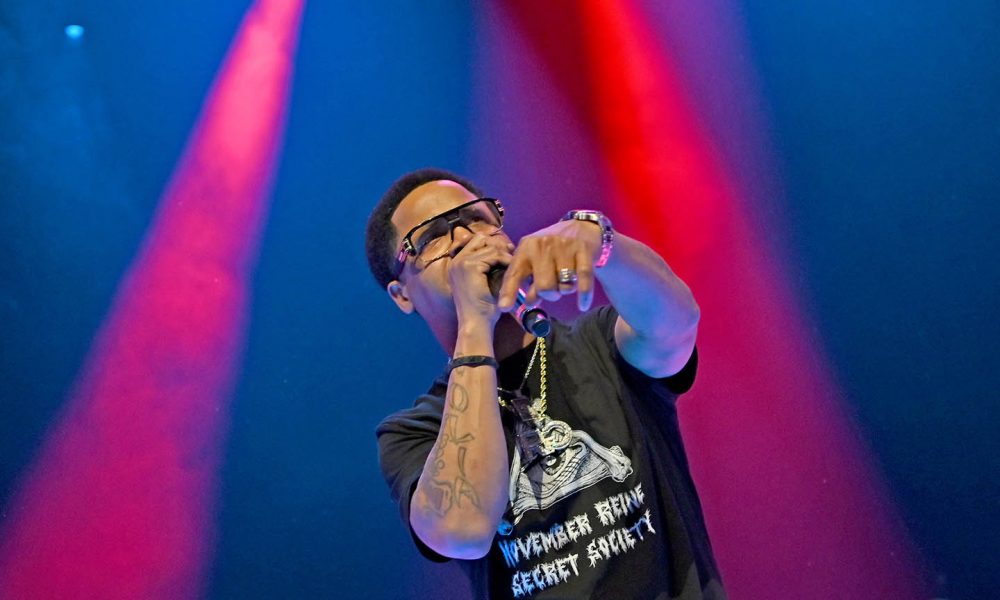 The first solo star to emerge from Cash Money Records, Juvenile remains one of the most renowned rappers in New Orleans hip-hop history. His roots in the city's rap lineage run deep. In the early 90s, when Juve was just a teen, he was a fixture in the local bounce music scene, rapping on the DJ Jimi-produced regional hit song, "Bounce For the Juvenile." Shortly after spitting over bounce's percussive polyrhythms, he joined his fellow Hot Boys – Lil Wayne, B.G., and Turk – to put a gangster twist on bounce music for the regionally successful Get It How U Live!!! (1997). After the group's debut, Juvenile became a star. The locally banging Soulja Rags preceded 1999's 4x-platinum 400 Degreez, which propelled Juvenile, Cash Money, and Mannie Fresh's bounce-centric beats to the international stage, making Juvenile's "Back That Azz Up" declaration that they would take over "for the '99 and the 2000" all the more prescient.
Listen to the best of Juvenile on Apple Music or Spotify.
Juvenile stood out from his Cash Money peers for several reasons, but the first was his inimitable, slightly raspy baritone. On his first projects and equally successful subsequent albums such as the 2001 gold record Project English and the 2003 platinum-selling Juve the Great, he could boom above the most thundering beats and float when drawing out syllables in a lilting croon. Juvenile used those unmistakable vocals to deliver hooks and verses that straddled the line between conversational and technical. He sounded like he was running behind and ahead of the beat simultaneously, finding off-kilter rhythms that worked. In straightforward yet vivid diction and slang, he rhymed naturalistic narratives to hoods worldwide. Here's an introduction to just a few of the best songs from Juvenile's diverse, decade-spanning catalog.
Solja Rags and the Hot Boys
("Solja Rags," "We On Fire")
Juvenile was already well known in the New Orleans bounce music scene by the mid-'90s, but 1997's Solja Rags established him as a force in local rap circles. Still, Solja Rags didn't abandon his bounce past entirely. That's most apparent on the title track, "Solja Rag." The snare rolls and other dynamic layers of percussion in Mannie Fresh's beat harken back to bounce rhythms. It serves as the perfect score for Juvenile to adapt bounce music's call-and-response style to his verses. Rather than leaving space for listeners to respond, Juvenile asks a series of successive rhetorical questions for hustlers and street "soljas." "Is you a paper chaser? / You got your block on fire?" he asks in an unconventional flow that almost sounds like you're a fly on the wall as he talks to one of his wodies. The success of Solja Rags set the stage for his next solo album and shaped his work with the Hot Boys.
Like the best hustlers, Juve knew a winning formula. He used a similar inquisitive flow on "We on Fire" from the Hot Boys' platinum sophomore album, Guerilla Warfare. There may be something almost pavlovian at work here. When Juvenile raps/asks, "What kinda n***a know who killed his partner? What kinda n***a be playing it real with choppers?," you're already anticipating the hook: "The Hot Boys, the Hot Boys, them n***as is the Hot Boys." The hook's catchy repetition is another callback to bounce music. The world may not have known about bounce music, but Juvenile, Mannie Fresh, and the Hot Boys made certain you'd always be able to hear it in the singular Cash Money sound.
400 Degreez
("Ha," "Back That Azz Up," "400 Degreez," "Gone Ride With Me")
While earlier Juvenile and Hot Boys songs had elements of bounce music, he brought unadulterated bounce music to the world with "Back That Azz Up" from his multi-platinum third album, 400 Degreez. It opens with Mannie Fresh's layered, filtered, and reverbed string arrangement, a clarion call for people to rush to the dance floor before the bounce beat drops. An ode to beautiful women shaking beautiful posteriors, "Back That Azz Up" also showed Juvenile rapping with impeccable rhythm. He's so in sync with Fresh's beat that the two become inextricable.
"Back That Azz Up" stands in stark contrast to "Ha," 400 Degreez's unorthodox first single. Rapping in second-person, Juvenile created one of the most unique and recognizable flows in rap history, punctuating every declarative with the title: "You won't bust one of them n***as' head, ha / You ain't scared, ha, you know how to play it, ha." Talking to Complex, Juve said, "'Ha' was the most riskiest single because it was a song that you had to listen to more than one time to catch on to… After they listen to it a few times, they start saying, 'Hold up, this shit relates to me. This is some shit I'm going through. This happened to me.'… There's a line in there for everybody. And if it's not, you can take that line and make your own line. I just think I pushed the envelope far with that record."
Juvenile - Back That Thang Up ft. Mannie Fresh, Lil Wayne
The rest of 400 Degreez pushed the envelope, too. "400 Degreez" is a glowering flex set to another funky and knocking Mannie Fresh Beat. And on "Gonna Ride With Me," Juve delivers intricate New Orleans street narratives between a menacing sing-song hook devoted to carrying a strap. Even his most rugged songs had pop appeal.
Cash Money is an Army
("Project B***h," "N***az In Trouble," "#1 Stunna," "Bling Bling")
Cash Money Records succeeded because of their prolific and united front. They released several albums a year and ensured that each label artist made an appearance. Both because of his talents and commercial success, Juvenile was all but guaranteed on every Cash Money album. Invariably, he brought some of his best verses and hooks to posse cuts and other people's songs. He delivered the irrepressible hook on dirty "Project B***h," an ode to women from the hood from the Baller Blockin' movie soundtrack, and traded memorable lines and cadences with Lil Wayne on "#1 Stunna." He was also the most-featured artist on B.G.'s Chopper City in the Ghetto, guesting on B.G. classics like "N***az in Trouble" and "Bling Bling," which is responsible for adding that piece of slang for iced-out jewelry into the American lexicon. Though Juvenile only has a short verse on "Bling Bling," he references New Orleans's second-line processions, making sure the world knew more about the culture of his hometown.
Big Tymers - #1 Stunna (Official Music Video) ft. Juvenile, Lil Wayne
The Fresh Connection
("U Understand," "Set It Off")
Mannie Fresh produced the bulk of Cash Money's catalog, but he and Juvenile had incredible and perhaps unparalleled chemistry. In fact, Fresh lent his bounce-influenced sound to most songs on this list. After working together on two solo albums and two Hot Boy albums, Fresh and Juve had established a remarkable groove. You could hear it in "U Understand," the lead single from the platinum Tha G-Code (1999). Fresh offers a futuristic take on bounce music, the layers of warbling synths and eerie electronic sounds asking, "What would The Matrix sound like if it were set in New Orleans?" For his part, Juvenile and his crew ride on their enemies in a camouflage Hummer "doing surgery on bodies like they doctors." It's strange and leftfield, but Juve and Mannie could make just about anything work at this point. "Set It Off" from 2001's Project English was a return to form. Used initially on U.N.L.V.'s "Drag 'Em 'N' Tha River," Fresh's suite turned bounce music into a John Carpenter-esque horror score. Over a chopped sample of the Halloween theme and an ominous bassline, Juvenile jumps from swaggering and lustful in the first verse to protesting racist policing by the end.
The Renaissance
("Slow Motion," "Bounce Back," "Nolia Clap (Remix)")
After a short fallow period, Juvenile's 2003 album Juve the Great featured two of the rapper's greatest singles, each showcasing different facets of his artistry. "Slow Motion" is a strip club anthem, a slow and sultry instrumental that bolsters Juvenile's sensual delivery. From his earliest bounce tracks (e.g., "Bounce for the Juvenile") onward, he became better at making carnal songs every year. The hook is simple but indelible, and the verses are as self-aware as they are hilariously horny. "Bounce Back," on the other hand, displays some of the most evocative memoirs of his career. It's a song about his return to rap stardom that reflects on his checkered past with arresting detail. The first line alone rivals the greatest work of flash fiction: "You ever had corns on your fingers from squeezing the mack too much?" Therein lies a day, a life, and a world.
Juvenile - Bounce Back ft. Baby
During his comeback, Juve did his best to bring his partners with him. After leaving Cash Money Records, he formed UTP with fellow ​​New Orleanians Wacko and Skip. The group's "Nolia Clap (Remix)" ranks alongside all-time regional anthems like Jermaine Dupri's "Welcome to Atlanta." The rhythm of the handclap on the hook to "Nolia" is unforgettable. Backed by blaring brass and slamming drums, Juvenile delivers the anchor verse for the song, outlining the poverty in his hometown ("From where the unemployment line be bout as long as ya block") before flexing to remind the world that he made it out one hit at a time.
Think we missed one of Juvenile's best songs? Let us know in the comments below.