Charlie Parker… With Strings Attached
Charlie Parker And Strings marked Bird's first recording for Norman Granz's Clef Records, at a session with Machito And His Orchestra.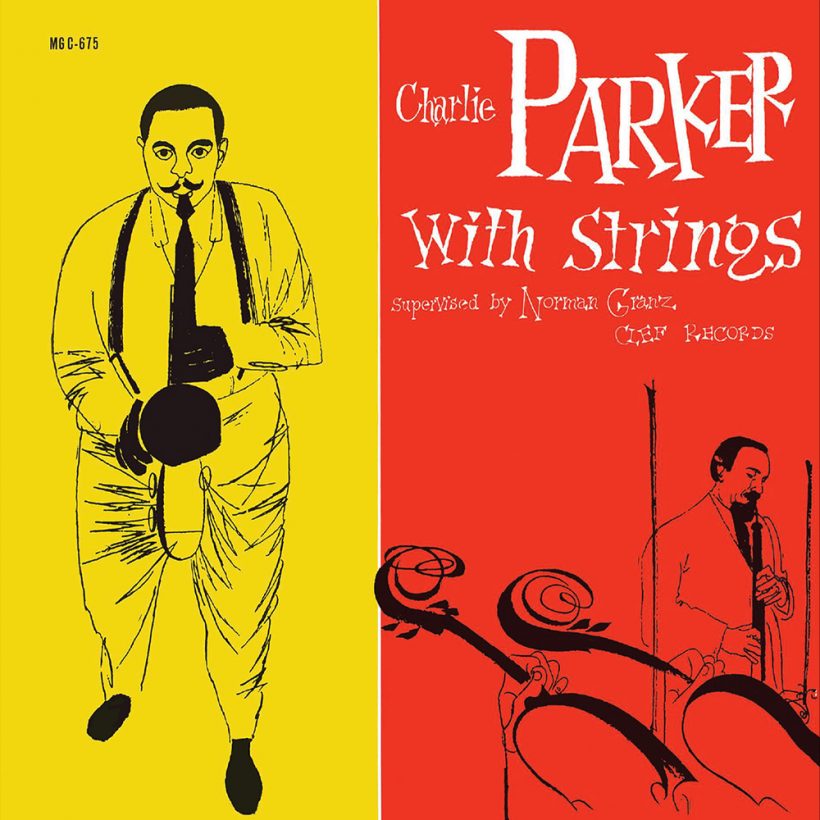 In January 1949, Charlie Parker recorded for the first time for Norman Granz's Clef Records at a session with Machito And His Orchestra. More sessions soon followed, and he appeared at the JATP at Carnegie Hall in February, that were recorded featuring Fats Navarro (trumpet) Tommy Turk (trombone) Sonny Criss, Flip Phillips (tenor saxophone) Hank Jones (piano) Ray Brown (bass) and Shelly Manne (drums). But that initial session yielded the magnificent Charlie Parker With Strings.
Several studio sessions were followed by another appearance at the JATP in September. In November 1949 he 'had recorded Charlie Parker with a group of outstanding longhairs'; a popular term at the time for classical musicians. They were members of the NBC Symphony Orchestra, Pittsburgh Symphony and Minneapolis Symphony, along with a jazz rhythm section of Stan Freeman, Ray Brown and Buddy Rich with the music arranged in 'straight style' by Ray Carroll, and 'Parker's bop alto featured in front.' According to producer Mitch Miller, who was also working at Mercury, 'He asked me if I would produce it for him. He would be there, but I would produce it… And got Jimmy Carroll who had done a lot of arranging for me, to do the arrangements.'
'Charlie Parker begged me to let him use strings. I don't think that strings swing in a jazz context, but he begged me so much I gave in to him.' – Norman Granz
They recorded at Reeves Studio in New York and, according to Miller, who played the oboe and English horn on the session: 'Charlie walked in and he hears this music and he said, "Man that's too much." With that Parker left the studio and disappeared, didn't come back and the musicians had to be sent away. Granz eventually tracked him down and a week or so later they did the session that produced some of the album that became Charlie Parker With Strings.
Charlie Parker With Strings was originally released as two albums on Clef and they are among the most beautiful jazz recordings ever made. Before the album came out, Mercury, who released Clef's recordings, issued a string of shellac 78rpm records including the divine, 'Just Friends' coupled with 'Everything Happens To Me'. Producer, and later the head of Verve Records in the 1990s, Tommy LiPuma remembers the impact of 'Just Friends': "In the 1950s the jukebox was the deal. As a saxophone player I was gigging, although still at school. I'd sit in with black musicians; the jukeboxes in 'the hood' were outrageous. One day I'm sitting there making myself scarce, because I was under-age, and suddenly out of the jukebox comes this record. It was 'Just Friends' by Charlie Parker, that first time I heard it I couldn't believe it.'
On 16 September 1950 Bird played Carnegie Hall as part of Granz's Jazz At The Philharmonic series of concerts that toured the USA. The tour had opened the night before in Hartford, Connecticut and joining Bird on stage that night were, Tommy Mace (oboe) Ted Bloom, Sam Kaplan, Stan Karpenia (violin) Dave Uchitel (viola) Bill Bandy (cello) Wallace McManus (harp) Al Haig (piano) Tommy Potter (bass) and Roy Haynes (drums).
Over the years the recordings at Carnegie Hall have come out on a variety of albums and they are also included on the 'Charlie Parker With Strings – The Master Takes' on Verve records.
If you've not heard these recordings then your life is incomplete…it's that simple.
Buy Charlie Parker With Strings: The Master Takes here.
Format:
UK English