The First Blue Note Record Is Released: Meade 'Lux' Lewis' 'Melancholy Blues'
On March 3, 1939, the first Blue Note Records songs were officially released.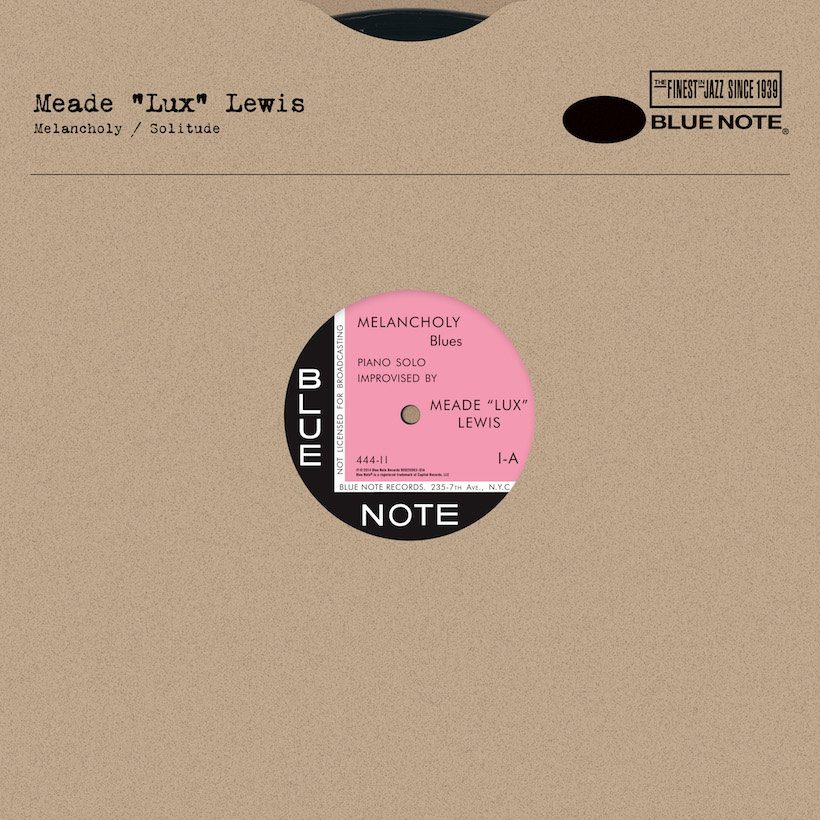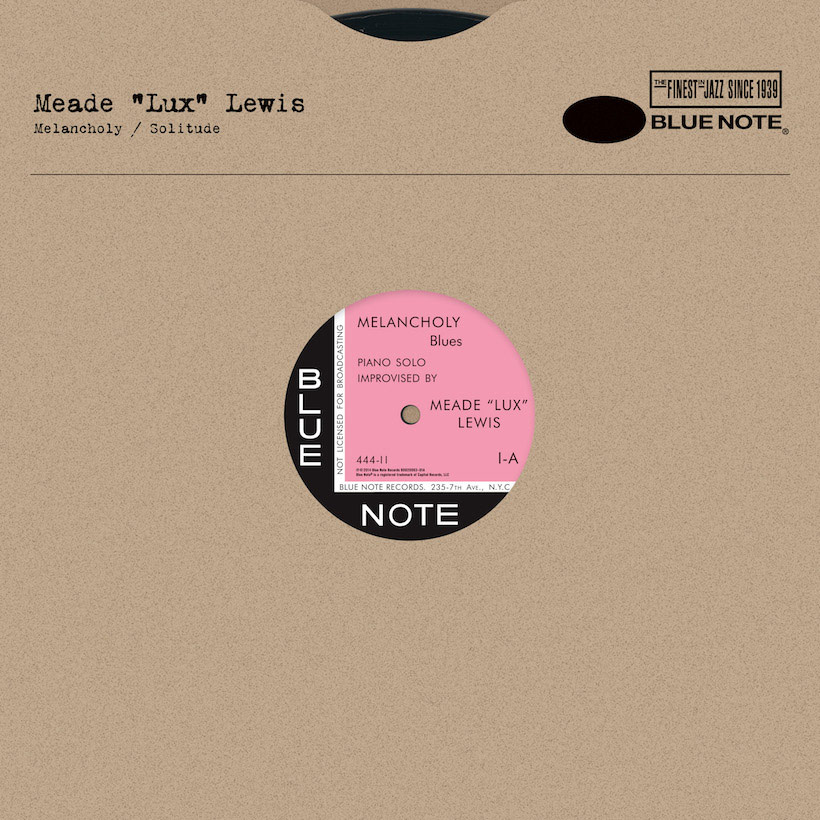 What's the story behind Blue Note Records' first record release? Well, it all starts five days after John Hammond's "From Spirituals To Swing" December 23, 1938 concert at Carnegie Hall when "a club like no other" – according to owner Barney Josephson – opened at 2 Sheridan Square in downtown New York. The club was Café Society, and it really was like no other in that there was no color bar; blacks and whites were welcome and treated as equals. The greeting at the door was: "Welcome to Café Society, the wrong place for the right people."
Almost immediately, Josephson booked Albert Ammons and Meade Lux Lewis to play at Café Society. Following close behind was Alfred Lion who went to the club with the sole purpose of getting the two piano players to record for his new, and as yet unnamed, record label. After their initial surprise, the piano players had just one simple question: Would they get paid? Of course he'd pay them, and pay them well. The deal was sealed.
The origins of boogie-woogie
Lion was certainly excited: he loved the boogie-woogie and blues piano that the two men played, and he was not alone. Boogie-woogie was all the rage. Typically the form is twelve-bar blues with a consistent bass pattern played with the left hand, while the right hand carries the melody. Most significantly, the rhythm makes it impossible not to tap your feet. From jazz to rock 'n' roll – and everything in between – popular music has been influenced by boogie-woogie.
The credit for the first use of the term goes to blues pianist Pine Top Smith from Troy, Alabama. After moving to Chicago, Pine Top lived in the same apartment house as Meade Lux Lewis and Albert Ammons. In December 1928, he recorded "Pine Top's Boogie-Woogie," yet just three months later, while playing in a Chicago nightspot, he was hit in the chest by a stray bullet and killed, aged twenty-five.
Lewis recorded "Honky Tonk Train Blues" for Paramount Records in late 1927. The piece is very similar to "Pine Top's Boogie Woogie," but Lewis made it his own, performing it at Carnegie Hall and recording it again for Blue Note in 1940. Although the two pianists played regularly in Chicago, it was not until 1936 that Ammons cut two tunes for Decca: one of them, "Nagasaki," is more hot jazz than boogie-woogie.
The recording of Blue Note's first record
To record Blue Note's debut release, Lion booked studio time for January 6, 1939, at a location thought to have been radio station WMGM on the West Side of Manhattan. Besides the pianists and the engineer, it seems likely that Lion was the only other person present. Having brought whiskey to lubricate the pianists' fingers, Lion, in his role as "producer," seems to have done little except suggest to Ammons that he leave out the middle waltz section on "Boogie Woogie Stomp" (which he tended to play after the mid-tune climax at Café Society) and keep up the excitement of the "hot stuff."
The two pianists completed 19 takes that night. When the session ended and Lion had paid their fees, he didn't have enough money to cover the studio time. The would-be entrepreneur left empty-handed, returning a few weeks later to pay for the masters. On listening to the discs at his apartment, he was convinced that this music deserved to be more widely heard. According to Lion, "I decided to make some pressings and go into the music business."
Marketing Blue Note's debut release
March 3, 1939 was the release date for the first two Blue Note recordings. On Blue Note 1 were two slow blues tunes, "Melancholy" and "Solitude" that were takes 11 and 12 performed by Lewis. Blue Note 2 consisted of two numbers by Ammons with a quicker tempo, "Boogie Woogie Stomp" and "Boogie Woogie Blues." With no real distribution in place, Lion offered these records by mail order at $1.50 each, which was double the standard retail price for a ten-inch record. Lion pressed just twenty-five of each disc – hardly an ambitious release schedule.
Years later, Alfred Lion would recall the huge challenge Blue Note faced: "There was nothing in '39. No [music trade] books where you could check out things. Nothing. You had to go by your wits." Through his friendship with Milt Gabler, Lion persuaded Commodore Music Shop to sell Blue Note's records. H. Royer Smith on Walnut Street Philadelphia, trading since 1907 and one of America's oldest record stores, also agreed to take them, as did David Dean Smith in New Haven, Connecticut.
Blue Note's next steps
Two releases do not make a record label. Five weeks after their first two records came out, Lion was back in the studio for Blue Note's second session. This one was a full-blown affair, led by trumpeter Frankie Newton and trombonist J. C. Higginbotham. Albert Ammons played piano, Teddy Bunn guitar, Johnny Williams was on bass, and "Big Sid," Sidney Catlett played drums. After each had played an individual number, the brass players joined forces for three more tunes – all in a very traditional blues or swing style.
Two of these sides became Blue Note 3, with the musicians billed as the Port of Harlem Jazzmen – a name dreamed up by Margulis. The same group was back in the studio on June 8, although this time Meade Lux Lewis played piano. Making up the septet was Sidney Bechet, who cut "Blues For Tommy" and then recorded, without Newton or Higginbotham, a version of George Gershwin's "Summertime." This was a pivotal moment in the history of Blue Note.
Listen to the best of Blue Note, including the label's debut release, on Apple Music and Spotify.