'No Money Down': A 'Motorvated' Chuck Berry Gets His Dream Car
In his February 1956 chart entry, as befits a man who coined the term "motorvatin'," Chuck was once again besotted with automobiles.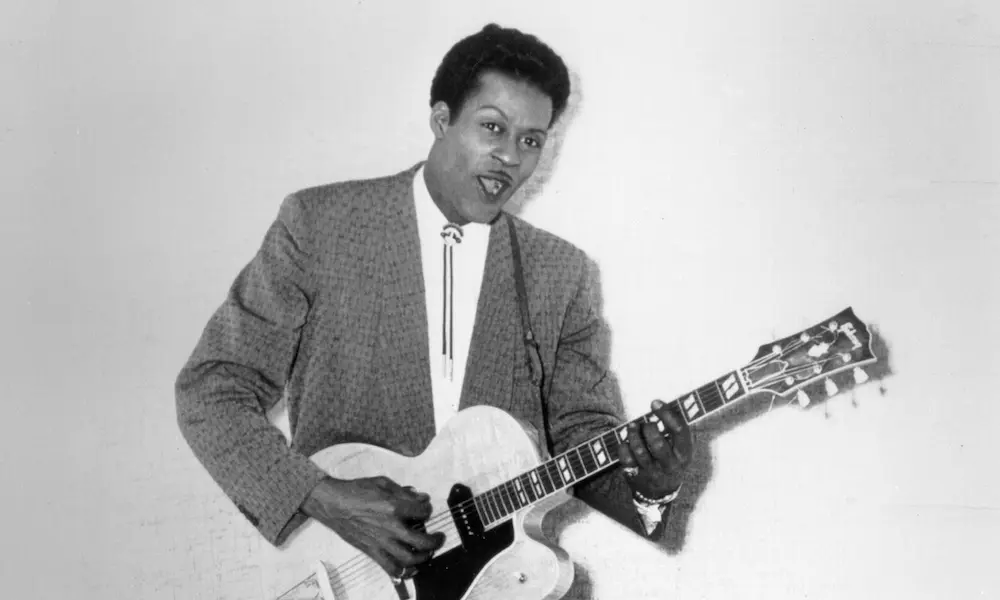 The huge success of Chuck Berry's Chess singles "Maybellene" and "Thirty Days" in the second half of 1955 had the label hurrying to convene another recording session before the end of the year. There, he taped his next hit, and once again displayed his mastery of the pop-culture lyric, with the story of acquiring his dream car in "No Money Down."
The song didn't cross over to the pop market as "Maybellene" had, but it entered Billboard's Most Played By Jockeys rhythm and blues chart on February 25, 1956 at No.12, climbing to No.8 in a five-week run. Airplay was limited by its commercial references to Cadillacs and Fords, but Billboard nevertheless said it was "as hot a novelty as has been seen in some time."
Those initial hits, and their respective B-sides "Wee Wee Hours" and "Together (We Will Always Be)," had been recorded at Chess in Chicago on May 21, 1955. In December, Chuck, now turned 29, returned to record the new song and its B-side "The Downbound Train." The session also produced "Roly Poly" and "Berry Pickin'," which didn't emerge until the After School Session album of 1957. Another track he cut that day, "I've Changed," wasn't issued at all until 1979.
Berry was inspired to write the supremely entertaining story of "No Money Down" by the pitch he would always hear from sales staff when he bought his first few cars. As befits a man who coined the term "motorvatin'" in "Maybellene" and used it again in "No Money Down," and who wrote some of the best car songs in pop history, he was besotted with automobiles.
Chuck revealed in his autobiography that he went though a dozen cars in as many years. But his first vehicle, a 1934 model V8 Ford, gave the lie to the song lyric, costing him $10 down and $5 per month on hire purchase. The narrator in "No Money Down" fared much better.
Listen to uDiscover Music's Chuck Berry Best Of playlist.
Motorvatin' back into town in his "ragged Ford," he sees a Cadillac dealership offering the irresistible financial terms of the song's title. He asks for a four-door yellow de Ville convertible with all the extras you could imagine: continental spare, wide chrome wheel, power steering, power brakes, air conditioning, shortwave radio, TV and a phone, even a "full Murphy bed in my back seat." The list goes on to comic effect.
As the song ends, Berry is walking out of the dealership with a car – we never learn whether he got all those extras – and is heading on down the road, no money down. His days of worrying about that broken-down, ragged Ford are over. It's one of many songs in which a rock'n'roll pioneer who was nearly 30 captured the golden age of the teenager.
Buy or stream "No Money Down" on Chuck Berry's Johnny B. Goode – His Complete '50s Chess Recordings.