'I'm Fortunate To Write Songs People Like': Elton John In 20 Quotes
With admiration, here are 20 of the most entertaining and enlightening quotes by a unique entertainer.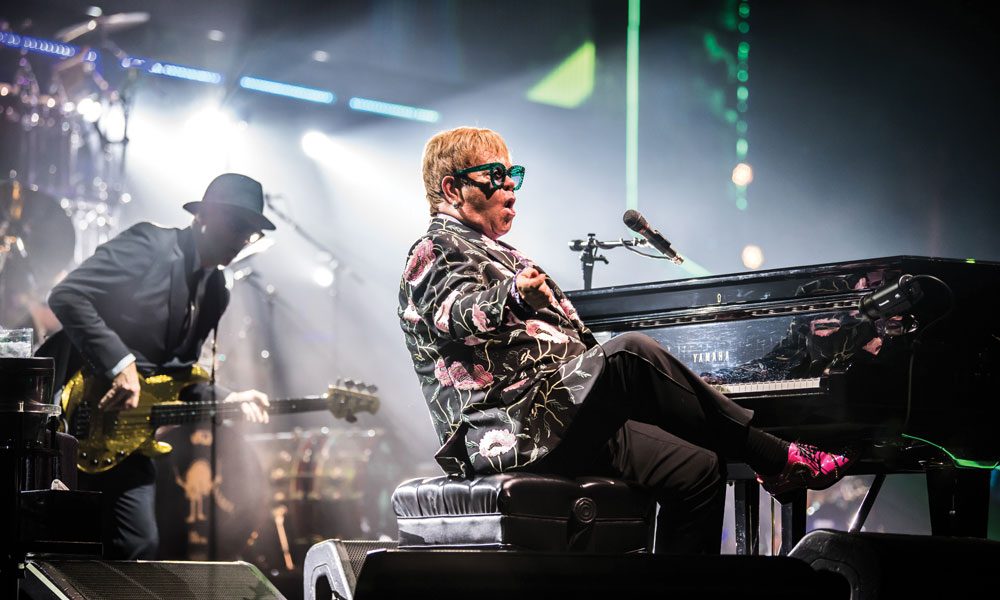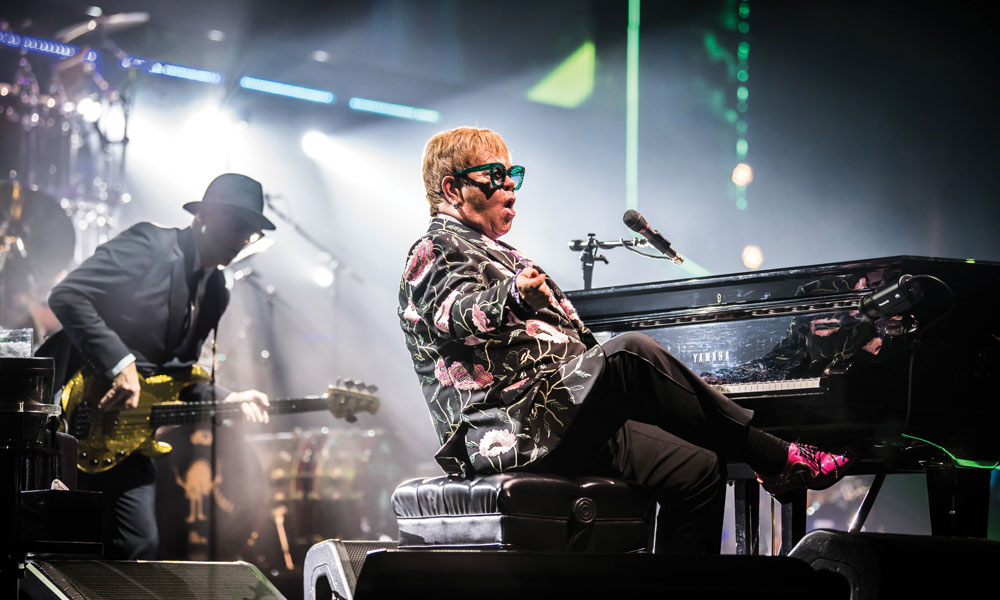 We're gathered in celebration of a singular septuagenarian singer-songwriter. Elton John, born on March 25, 1947, is 30-plus studio records and 300 million record sales into a career that continues to seek out and conquer new musical challenges. Here's a collection of 20 of Elton's most entertaining and enlightening quotes.
"When we first signed with Dick James, Bernie and I had just met through an ad in a music paper and I'd just left Long John Baldry's backing group Bluesology. I was fed up and wasn't a very good organist; anyway they wouldn't let me sing. We were put on a retainer of ten pounds a week…we even had a song in the last six of the Eurovision Song Contest one year. We didn't even know it had been entered till we saw it on TV one night, very frightening it was. Luckily it came last. My mother was very annoyed though, she sent in reams of postcards" (1970)
"Too many of the writers and bands take this whole thing too seriously. If you're in it for the money, a bad song or a failure to make any cash will leave you considering suicide or moping around in utter despair" (1970)
"People think I'm going to be this little fellow on stage with a huge orchestra. They still don't really know what I look like or what to expect. I suppose it's a mystique in a way. People say 'Oh yes, Elton John — but what does he look like?'" (1970)
"I think the whole band will get much more recognition from now on. It's no longer Elton John plus backing group. No, I would never have gone out totally on my own. There are times in America, when I'll go on and do the first hour without anyone else. But I don't think you can carry rock and roll thing on your own, it doesn't work. And emotionally I don't think I could have coped. I need other people around and I believe in sharing success. If you keep it to yourself you end up going stark staring mad" (1972)
[Discussing early plans for Rocket Records] "Basically, what we're interested in is new talent. There's thousands of me around in small bands – there must be. All I needed initially, was the encouragement. If people have got tapes I'd really like them to send them into us and we'll certainly give them a listen. I sincerely mean that" (1973)
"Bette Midler said my new album should be called Fat Reg From Pinner. I wanted to call it Ol' Pink Eyes Is Back, but I had a rebellion on my hands, the band didn't like it. Charlie Watts' wife had the best one. She wanted to call it Ol' Four Eyes Is Back." (1974)
Captain Fantastic And The Brown Dirt Cowboy
"Before I just used to write melodies to Bernie's experiences and fantasies. I identify with this album so much more than anything else I've done. For me it will always be my favorite album. But that's from a purely selfish point of view. Whether it will stand the test of time, who knows? You can only tell in retrospect." (1975, on Captain Fantastic and the Brown Dirt Cowboy)
[On taking a break] "It's a shame in a way, because this band is just beginning to feel its way on stage. It's always been there, and now it's beginning to develop, but I just have to give up for a while. It's an instinctive feeling, just like the time I changed the band; that was instinctive, too. I just don't want the pressure of having to tour again for another two years or so" (1976)
"The desire and the hunger to tour had to come back gradually. I did a tour last year and that was the first time I'd toured for three years. It's just getting back the fulfilment, and the real enjoyment, that you get when you come off stage after doing a good show. And that takes a little while to get back" (1980)
"I'm very fortunate to write songs that people like, and have been commercial. For example, 'Bennie and the Jets,' I never wanted that released. I don't see that to this day as a hit single. But it's probably one of the biggest hit singles I've ever had" (1983)
Elton John - Sorry Seems To Be The Hardest Word
"By the end of it in '76, everything was becoming so big. I knew also that it was peaking, and I wanted to get out while I was still at the top. Blue Moves came out and didn't do so well. And I was simply exhausted. My ego wanted me to stay up there, but in my career I've always made crunch decisions – gut feelings that I've had to follow. And if I hadn't I'd have been f***ed up completely. I'd have driven myself into the ground and become bitter and twisted" (1986)
[On putting much of his personal memorabilia up for auction) "I've got this huge house in Windsor and we couldn't move for things. It wasn't a home, it was more like a museum or a warehouse. It suffocates you after a while. I wanted to divorce myself from Elton John for a while, not come home to constant reminders" (1988)
"I was cocaine addicted. I was an alcoholic. I had a sexual addiction. I was bulimic for six years. It was all through being paranoid about my weight but not able to stop eating. So in the end I'd gorge myself, then deliberately make myself sick. I never stood still" (1992)
"I can actually remember things now! Physically and mentally, my life is brilliant and I just wish I'd done it sooner. That's been the biggest change in my life – actually knowing what's going on and being much more responsible for my actions and not behaving like a prat, basically, although it can still rear its ugly head sometimes. I've had a really wonderful last four years. I've really enjoyed it" (1995)
"Concert-wise, in an eight-week period over the summer, I played over 70 different songs…but that's how an artist keeps himself on his toes. I've played with my band, I've played solo, I did the orchestral stuff and then I came to Las Vegas. And I could tour with Billy Joel if I wanted. They're all different options" (2004)
[On growing up] "You just remember the social integration that everyone did, going round to people's houses, dancing and singing. Now, you don't do that. That's why I identified with Rod Stewart so much, because he and I came from the same background that loved to sing songs, went down the pub, wanted to have a good time, and worked their guts out to provide something for their kids. I really think that kids now don't know how lucky they are" (2011)
[On his early days] "You had to get in the back of a Transit van and go up and down the motorway and earn your living that way and get all the experience. I have a management company, and every single artist we sign, I say, 'Unless you can play live, I don't want to sign you, you need to go out and play to 20 or 30 people at the start of your career, because it's the only way you're going to have a lasting career, and the only way you're going to improve as a musician and a songwriter'" (2013)
"The great advantage of having Bernie as a lyric writer is he's a very cinematic writer. I get a piece of paper [from him] and it has a story on it. Then I sit down at the keyboard and hope and pray that something is going to come out. Because the story that he's telling affects what I'm hearing. Writing to those words…just something comes out. I don't know what it is. I sit at the keyboard and something just comes out. It's as exciting as it was when I first wrote the first melody to his first lyric way way back in 1967" (2013)
"My career's better than ever, everything in my life is fantastic. But to have the passion about music at nearly 69 that I had when I was 15, or five, that's what I'm proud of" (2015)
Listen to the best of Elton John on Apple Music and Spotify.
[On his children, his husband David Furnish and his workload] "It's all about the school holidays now. I'm hurtling towards 70, and I've made a promise to David and to my sons that I really don't want to be schlepping around the world at 72. I don't want to do tours any more that take me away from my children" (2016)
Buy or stream the deluxe edition of Elton John's Diamonds compilation.