The Essential Maroon 5 Album Guide: Picking The Best Of The Best
Think you know the best of Maroon 5? This essential album guide dives deep into their work to present the band's ultimate best of.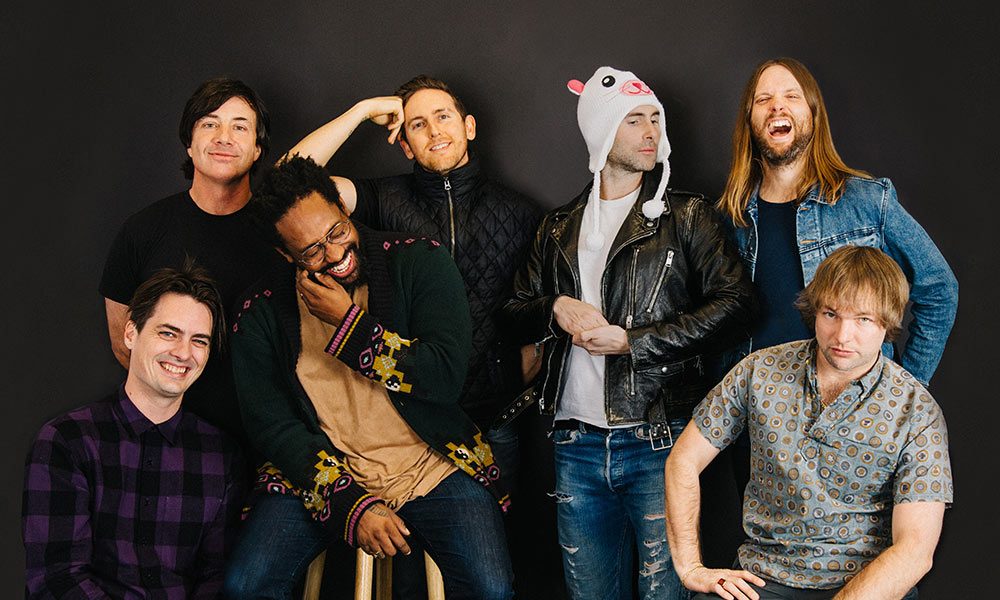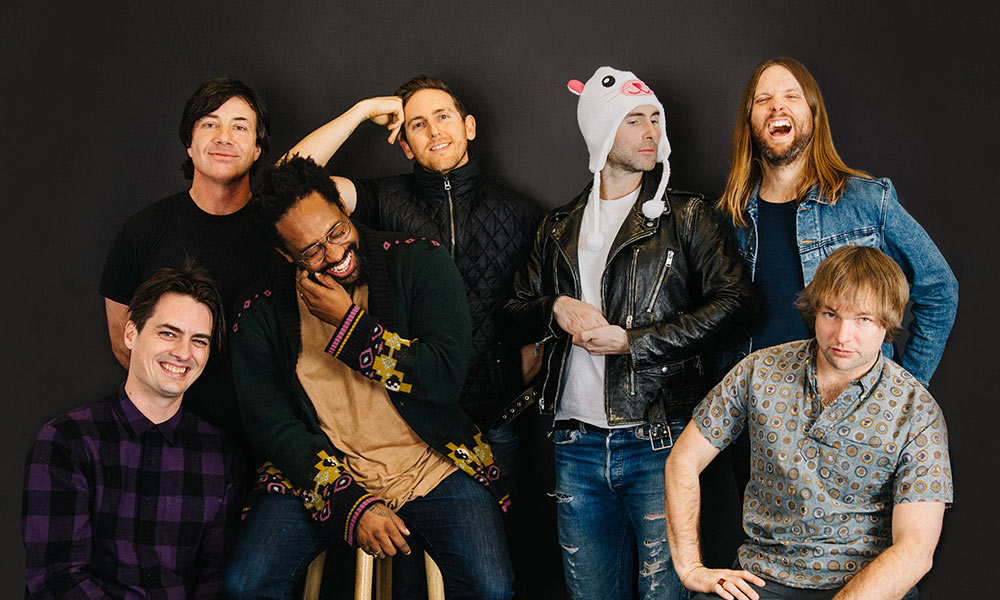 Across six studio albums and 17 years of sustained success, Maroon 5 have built up a rich and varied back catalogue. Everyone will remember big hits such as "Payphone" and "Girls Like You," but where do you start if you want to dive deeper into the band's impressive body of work? This essential Maroon 5 album guide helps you chronologically place the chart-toppers you'll instantly recognize while also putting each collection under the microscope, picking out standout live performances, revisiting those cutting-edge videos and uncovering key album cuts.
Thought you knew the best of Maroon 5? Well, think again…
Songs About Jane (2002)
Released in June 2002 (a year later in some markets), the 12-track Songs About Jane saw the band formerly known as Kara's Flowers reform with the addition of James Valentine to become Maroon 5. "Harder To Breathe" was the set's first single and broke the band on radio, but subsequent, bigger hits saw the album reach the Top 10 around the globe.
Biggest Hit: She Will Be Loved
Picked as the third single from Songs About Jane, "She Will Be Loved" was released almost a year after the album's appearance and has sold more than three million copies in the US alone. It peaked at No.5 at home but became the band's first chart-topper in Australia. Director Sophie Muller's dramatic promotional clip saw Maroon 5 really start to develop their flair for crafting a hit video.
Maroon 5 - She Will Be Loved (Official Music Video)
Standout Video: This Love
There's a simplicity of approach here that neatly defines the magic of Maroon 5: a grounded performance piece built around a truly memorable song that's spiced up with a compelling piece of storytelling. The sexual chemistry between lead singer Adam Levine and his then-girlfriend kept the controversy bubbling away at a manageable level: it was a master-class in how to get noticed.
Maroon 5 - This Love (Official Music Video)
Key Album Cut: Tangled
The funky riff that underpins this track reveals the DNA of the band's successful evolution – that ability to fuse memorable rock with dance, soul and funk. Adam Levine earns a solo composition credit with this three-minute wonder and it's a credit to the band's writing that a song as strong as this wasn't picked as one of the album's five singles.
Key Live Performance: Harder To Breathe (Live on Ellen, 2003)
This rare, early performance of the band's very first single demonstrates exactly why Maroon have enjoyed such longevity: aired on one of the biggest TV shows in the world, the band's on-point vocals and some awesome guitar work were beamed into countless homes. It all started here…
It Won't Be Soon Before Long (2007)
Hitting shops almost five years after their debut, It Won't Be Soon Before Long moved things up a gear by debuting at the top of the Billboard charts and giving the band their first No.1 single in their homeland. Matt Flynn had joined the group after an injury forced drummer Ryan Dusick to take a leave from the band.
Biggest Hit: Makes Me Wonder
Anyone not paying attention might have been surprised by the soulful direction of the album's launch single, but it made history by making one of the biggest leaps to the top spot in US chart history. The song would later go on to win a Grammy.
Maroon 5 - Makes Me Wonder (Official Music Video)
Standout Video: Wake Up Call
If the sexy clips for some of the cuts from Songs About Jane threatened to get the censors hot under the collar, "Wake Up Call" pushed things further still when, for the first time, Maroon 5 added an explosive narrative to the mix. Jonas Åkerlund, famous for his work with Madonna and Beyoncé, directed the video.
Maroon 5 - Wake Up Call (Official Music Video)
Key Album Cut: Kiwi
The many influences that shape the sound of Maroon 5 can be challenging to unpick. "Kiwi" is a case in point: echoes of Stevie Wonder soul, synth-led pop hooks, funky throwback beats, and then an explosive guitar riff conspire to make this a formula almost impossible to match, let alone better.
Key Live Performance: If I Never See Your Face Again (Live On Letterman, 2012)
Rihanna joined the band on a single release of this song – chosen as the opening track of its parent album – but this performance of the original version loses none of its power.
Maroon 5 - If I Never See Your Face Again (Live on Letterman)
Hands All Over (2010)
Enlisting the production support of Robert John "Mutt" Lange gave this 2010 release a commercial sheen that introduced a challenging studio dynamic during the making of Hands All Over. And then along came a certain song…
Biggest Hit: Moves Like Jagger
This is probably the track that – so far – would likely be picked for a Maroon 5 time capsule. This smash song is buzzing with a sassy energy and has kept dancefloors packed ever since its summer 2011 release. Christina Aguilera, who worked with Adam Levine on The Voice, is the perfect partner on this electro-pop classic.
Maroon 5 - Moves Like Jagger ft. Christina Aguilera (Official Music Video)
Standout Video: Misery
Picked as the launch single for Hands All Over, "Misery" had the added provocation of theatrical violence to add to the sexual chemistry that was by now a trademark ingredient of a Maroon 5 video. The single reached the Top 20 in the US and No.30 in the UK.
Maroon 5 - Misery (Official Music Video)
Key Album Cut: How
Stripping back some of the funk and soul, this melodic midtempo pop grower takes some inspiration from Nashville.
Key Live Performance: Stutter (VEVO Carnival Cruise, 2011)
Matt Flynn received a writing credit for this standout album cut which was, surprisingly, overlooked for single release.
Maroon 5 - Stutter (VEVO Carnival Cruise)
Overexposed (2012)
With Jesse Carmichael taking a break, PJ Morton stepped in to support the group for the challenge of building on the almost-overwhelming performance of single "Moves Like Jagger." Enlisting super-producer Max Martin to take an executive producer role across Overexposed's 12 tracks certainly helped, but it was the ongoing strength of the band's songwriting that made the album a huge hit.
Biggest Hit: Payphone
Launched ahead of the album, April 2012's "Payphone" featured US rapper Wiz Khalifa on an urban-pop hybrid produced by Benny Blanco and Shellback. Another great video helped the song become the band's first UK No.1.
Maroon 5 - Payphone ft. Wiz Khalifa (Explicit) (Official Music Video)
Standout Video: One More Night
Few frontmen could pull off a part as physically challenging as a boxer with domestic problems, but it looked effortless for Adam Levine. Lacking some of the explosive dramatic stunts of other key videos, this is a nuanced performance that's beautifully pitched.
Maroon 5 - One More Night (Official Music Video)
Key Album Cut: Fortune Teller
A chilly electro base builds nicely into a hook-heavy chorus that demonstrates the eclectic approach behind the making of Overexposed. When faced with an opportunity to take a left turn, the band appeared keen to take it.
Key Live Performance: Daylight (Playing For Change, 2012)
Edited into the second official video for the track's single release, this collaboration with the Playing For Change multimedia project illustrates just one of the many campaigns the band has chosen to support. Street musicians and fan videos are mixed with cuts from the band's performance of the song from the Overexposed tour.
Maroon 5 - Daylight (Playing for Change) (Official Music Video)
V (2014)
Jesse Carmichael returned to the fold for V, which produced three huge hits and was recorded in stop-start bursts across a year. With critics now struggling to pigeonhole the band, Maroon 5's public support just seemed to keep on growing. V became the first Maroon 5 album to top the US charts since It Won't Be Soon Before Long.
Biggest Hit: Sugar
There's no doubt the idea of pitching the band as wedding singers staging surprises for unsuspecting couples in the hit video helped power this 2015 release – the third single from the album – to become V's most successful standalone cut. It made the Top 10 around the world and peaked at No.2 in the US.
Maroon 5 - Sugar (Official Music Video)
Standout Video: Maps
Darker themes and the trauma of an emergency room gave this clip a bolder edge that sharpened the song's brooding intensity. It also helped push the album's debut single into the Top 10 on both sides of the Atlantic.
Key Album Cut: My Heart Is Open (featuring Gwen Stefani)
Teaming up with Gwen Stefani on a track written with hit-making powerhouse Sia Fuller didn't disappoint. It's an epic ballad that is a standard in the making. The vocal pairing will give you goosebumps.
Key Performance: Animals (Victoria's Secret Swim Special, 2015)
Picked as the set's second single – and a Top 3 hit in their homeland – this simpler, stripped-back performance begins sedately enough, but the moment the models decide to get animated the mood certainly changes. Who can blame them from getting momentarily distracted?
Maroon 5 - Animals (Victoria's Secret Swim Special)
Red Pill Blues (2017)
The R&B direction of Red Pill Blues proved a winning formula and led to a prestigious halftime slot at the 2019 Super Bowl in Atlanta, Georgia. Sam Farrar had been touring with the band for years but formally joined the group for this collection. Another huge international tour was arranged to support the album's release with dates across North America, Latin America, Asia, Australia, and Europe.
Biggest Hit: Girls Like You (featuring Cardi B)
Cardi B was added to the radio and digital release of Red Pill Blues' third single, "Girls Like You" ended up being one of Maroon 5's biggest hits to date, with a record 33 weeks inside the US Top 10. It topped the Billboard charts for seven weeks and its cameo-heavy video has received two billion views in 10 months.
Maroon 5 - Girls Like You ft. Cardi B (Official Music Video)
Standout Video: Cold (featuring Future)
The collaboration with rapper Future was a more modest hit by Maroon 5's super-league standards, but this Rich Lee production is a disturbing story of the sort of house party your mother tells you to avoid.
Maroon 5 - Cold ft. Future (Official Music Video)
Key Album Cut: Lips On You
Charlie Puth gets a writing and production credit on this sweeping ballad that stands out among the 10 excellent tracks on Red Pill Blues. Songwriter Julia Michaels also contributed to the track, along with Jason Evigan, who co-produced the cut, and also worked on "Girls Like You."
Key Live Performance: Pepsi Super Bowl LIII Halftime Show, 2019
Bringing the Maroon 5 story bang up to date, this February 2019 performance saw the band revisit high points from throughout their career ("Harder To Breathe," "This Love," "She Will Be Loved") along with Red Pill Blues' "Girls Like You." Joining the band in Atlanta were hometown hero Big Boi and fellow-southern rapper Travis Scott, before the group closed the set with the one-two punch of "Sugar" and "Moves Like Jagger." Closing one chapter of the Maroon 5 story, it leaves fans wondering what's next from one of the world's biggest live draws.
Maroon 5 - Pepsi Super Bowl LIII Halftime Show ft. Travis Scott, Big Boi
Listen to the best of Maroon 5 on Apple Music and Spotify.