'Songs About Jane': How Maroon 5's Debut Album Spoke To Millions
'Songs About Jane' may have slipped quietly into stores upon its original release, but the album soon became a classic that turned Maroon 5 into global stars.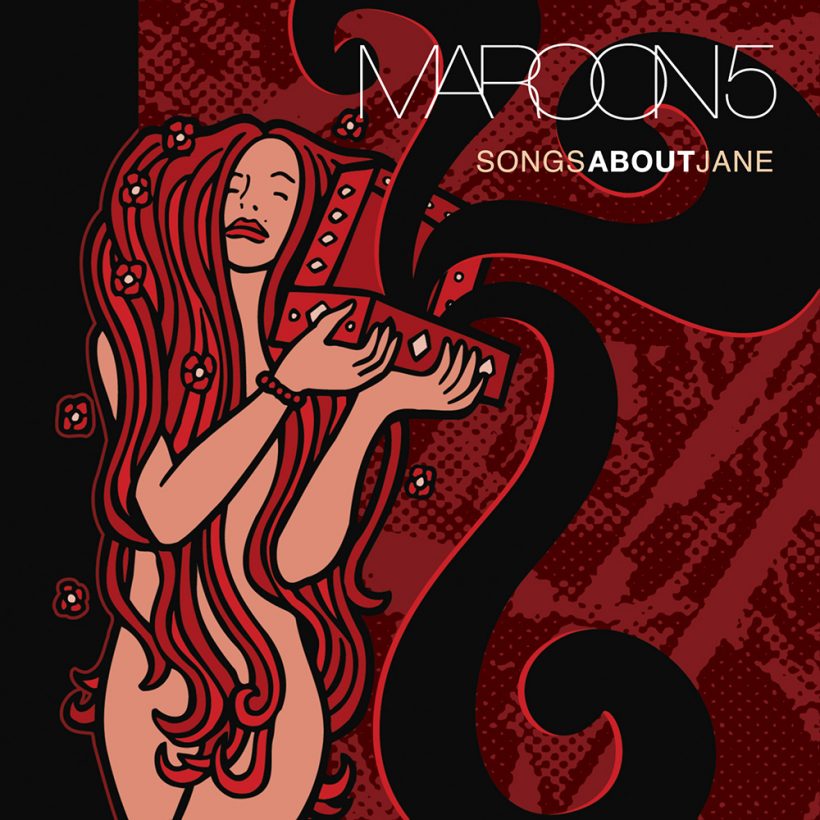 Tension lay at the heart of Maroon 5's debut album, Songs About Jane, which slipped quietly into stores on June 25, 2002, but in the years since has built steadily to sales of more than 10 million worldwide.
Listen to Maroon 5's Songs About Jane right now.
Launch single "Harder To Breathe" speaks of the pressure Maroon 5 was under, with lead vocalist Adam Levine later admitting that the track was a late addition to the record, created after the five-piece had been pushed for more material, even though the group thought it had enough.
Then there was that feeling all fledgling bands have: would they finally get noticed? Most of Maroon 5's members had been gigging since the mid-90s, under the name Kara's Flowers, and chances for freshly signed bands were in short supply – even back then. A lot was riding on this album; these songs really had to deliver.
And finally, there was the sweeter tension weaving through the album's lyrics about a love affair that proved, as fans know, doomed. The album is peppered with references to Levine's former girlfriend and the affair's giddy highs, balanced – of course – by a less welcome and a somewhat bitter aftertaste.
Maroon 5 - Harder To Breathe
The sharper rock drive of the song that finally got Maroon 5 onto the Billboard Hot 100 was, from today's perspective, an interesting choice for an act that would later be lazily characterized as a pop band. Certainly, the more melodic charm of "This Love" and "She Will Be Loved," destined for endless rotation on radio stations, played up to principal songwriters Jesse Carmichael and Adam Levine's ability to craft a tune that, once heard, would rarely weaken its grip on you. But "Harder To Breathe" is – musically, at least – the perfect synthesis of the story behind where the Los Angeles act had come from.
When Kara's Flowers dried up after just one release, the new-look band needed a radical rethink. A relationship between Levine and former girlfriend Jane Herman provided the spark that lit a set of 12 strong new songs, while a fresh label (Octone Records) and the band name we're now so familiar with completed the backdrop for the group's breakthrough. If Kara's Flowers' work had been out-and-out indie rock, this new formula was more nuanced, with a cleaner but actually more experimental blend of soul-funk and classic pop-rock. "Harder To Breathe" proved to be the bridge between that earlier work and the playful strut of "This Love," Songs About Jane's first mega-hit.
Maroon 5 - This Love (Official Music Video)
With a catchy chorus that hammers you into submission, "This Love" contains the sort of once-in-a-lifetime riff that most pop songwriters never get close to. It turned Maroon 5 into stars and, on the back of the sensual Sophie Muller-helmed promo video, groomed Adam Levine as the act's photogenic frontman. For a song fizzing with innuendo and sexual tension, "This Love"'s off-the-scale worldwide success no doubt also caused Jane the odd blush or two…
"She Will Be Loved" was the album's other big hit, and, like "This Love," made No.5 in the US, with a comparable placing in the UK. The song offered a gentler groove and, as the album's third release, really awakened adult-contemporary stations to the band's charms. From the outset, Maroon 5 proved a hard group to box into a formula – something that always troubles radio station programmers, who hold so much sway over an act's success.
On hit radio, however – certainly the band's most natural home – Maroon 5 hit all the right marks, with a flash of classic Stevie Wonder here and an edgier Rolling Stones guitar riff there. And therein lies the key ingredient to their ongoing success: the ability to fuse myriad influences into an approach that feels comfortable whichever direction you come from. It's a recipe the group has confidently built upon across the years but, mixed around the reliable spine of Ryan Dusick's great drumming, it's a formula that Maroon 5 fixed upon perfectly from the get-go.
Maroon 5 - She Will Be Loved (Official Music Video)
Songs About Jane's subsequent singles – "Sunday Morning" and "Must Get Out" – play largely at the more melodic, looping end of the band's spectrum, but, on an album track such as "Shiver," there's a rather sharper, insistent blues jam driving the song. James Valentine on lead guitar and Mickey Madden on bass truly come into their own on tracks like these; it's been noted that Songs About Jane really is a musician's album – and with good reason: the instrumentation is world-class.
Despite the success of the midtempo ballads, there's also a seam of angry intensity underpinning many of the other songs here – naturally and most notably on "Through With You." Of course, Levine's rich, charismatic vocals coat the venom in honey. You sense he's the ideal type of go-to guy for the delivery of any manner of bad news, which perhaps explains his recent parallel success as a stateside judge on The Voice.
But, stripped back on the beautiful "Secret" – surely the hit single that never was – light instrumentation and a poignant lyric reveals the true heart of Songs About Jane: a restless determination to get somewhere different. Levine's roller coaster of a romance mapped out that route for the band. Songs About Jane did things very differently from the Kara's Flowers days, building its audience single by single and neatly seguing Maroon 5 into a ferocious touring schedule. Despite its many influences, it seems the pressure that Maroon 5 put themselves under proved to be the sweetest inspiration of them all.
Looking for more? Click Here are 20 things you didn't know about Songs About Jane.