The Most Influential Female Blues Musicians
This introduction to key blues artists proves that women have been a key part of the genre since it began.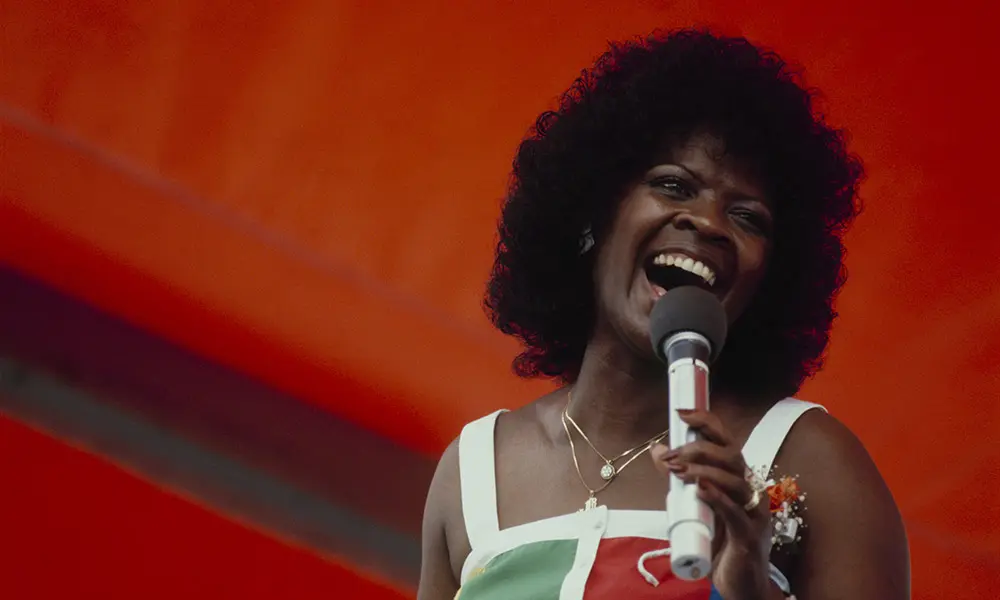 From the earliest days of recorded blues, female musicians and singers have often led the way, putting forward an empowering female point of view that at times had few other avenues of expression. Mamie Smith's 1920 recording of "Crazy Blues" started what indeed became a craze, as the song's no-nonsense lyric warned her abusive man – and by extension the world at large – that she was standing her ground. Today, women blues artists are as likely to excel as instrumentalists as vocalists, following the example of pioneers such as Hadda Brooks, Memphis Minnie, and Sister Rosetta Tharpe. Here are just a few of the outstanding women in blues history.
While you're reading, listen to our Best Blues Songs playlist here.
Ma Rainey
The singer Gertrude "Ma" Rainey, who became known to many through the film adaptation of August Wilson's play, Ma Rainey's Black Bottom, was a pivotal early blues figure, and a transitory figure between vaudeville and blues music. She began her career as a duo with her husband, Will "Pa" Rainey, in traveling Black minstrel shows such as the Rabbit's Foot Company. Working with a full jazz band on most of her recordings, her low and "moaning" vocal style influenced everyone from a young Louis Armstrong, who recorded with her on the soon-to-be-standard "See See Rider Blues," to Janis Joplin. She wrote many of her own songs, including the gender-defying "Prove It To Me," and claimed to have invented the term "blues," which was not entirely hyperbole for this "Mother of the Blues."
Bessie Smith
In the 1920s, the "classic" female blues singers were a nationwide phenomenon, dominating the field while guitarist/singers such as Blind Lemon Jefferson and Charley Patton were just beginning to record. None was more popular than Bessie Smith, the "Empress of the Blues," who sold millions of records and was so successful that she traveled in her own railroad car. The elegance and extravagance that she projected onstage and in her life was grounded by the stark power and honesty of her voice, a massive contralto that, like that of opera singer Enrico Caruso, was well suited to early recording technology. Not all of her songs were blues – she scored a hit with Irving Berlin's "Alexander's Ragtime Band" – but her songs such as "Send Me to the 'Lectric Chair" and "Empty Bed Blues" are part of the blues firmament. Both Ma Rainey and Bessie Smith were honored with U.S. Postal Service stamps.
Memphis Minnie
Lizzie "Memphis Minnie" Douglas was the first prominent female guitarist in the blues, playing with a virtuosic swagger that helped place her among the most popular blues artists of the 1930s and 1940s. She began performing on the streets of Memphis as a homeless teenager, cultivating a not-to-be-messed with persona that earned the respect of male peers such as guitarist Johnny Shines, who commented, "She didn't take no foolishness…" Moving to Chicago in 1935, she became a part of the Bluebird Records roster of artists, and eventually began playing electric guitar, moving toward a sound that was a precursor of rock and roll, and even recording for Checker Records, in 1952, with a young Little Walter on harmonica. She wrote much of her own material, giving her an enduring legacy of songs such as "When the Levee Breaks" (adapted by Led Zeppelin) and the much-covered "Me and My Chauffeur Blues."
Blue Lu Barker
When New Orleans native Louise "Blue Lu" Barker moved to New York with her husband, the guitarist Danny Barker, she was immersed in the city's thriving jazz scene. While Danny secured a gig with the Cab Calloway Orchestra, the couple had another enterprise, recording a series of humorous and sometimes risqué blues songs such as "Scat Skunk" and "Don't You Make Me High" for labels that included Decca, Capitol and Apollo in the 1930s and 1940s. Naturally, the accompaniment by Danny Barker's Fly Cats had a New Orleans flavor, and Blue Lu's feisty voice gave the songs just the right tongue-in-cheek spin. In 1974, "Don't You Make Me High" became a surprise hit for Maria Muldaur, who would eventually record a full album of Blue Lu and Danny's material. The Barkers eventually retired to New Orleans, where they were a popular attraction at the yearly Jazz and Heritage Festival.
Hadda Brooks
Los Angeles-born Hadda Brooks was a proponent of the smooth West Coast blues sound, and a hellacious boogie woogie pianist. While many of the most prominent early blues artists were reared in the South, where they learned the vernacular music of their communities, Brooks studied classical music for twenty years, only learning the boogie style that would initially make her famous after her college years in Chicago. Her hit 1945 instrumental "Swingin' the Boogie," followed by a series of blues ballads, helped get the fledgling Modern Records label off the ground. Her varied career saw her cast as a lounge singer and pianist in several films, hosting her own television show, and living in Europe and Australia for several years. She enjoyed a late-career resurgence, signing with Virgin Records, which had acquired Modern, and recording a new album exactly fifty years after her first release.
Ruth Brown
Ruth Brown, "Miss Rhythm," was the most popular female rhythm and blues singer of the 1950s, with a string of Atlantic Records hits that included "Teardrops From My Eyes" and "(Mama) He Treats Your Daughter Mean." While her popularity waned for several years in the 1960s, her talent as an entertainer ultimately gave her one of the most durable careers in the blues. She won a 1989 Tony Award as one of the three lead actresses in the Broadway musical Black and Blue (along with a 1990 Grammy win for her Blues on Broadway album), starred as the character Motormouth Maybelle in the John Waters film Hairspray, and was one of the founders of the Rhythm and Blues Foundation, which successfully lobbied major labels to pay royalties to legacy rhythm and blues artists. Her 1990s albums on the Rounder's Bullseye Blues label were both Grammy nominees.
If I Can't Sell It, I'll Keep Sittin' On It
Big Mama Thornton
Willie Mae "Big Mama" Thornton was a big-voiced singer and harmonica player best-known for her 1953 recording of "Hound Dog," made in Los Angeles for Houston's Peacock record label. The budding songwriting team of Jerry Lieber and Mike Stoller, known for their legacy of hits with the Coasters, had provided her with a song that befitted her tough persona, even if it's Elvis Presley's smoothed-over version, which was released several years later, that most people know. Janis Joplin cited Thornton as a major influence, and her recording of Thornton's song "Ball and Chain" became one of her signature pieces. In the blues revival years of the 1960s and 1970s, Thornton toured and recorded regularly. She often wore a stylish man's suit, as if to tell the world that she was not to be messed with.
Koko Taylor
Gravelly-voiced singer Koko Taylor was one of the few prominent female singers in Chicago blues, the electrified version of the rural Mississippi style that coalesced in the 1950s, and that provided a template for many rock and roll bands, including the Rolling Stones. A protégé of the composer and producer Willie Dixon, Taylor recorded what many consider to be the definitive version of his song "Wang Dang Doodle," which rose to number four on the rhythm and blues charts in 1964. Her self-titled 1969 album collected her Chess Records output of almost all Dixon songs, with accompaniment from guitarists Buddy Guy and Johnny Shines. After signing with Alligator Records in 1975, she became a major international festival attraction, winning a Grammy award for her Queen of the Blues album and achieving royal status in the blues world.
Etta James
Known for her indelible version of the song "At Last," Etta James was a gospel-based singer with one of the most malleable and memorable voices of the last century, and a legacy of recordings that span rhythm and blues, pop, and jazz. Yet, almost everything she recorded was imbued with the spirit and tonality of the blues, from "Wallflower," her first recording as a teenager (an answer song to Hank Ballard's "Annie Had a Baby"), to the soul and blues standards "Tell Mama" and "I'd Rather Go Blind." She was a member of the 1993 class of the Rock and Roll Hall of Fame inductees, a six-time Grammy winner, and one of Rolling Stone's 100 Greatest Artists of All Time. James overcame many obstacles in her long career, including drug addiction, to become recognized as one of the greatest singers of our time.
Irma Thomas
"The Soul Queen of New Orleans," Irma Thomas is one of the most enduring voices of the rhythm and blues era, with a discography that spans over 50 years. Known especially for her early collaborations with the songwriter, arranger, and producer Allen Toussaint, including the blues ballad "It's Raining," she enjoyed her biggest hit in 1964 with the self-penned ballad "Wish Someone Would Care." After relocating to Los Angeles during a fallow period in the 1960s, Thomas returned home and began performing yearly at the New Orleans Jazz and Heritage Festival, cementing her reputation as both a local institution and an international touring attraction. Beginning in 1986, she began a relationship with Rounder Records and producer Scott Billington that netted two Grammy nominations, and finally a Grammy Award for Best Contemporary Blues Album for 2006's After the Rain. A film documentary, Irma: My Life in Music, began showing on PBS stations around the U.S. in 2022.
Tina Turner
While she is renowned as one of the world's greatest rock singers, Tina Turner has had a long and deep involvement with the blues. Her first husband, the Svengali-like Ike Turner, had produced what many regard as the first rock and roll record (Jackie Brenston's "Rocket 88"), and he was acutely aware of where his blues roots might take the Ike and Tina Turner review, which evolved as a whirlwind of soul, blues, and rock built around Tina's raw and raspy voice. Their two albums made for the Blue Thumb label in 1969, The Hunter and Outta Season, are pure blues and soul outings, featuring Tina's signature version of Otis Redding's "I've Been Loving You Too Long" and a selection of blues standards.
Bonnie Raitt
Before the release of her first album in 1971, Bonnie Raitt had a unique advantage. While she had been playing guitar since the age of eight, she also had the opportunity to learn directly from two blues masters: the slide guitarist Mississippi Fred McDowell and the singer/pianist Sippie Wallace. From McDowell, she learned the freedom and exhilaration of the blues, as well as the basics of her masterful slide guitar technique, while Wallace "taught me a lot about men and what it was like for her in the business." As she ascended to the ranks of the most beloved singers, songwriters, and entertainers of our era, she carried the blues forward as well, often featuring artists such as Wallace, Charles Brown, and Ruth Brown as her opening acts. You can hear it all come together on her recording of pianist Jon Cleary's song "Love on One Condition."
Marcia Ball
Traversing the "crawfish circuit" between New Orleans and her home in Austin, Marcia Ball plays music in the rollicking Texas roadhouse tradition, with a deep connection to the piano heritage of the Crescent City. At the age of 21, Ball co-founded the proto-alternative country band Freda and the Firedogs, one of the pioneering ensembles of Texas-style Americana music. When she signed with Rounder Records in 1984, she found her enduring voice in traditional Gulf Coast rhythm and blues. As her career progressed, Ball blossomed as a songwriter – her most recent recordings on Alligator Records feature almost all original material. Her 1998 album with Irma Thomas and Tracy Nelson, Sing It!, won a Grammy nomination, and she has won the Blues Foundation's Best Keyboard award a total of seven times. Her fans look forward to her solo piano performance each year at WWOZ's piano night during the New Orleans Jazz and Heritage Festival.
That's Enough Of That Stuff
Shemekia Copeland
As the daughter of the renowned Texas blues singer, songwriter, and guitar slinger Johnny Copeland, vocal powerhouse Shemekia Copeland found her calling at an early age, sitting in with her dad at New York's Cotton Club at the age of 10. Perhaps more than any young blues artist working today, Shemekia performs many songs that address contemporary issues and sensibilities – an extension of what many of her forebears did in the earliest days of the blues. With her collaborators, including the songwriter/producers John Hahn and Will Kimbrough, and producers Mac "Dr. John" Rebennack, Oliver Wood, and Steve Cropper, she has created a body of work that brings the blues right up to date.
Susan Tedeschi
Guitarist and singer Susan Tedeschi came out of the gate running, with 1998's massively popular Just Won't Burn album on Boston's Tone Cool Records. If, as many believe, blues music is first and foremost about singing, Tedeschi clearly has the gift and the passion to reach her listeners on a deep level, much as Bonnie Raitt did a generation earlier. And, like Raitt, she fronted her band on lead guitar. The twelve-piece Tedeschi Trucks Band, formed in partnership with her husband and fellow guitarist Derek Trucks, is one of the premier touring ensembles today, and perhaps the closest contemporary embodiment of the aesthetic of the Allman Brothers Band, with Tedeschi's vocals leading the way.
Samantha Fish
As one of the edgiest and most adventurous performers in blues today, Samantha Fish continues to develop her strengths as an entertainer, a bandleader, a lead guitarist, and a deeply engaged singer. Her introduction to many fans was her cigar box slide guitar performance of "Shake 'Em on Down," and she has since founded the Cigar Box Guitar Festival in New Orleans. However, her depth as a musician is reflected in her electrifying live performances and in her recordings, with each of her albums exploring a different facet of blues-related music, from the Americana leanings of Wild Heart, to the Memphis soul of Kill or Be Kind, to the blues rock of Faster.
Samantha Fish "Kill Or Be Kind" (Official Video)