Fortunate Sons: From The Golliwogs To Creedence And Swamp-Rock Glory
Long before becoming multi-million-selling roots-rock giants, Creedence Clearwater Revival made started their recording career as cult outfit The Golliwogs.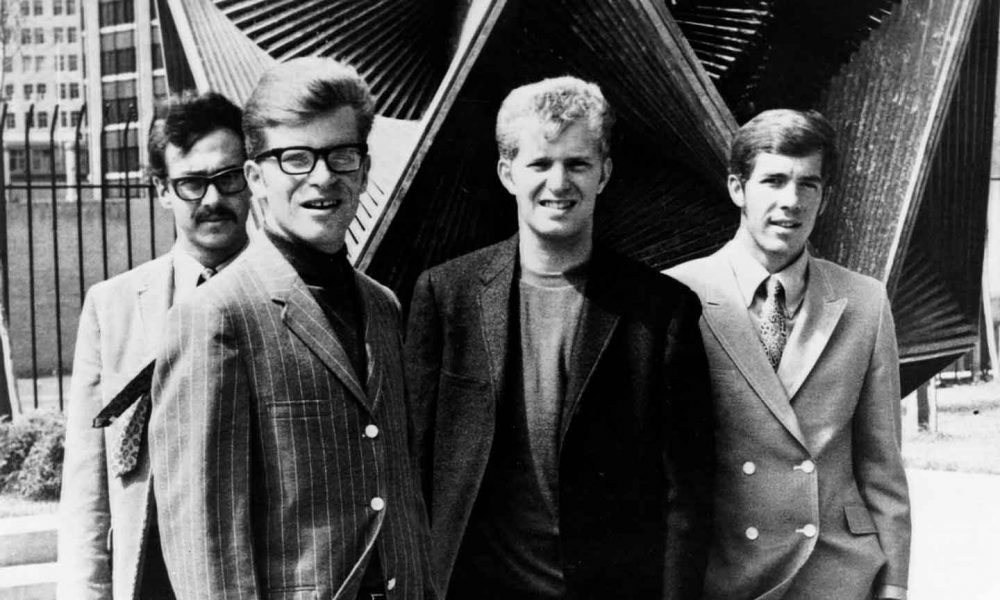 Long before they became the multi-million-selling giants of roots-rock known as Creedence Clearwater Revival, John Fogerty, brother Tom, bassist Stu Cook, and drummer/pianist Doug Clifford served their apprenticeship in a variety of high-school bands in the El Cerrito region of the San Francisco Bay Area, among them cult outfit The Golliwogs. John, Doug, and Stu were schoolmates at Portola Junior High and formed a trio they called The Blue Velvets in 1959, knocking out chart favorites and instrumentals. A trio of independent singles on the Orchestra Records label out of Oakland now featured Tom Fogerty in the lead role, swapping guitar duties with the prodigiously talented teenager John, who insisted they concentrate on original material, all firmly rooted in the quartet's precocious love for classic rock'n'roll, R&B, and even Latino rhythms.
Listen to Fight Fire: The Complete Recordings 1964-1967.
Though local DJ Casey Kasem was an early champion, The Blue Velvets were struggling until they signed for Fantasy, initially a jazz-based outlet, and changed their name to The Golliwogs (after the fictional character created by Florence Kate Upton) – innocently enough at the time, one assumes, though that name wouldn't even be considered today. The group released a string of singles from 1964 to '67, with "Brown-Eyed Girl" (no relation to Van Morrison's song) creating a stir on a Miami breakout chart and selling a respectable 10,000 copies.
A garage-punk intensity
Some of these releases had a distinctly British Invasion feel, notably "Don't Tell Me No Lies" and "You Can't Be True," but with the imminent West Coast backlash heralding the Summer Of Love era, John Fogerty took control of the band's self-produced non-generic material, even though the relatively clean-cut foursome were never a part of the more experimental psychedelic sound, preferring a garage-punk intensity that secured them a staunch local following. It's a fascinating period in rock history, collected in the recent 23-track Golliwogs release, Fight Fire: The Complete Recordings 1964-1967.
The Golliwogs - Fight Fire: The Complete Recordings 1964-1967
A switch to Scorpio in summer 1965 coincided with The Golliwogs' realization that being a budding pop star wouldn't necessarily pay all the bills. Tom had his job as a junior power company executive and was responsible for a young family, while Stu and Doug had enrolled at San Jose State College. John was financing the deal by nabbing a job at Fantasy Records as a shipping clerk by day, and using the studios to hone his craft by night. His technical ability grew exponentially and he also developed that distinctive, hoarse, bluesy rasp that would serve Creedence so well, mostly by screaming atop the poor PA systems The Golliwogs encountered at such insalubrious venues as The Monkey Inn in Berkeley ("a scuzzy beer tavern" according to the boys, though residence here played a crucial role in their development as a rock unit). John also knew that the contrived commercial trickery of their youthful efforts wouldn't cut it anymore, and his new-found acumen as a multi-instrumentalist produced a much-need progression until Uncle Sam came calling for John and Doug, who reluctantly enrolled as reservists, though managing to avoid any call of duty in Vietnam.
With band debts mounting and creditors demanding their cash (sometimes armed with shotguns), The Golliwogs faced a tough decision: do or die. The arrival of mentor Saul Zaentz changed their fortunes. He bought out Fantasy, made a significant investment, and bankrolled the band, astutely noticing that the Bay Area was becoming a focal point for the new hippie music and attendant underground radio stations.
History in the making
The final Golliwogs single also happened to be their best, and a sign of things to come. "Porterville"/"Call It Pretending" was hammered out at Coast Recorders, and sounded fresh and vital with John Fogerty's trademark energy across the piece and the rest of the band sounding reborn. In fact, that November 1967 farewell would provide Creedence Clearwater Revival with their debut single when it was re-released two months later. Luckily, this time they had an iconic name to go with it: "Creedence" was from a mutual friend; "Clearwater" a beer that also had ecological overtones; the all-important "Revival" a sign of optimism and what was to come.
That was history in the making, as Creedence would go on to record seven classic albums, enjoy global Platinum sales success, and top charts with such brilliant singles as "Proud Mary," "Bad Moon Rising," "Up Around The Bend" and "Lookin' Out My Back Door." But as far as their recording career is concerned, The Golliwogs is where it all began.
The Golliwogs' Fight Fire: The Complete Recordings 1964-1967 is out now and can be bought here.