Humble Pie were introduced to the UK audience as a supergroup with a big hit single, but further down the line they would become album rock and concert favourites in America. 'Natural Born Bugie,' a No. 4 hit in their own country in the summer of 1969, proved to be their only hit there, and by the early 1970s they were undeniably bigger across the Atlantic. But on 22 January, 1972, they nudged back into the British charts with a very notable live double album that brought them a gold record in the States, Performance – Rockin' The Fillmore.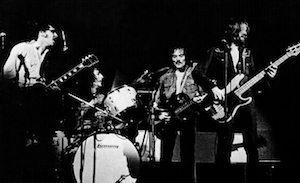 "I've got a new axe, it's too much! It's going to make me rock on, man!" were the words of Steve Marriott as the band took the stage. The record captures the classic Humble Pie line-up of Marriott, Peter Frampton, Greg Ridley and Jerry Shirley in a vintage rock 'n' roll setting, and just in the nick of time, too: by the time it was released, Frampton had left to start his solo career.
The band's shows on 28 and 29 May, 1971 were taped for the album at the venue in New York's East Village neighbourhood, only a month before the Fillmore East closed its doors. The gigs followed their US chart debut that very month with Rock On, which only reached No. 118, but enjoyed a 23-week stay on the album chart, demonstrating the popularity they were earning with American fans.
The Fillmore disc featured only seven tracks across its four sides, including epic versions of Dr. John's 'I Walk On Gilded Splinters' (23 minutes) and the Muddy Waters song that had named a certain fellow English band, 'Rollin' Stone' (16 minutes). The latter had been on the Rock On album in a relatively modest six-minute version, and the band also included their own 'Stone Cold Fever' from that LP in the Fillmore set.
The live LP also included such covers as Ray Charles' 'Hallelujah I Love Her So' and the Ashford & Simpson soul song 'I Don't Need No Doctor,' which managed an eight-week run on the Hot 100, reaching No. 73. When Rockin' The Fillmore made its UK chart debut in early 1972, it entered at what turned out to be its No. 32 peak. George Harrison's Concert For Bangla Desh hit the chart the same week, as T. Rex fever continued, with Electric Warrior at No. 1.
"I heard this album for the first time listening to Radio Luxembourg on my transistor radio under the bed covers as a 14 year old," writes uDiscover reader Martyn Smith. "Listening to 'I Don't Need No Doctor' was literally a life changing moment and the catalyst for my life in music, [45] years later I'm still lovin' every minute of it! Thanks Humble Pie and thanks Stevie [Marriott], the epitome of rock & roll."
Listen to the extended Performance – Rockin' The Fillmore: The Complete Recordings on Spotify
Explore our dedicated Humble Pie Artist Page