J. Cole's 'The Off-Season,' Explained
Throughout 'The Off-Season,' J. Cole references peers and legends, famous bars, and mythic stories. Here are just a few.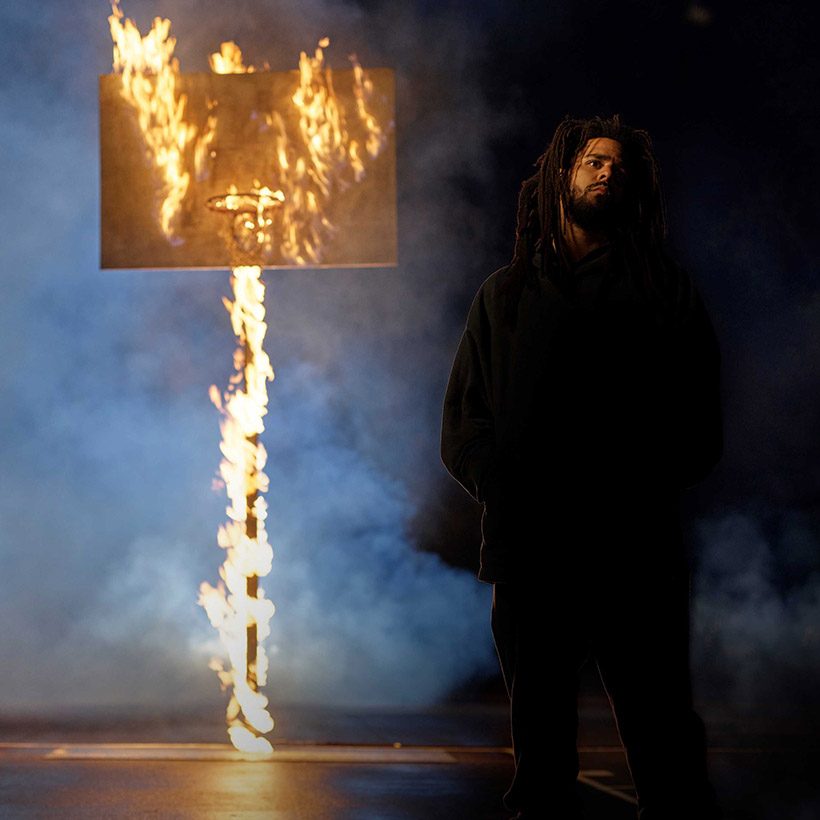 J. Cole treats his discography like a novel. It's all leading up to something, themes and ideas are revisited again and again. His projects are littered with bars from previous LPs and mixtapes, building on a cohesive narrative about a young kid from North Carolina with dreams of superstardom. On The Off-Season, Cole consistently references his early projects like 2014's Forest Hills Drive and 2018's KOD. He revisits themes of sinning and acceptance, trying to live modesty while indulging in the riches his success has brought him. But he also engages with the history of the genre more entirely.
Listen to J. Cole's The Off-Season on Apple Music or Spotify.
His deep understanding of hip-hop history, its key players, and its signature moments has allowed him to tap into the legacy of the game. No reference is off-limits. Throughout The Off-Season, Cole references peers and legends, famous bars, and mythic stories. By referencing artists like Jeezy, Eminem, and Nipsey Hussle, plus quoting lyrics from Nas, Notorious B.I.G., and Styles P, Cole does two things. One, he flexes his deep understanding of the themes that have remained relevant over the course of rap's history. Two, he places himself firmly within the canon of all-time MCs. J. Cole is not only a rapper at the height of his powers, but the rare MC that can juggle the present and a growing legacy at the same time. Let's take a look at how he does this throughout The Off-Season.
9 5 . s o u t h
To begin The Off-Season, Cole recruited New York rap icon Cam'ron. The Diplomats legend yelps his signature "Killa!," before ceding the way for Cole's first verse. Throughout the track, the Carolina MC uses rap references to situate just how long he's been running the rap game. He raps, "Back and forth from NC to New York when Jeezy had the crown," alluding to the early 2000s when Atlanta stalwart Young Jeezy (now just Jeezy) was dominating the landscape thanks to his glossy, anthemic raps.
Cole is, above all, a student of rap, so it's no surprise that he goes on to reference Nas. He spits, "I get up, dust my clothes off, sleep is the cousin of death/No plans to doze off, the streets, it don't come with a ref." On "N.Y. State Of Mind" from Illmatic, Nas raps, "It drops deep as it does in my breath/I never sleep, 'cause sleep is the cousin of death." From the first moments of The Off-Season, J. Cole is situating himself amongst the all-time greats.
​​a m a r i
In the span of four bars on "a m a r i," Cole manages to make subtle allusions to rap Hall of Famers. First, he raps, "Out of the concrete was a rose and winters was cold," which comes from a poem written by Tupac Shakur. The original reads, "Did you hear about the rose that grew/from a crack in the concrete?" The rhyme was later released as a posthumous song. Just a few lines later, Cole shouts out Queensbridge, Queens' finest, Mobb Deep, when he raps, "This where the opps creep real slow/Won't vote but they mob deep with the poles." Poles here is slang for weapons, which Cole cleverly uses to be heard as "polls."
J. Cole - a m a r i (Official Music Video)
​​m y . l i f e (Feat. 21 Savage & Morray)
The main reference point on "my . life" is more straightforward than on other Cole tracks. Here he lifts the chorus from Styles P's "The Life," on which Pharoah Monch handles the hook. Monch raps, "My life is all I have/My rhymes, my pen, my pad/And I done made it through the struggle, don't judge me/What you say now won't budge me/'Cause where I come from, so often/People you grew up with are layin' in a coffin/But I done made it through the pain and strife
It's my time now, my world, my life, my life."
a p p l y i n g . p r e s s u r e
On "a p p l y i n g . p r e s s u r e," Cole doesn't allude to other MCs' rhymes as much as he shouts out peers and mentors. He raps, "Just did the mental math and calculated my worth/Shit crazy, didn't know I got more M's than a real Slim Shady video/Big Boss, less Rick Ross, more like a wavy Hideo Kojima." The reference to Eminem is clever, equating his wealth to the amount of views the typical Eminem video receives on YouTube.
​l e t . g o . m y . h a n d (Feat. Bas & 6LACK)
On the Bas and 6LACK-assisted "​l e t . g o . m y . h a n d, " Cole manages to shout out Curren$y, Clipse, and Three 6 Mafia in an extremely clever way. Cole raps: "Ignorance is bliss and innocence is just ignorance before it's introduced to currency and clips/Or bad licks that have a n—a servin' three to six, s–t." Cole mentions money and the object that's inserted into the magazine of a gun, but he's also shouting out New Orleans legend Curren$y and Pusha T's group, Clipse, before referring to Memphis all-timers Three 6 Mafia at the end of the refrain.
J. Cole - l e t . g o . m y . h a n d feat. Bas, 6LACK (Official Audio)
​i n t e r l u d e
Though the track is brief, Cole manages to fit a bevy of references into "i n t e r l u d e." He begins: "My homie' homie got out on parole/He sold more Coca-Cola than the soda industry." That line is loosely based on Notorious B.I.G.'s legendary "Kick In The Door," where he raps, "Sold more powder than Johnson and Johnson." At the end of that couplet, Cole also pays tribute to two rap legends who left the world too soon: "Christ went to Heaven age thirty-three/And so did Pimp C and so did Nipsey."
t h e . c l i m b . b a c k
In Chicago rap circles, few MCs are as important to drill as Chief Keef. On "t h e . c l i m b . b a c k," Cole pays tribute to Keef, rapping, "Address me as the G.O.A.T. like they call Chief Keef Sosa." Keef's adopted nickname, "Sosa," is a reference to Alejandro Sosa, the drug kingpin in the movie Scarface. Among Keef devotees and diehards, he's often referenced as the greatest of all-time, thanks to his outsized impact on rap in Chicago and across the country.
c l o s e
On "c l o s e," J. Cole once again pays tribute to one of his musical heroes, Nas. In the introduction, he raps, "Ville-matic, one, one," which is a blend of his Dreamville Records and Nas' legendary album, Illmatic.
h u n g e r . o n . h i l l s i d e
On The Off-Season closer "h u n g e r . o n . h i l l s i d e," Cole drops a clever allusion to Andre 3000's verse on UGK's legendary "Int'l Players Anthem (I Choose You)." Cole spits, "Put the whole game on top my back, don't need no chiropract," which is a playful nod to Dre's verse, when he raps, "Fuck it/You know we got your back like chiroprac."
J. Cole - h u n g e r . o n . h i l l s i d e feat. Bas (Official Audio)