Ella + Louis = Jazz's Greatest Duets?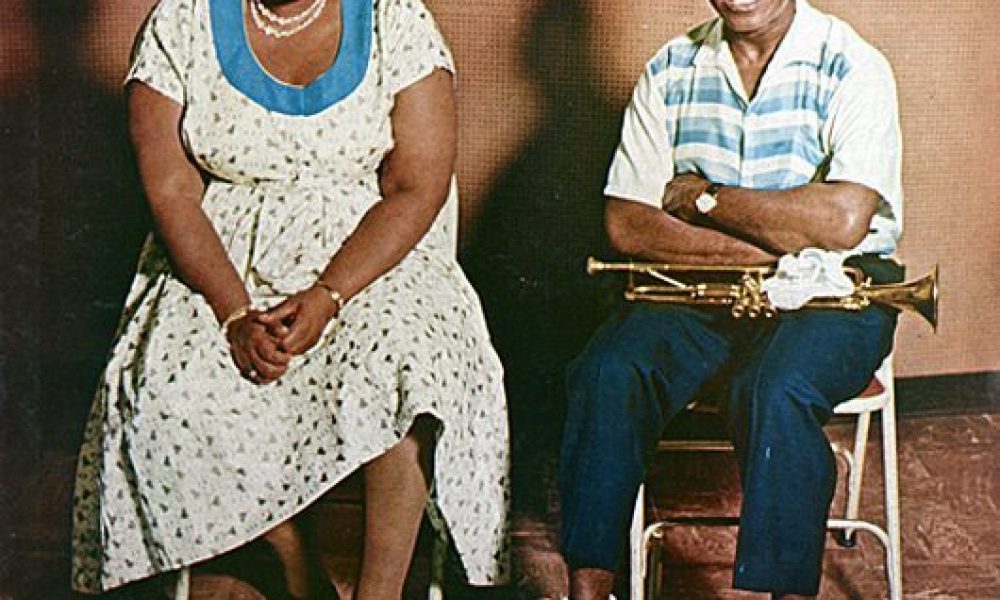 On 16 August 1956, there began one of the most unlikely, yet rewarding, partnerships in jazz. Norman Granz who had earlier in the year formed Verve Records, principally to release the music of Ella Fitzgerald, decided to put his star singer in the studio with Louis Armstrong, and not so that the latter could accompany her on trumpet, but for them to sing duets. It was an audacious idea, and one that paid off, as one of jazz's greatest duets was born.
'The logistics were always difficult on almost all of Louis's sessions with Ella because Louis travelled so much.' – Norman Granz
The evening before they recorded their duets album Louis and Miss Fitzgerald were appearing in an all-star concert also starring Art Tatum and Oscar Peterson that was recorded for an album entitled Live At The Hollywood Bowl (1956). The following day the two singers, along with the Oscar Peterson Trio (Herb Ellis (guitar), Ray Brown (bass), Buddy Rich (drums), were in a Los Angeles studio to record this gem of an album. With no time for rehearsals the songs were all set in Louis's key to make it easier, but this in no way inhibits the performance of either singer. Another challenge for Pops was the fact that the material was not his normal repertoire, meaning he had to learn things on the fly. Again there's no hint of any issues, which all goes to highlight Armstrong's innate musical ability. The warmth of their vocals is a joy to behold as you can hear on 'Cheek To Cheek', 'Moonlight in Vermont', and 'The Nearness of You'. At the end of the year, Ella And Louis was at No. 1 on the Billboard jazz Best Seller list and made No.12 on the mainstream chart.
The following year Granz decided to try to repeat the success and on 23 July 1957, the recording of Ella and Louis Again began. Replacing Buddy Rich is the great Louis Bellson on drums, but in every other sense, the formula is the same. Such was the amount of recording they did that it came out as a double album (there were three more sessions on 31 July, 1 and 13 August). The album did not chart but it in no way diminishes the quality of the recording.
Recently the tapes of a day's recording on 1 August where Louis Armstrong and The Oscar Peterson Trio, Herb Ellis, Ray Brown and Louis Bellson, worked on songs for this album came to light. It is a fascinating historical document of the recording process that has been made available as a download-only release, A Day With Satchmo. Satchmo, the inveterate home-taping enthusiast, would probably have approved of his music being released in this way, being spread around the world despite the lack of a physical release.
Over the course of two days on 18 and 19 August 1957, Louis and Ella along with Russ Garcia's Orchestra also recorded Porgy & Bess, an ambitious project but another triumph when it came out in 1958. Porgy & Bess, like the other two albums, is a masterpiece and these recordings of jazz's greatest duets should be in every jazz fan's collection – and probably in the collections of those who do not claim to be jazz fans.
Format:
UK English