Who Is Lyn Collins?… Mama Feelgood, That's Who
Rising to fame with James Brown's revue, Lyn Collins fought for female artists during a difficult period, leaving a trail of soul and funk classics behind.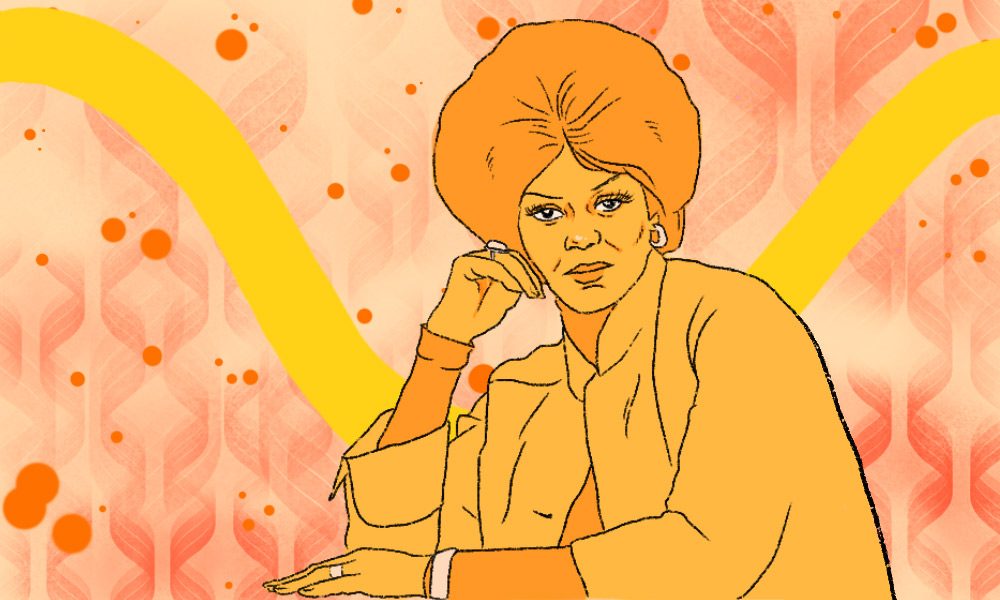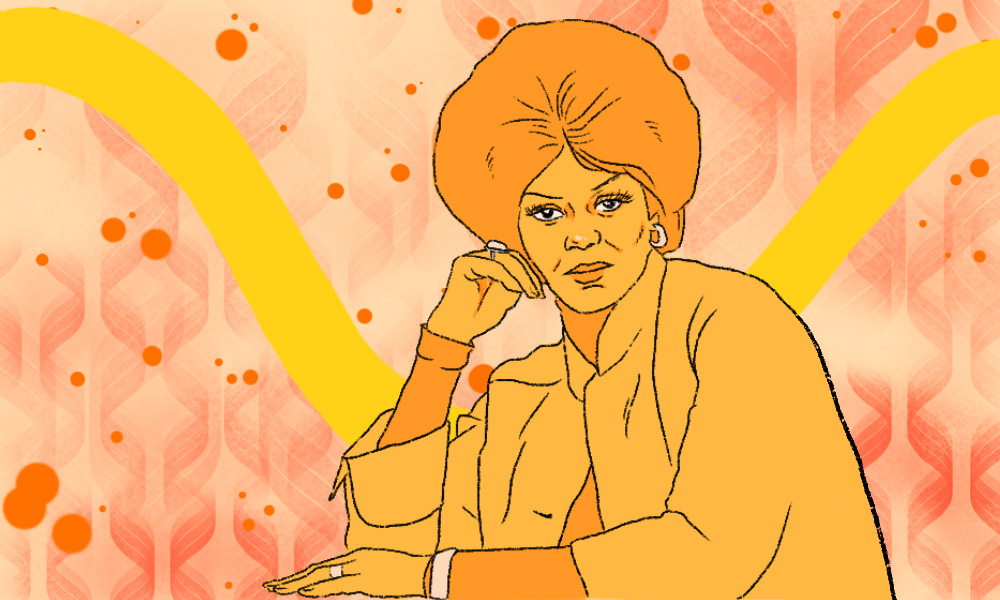 You've heard her if you've heard any late 80s hip-hop, though she wasn't a hip-hop artist. You've heard her if you were into the funky soul of the early 70s. You may even have heard her if you were collecting rare 60s girl group records. She had the funk. She could scream – even if she didn't really like to. Lyn Collins made two great albums and managed to chart in the US, though the odds were stacked against her. She was 100 percent authentic Texas soul.
Lyn Collins was born on June 12, 1948, in Lexington, Texas, and by the age of 14 was a decent singer, a status proved by a single with Charles Pikes And The Scholars, "Unlucky In Love," a proto-soul record now thought of as having a girl group sound. In the late 60s she sent a demo tape to James Brown, who promised her a spot on his revue, though she was some way down the pecking order in Brown's hierarchy and had to wait for her chance while Marva Whitney and Vicki Anderson came and went.
A striking woman with a powerful, appealing voice, Lyn caught Brown's eye. Her opportunity came when Anderson left Brown for a second time, and Lyn became the top female singer in JB's touring party, which was one of the biggest draws in Black music in the early 70s.
Being high up in James Brown's revue meant you got to release records, and Collins grabbed the chance with both hands. Her recordings are the most characterful of any singer James Brown produced during that era, yet Lyn had plenty of competition. She cut two albums in three years, and a slew of singles. She accrued nicknames, awarded by Brown: she was Mama Feelgood, according to a 1973 single, and, more often, The Female Preacher, an apt epithet because she had an arresting presence on record and on stage. Like a great religious figure delivering a sermon in church, you just had to listen. Collins came over as sassy and sensual, but also powerful, elegant, and composed.
Collins' first credited single, the chugging "Wheel Of Life," was released on King in 1971, but when Brown abandoned the Cincinnati, Ohio, label he'd worked with for 15 years, she shifted to the label he set up via Polydor, People, and that first single was quickly put in the shade by her newer, tougher records.
"Think (About It)" opened with a powerful statement – by 1972 standards at least – immediately placing Collins in the company of Laura Lee and Jean Knight. The record made No.66 on the Billboard pop charts and was Top 10 in the R&B listings, where she became something of a regular, with nine further records charting.
Got a good thing going
"Me And My Baby Got A Good Thing Going" maintained her hoarse, spiky shouted intro style before becoming an "I got a good man" standard funky soul number. "Things Got To Get Better" was her revision of a tune previously sung by another of JB's soul sisters, Marva Whitney, handled with a little less bombast, though the backing track was similar to Whitney's – if not entirely identical. The flip, a beautiful ballad, was "Women's Lib," and Collins left everything in the studio in one of her greatest performances: "The time is here," she states. But it's the very same track that points out the difficulties this supremely talented singer faced.
Lyn Collins was a strong, proud, and powerful woman. But she needed to be. The writer of "Women's Lib," according to the credits, was James Brown, and it does sound like a JB composition. When you were on Brown's revue, being produced by him, singing songs he wrote, you never quite escaped his shadow. Few who worked with him ever made it in their own right afterwards, and the female singer who did, Tammy Montgomery, had to change her name and work with one of the few soul music organizations with more power than Brown had: she signed to Motown, where she became the irresistible Tammi Terrell. On several of Lyn Collins' records, you can hear James Brown singing loud support, as if you could hear who was pulling the strings. Her biggest pop hit, "What My Baby Needs Now Is A Little More Lovin'," was a duet with the self-styled Soul Brother No.1.
What My Baby Needs Now Is A Little More Lovin'
Brown had songs he favored and sometimes his artists would be walking in their predecessors' shoes when it came to material, even on occasion being given the same backing tracks. This was perhaps inevitable when Brown's People label had quite a lot of artists and sessions were arranged on a hit-and-run basis while on tour. When Collins eventually left Brown in the mid-70s, she cut no more albums and comparatively few singles, and her only further hit was a red-hot revision of "Think (About It)" with the dancehall artist Patra in 1993, by which time Brown's grip had slipped. By working for The Godfather Of Soul, Collins gained opportunities she would perhaps never have found elsewhere, but it was his way or the highway. Women's liberation? Lyn Collins surely meant it, but could not have felt it under Brown's regime.
For the most part, Collins was required to sock-it-to 'em, and she did it well as the very definition of a Southern soul sister. But her vocal style also suited subtler material, as her interpretation of Bacharach-David's "Don't Make Me Over" (1974), a gloriously downbeat cut of "Ain't No Sunshine" (1972), and a version of Bob Crewe's "Wide Awake In A Dream" (1974) made clear. Though Collins had a hard time dealing with the demanding Brown, according to some of her fellows in his employ, one of the few complaints she voiced was having to scream so much on her records when she would have preferred to show some of her soft power.
Her first album, Think (About It), saw release in the US, Germany, and the UK in 1972, and was packed with tunes released as singles, plus some of Brown's "preferred songs." These included "Just Won't Do Right," which Brown had recorded in 1956, and the swing chestnut "Fly Me To The Moon," which somehow works well in an unlikely funky arrangement.
Rock me again and again and again and again and again and again
Lyn Collins' second album arrived three years later. Check Me Out If You Don't Know Me By Now was, for the most part, a rather more sophisticated affair, and again the song selections were curious at times, though super-soulful. A version of the Gershwins' "Foggy Day" opened the album for no apparent reason, but Collins handled it well; "To Each His Own" was heart-warming and spirited; and there was a predictable "Mr. Big Stuff," which has a vocal that perhaps betrays a touch of going through the motions. You could never say that about a riveting cut of "Try A Little Tenderness," however, in which Collins substitutes the words "young girl" for the more aware "women," while "Backstabbers," the Philly classic James Brown liked enough to mess with a couple of times, works brilliantly, with Brown and Collins on an equal vocal footing for once over a classy backing track. The title song, originally another Philly groove, is stately and handled beautifully by Collins.
Rock Me Again & Again & Again & Again & Again & Again
Collins, as was often the way with members of Brown's revue, would deliver some of these familiar hits alongside her own releases to warm up crowds for the main attraction. Best of all is one of the singles she's best remembered for: "Rock Me Again And Again And Again And Again And Again And Again (6 Times)," a no-messing groove unafraid to drive its phonky message into your body and mind. Sadly, its B-side, the superb slinky groove of "You Can't Love Me, If You Don't Respect Me," was left off the LP. She co-wrote the song, and you can't help but wonder if the lyric was thought up with her co-writer, The Godfather, in mind. Anyway, Collins' second studio album proved to be her last, despite its excellence. Curiously, considering when it was released, Check Me Out… offered no concessions to the fast-rising disco sound, a rare thing in a funky soul LP of its time.
Don't make me over
No longer a member of Brown's posse after 1975, Collins sang backgrounds for the likes of Rod Stewart and Dionne Warwick. She was feted during Britain's rare-groove era and, as a result, delivered a killer set at a 1987 gig in the UK as part of James Brown's Funky People, which featured The Godfather's band and singers without the main man. There was, eventually, a solo tour of Europe. Her vocals graced numerous hip-hop and house records, with Rob Base & DJ E-Z Rock building their 1988 "It Takes Two" smash almost entirely on Collins' samples, and her screams on "Think (About It)" were used literally scores of times. Her 1993 duet with Patra showed she had lost none of her vocal brilliance – if anything, she appeared even more like a strong, powerful woman on the promotional clip.
Patra - Think (About It) (Hip-Hop Remix) ft. Lyn Collins
Gloria Lavern "Lyn" Collins died on March 13, 2005, from a seizure after heart problems. She was 56. As was always the case during her years with James Brown, a fellow female former member of James Brown's revue was on hand to support her through these final tough days: the wonderful, sweet-voiced vocalist Martha High.
Collins had dared to sing of a liberation she would not have enjoyed at the time, hoping to inspire her sisters in spirit. In retrospect, now we know how difficult it must have been to be something of a star, yet not free. These fine records which spoke of a freedom she did not enjoy revealed just how strong she really was.
Looking for more? Discover more pioneering women in music here.