A Life Supreme: Mary Wilson On A World Of Motown Glamour
The Supremes co-founder spoke to us in 2019 about her new book 'Supreme Glamour' and her fond memories of the group's Motown heyday.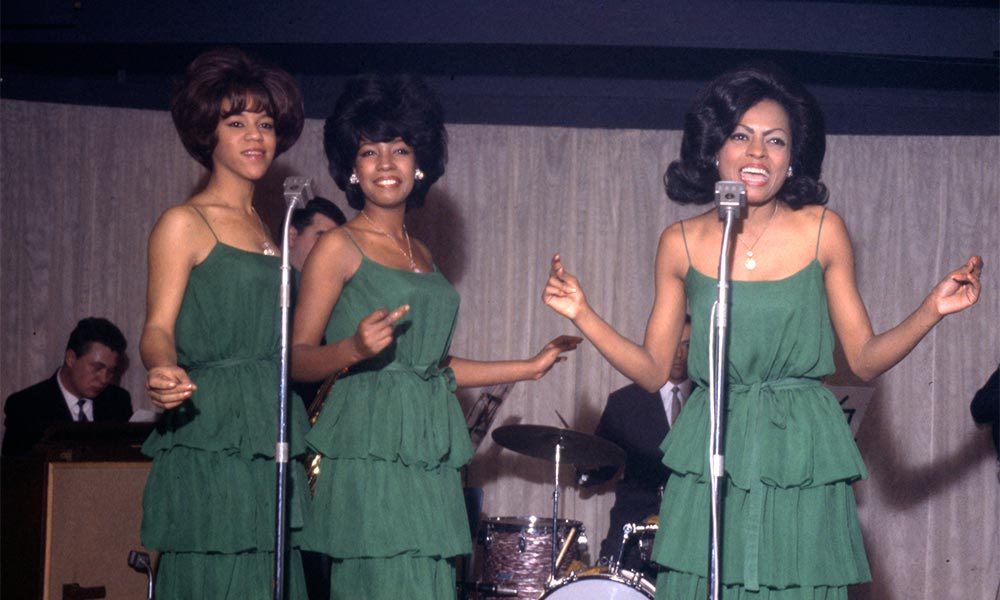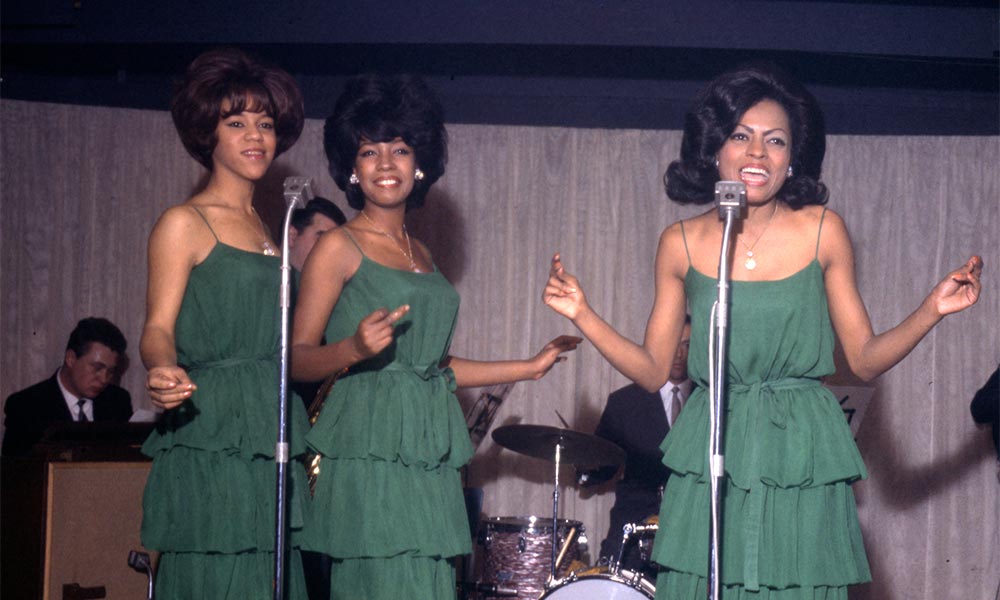 Mary Wilson had been a worldwide celebrity for more decades than it's polite to declare, but the solo spotlight was trained on her in 2019.
September of that year marked the world premiere of Hitsville: The Making Of Motown. With the participation of Wilson (center stage, above), the acclaimed film documented the company's evolution in its Detroit era. Meanwhile, her role in Dancing With The Stars introduced the Supremes co-founder to another new generation, underlining that while celebrity can be ephemeral, true stardom endures. Wilson's sudden death in February 2021 was thus all the more poignant.
The 28th season of the ABC series had Wilson competing against country star Lauren Alaina, The Office actress Kate Flannery, and Fifth Harmony singer Ally Brooke, to name a few. On that first edition, Mary and TV partner Brandon Armstrong hit the ground running, dancing the foxtrot to perhaps the most famous of all the Supremes' timeless anthems, 'Baby Love.'
'I do this all the time'
This was an entertainer with show business in her veins, and far from any thoughts of retirement, she was perhaps busier than at any time since the Supremes' heyday. But Wilson was having fun with her own past, reminiscing at length with national and international media as part of Motown's 60th anniversary celebrations during 2019 and talking up her Supreme Glamour book.
Published by Thames & Hudson in the US on September 17, the volume traced the story of the peerless trio via the trailblazing fashions of their stage costumes, and the development of a look that, for once, deserves the term iconic.
"People say I've been busy lately, but I do this all the time," Wilson told us, with her warm laugh. "It's just that now people know about it. I've been busy like this for the past 45 years, but now with social media, people are aware of what artists like myself are doing. There are so many artists that are just out there working, working, working but you never hear about them, because radio's not what it used to be."
The lavishly-illustrated Supreme Glamour described itself as "the inside story of the original pop fashionistas," and featured Wilson's detailed recollections of the group's emergence from Detroit's Brewster-Douglass housing project to worldwide chart domination. "Although many books have been written about the Primettes/the Supremes," she noted in her introduction, "this is the first official coffee table book of our rise to fame, from beginning to end, written by an original founding member — me, Mary Wilson. This book is our beautiful, glittering and 'glamorous' career in pictures."
'I try to say everything with love'
Wilson, indeed, told her own story, in an early memoir among 1960s celebrities, in the 1986 New York Times bestseller Dreamgirl: My Life As A Supreme. In 1990, she published a sequel about her post-Supremes life, Supreme Faith: Someday We'll Be Together. She's typically candid about their impact. "I've written several books and I talk about everything," she said. "I've lost some friends, [but] if I hadn't said it in my books, other people would have. I try to say everything with love."
Emanating from the pages of Supreme Glamour was a renewed sense of wonder and appreciation about what Wilson, Diana Ross, and Florence Ballard were able to achieve. "We were nurtured," she said. "We had artist development: people who had been in show business who retired and then came to Motown and taught artists their experience in life.
"Maxine Powell [who ran her Finishing and Modelling School in the 1950s before coming to Motown as a consultant] said 'You're going to be singing for kings and queens.' Well, the only queens we saw were our gay fans, and I say that with love." This is with the possible exception of the Supremes' famed Royal Variety Performance in front of the Queen Mother at the London Palladium in 1968. There, as detailed in Supreme Glamour, they performed in silk crepe dresses, designed by Michael Travis and each weighing 35 pounds.
'Our glamour was just as important as our music'
Wilson gave further credit to other key backstage contributors in the Motown team, including head of A&R Harvey Fuqua, choreographer Cholly Atkins, and vocal coach and music director Maurice King. "He was a big band leader in the vaudeville days," she said of King. "He taught Diana, Gladys [Knight]… all their monologues were written by him."
Many of the beaded and sequined gowns worn on stage by the Supremes were not just high-fashion statements, but state-of-the-art designs by notable couturiers of the day. Wilson exhibited them at museums on both sides of the Atlantic — or, at least, those that she still owned.
She said that after she disbanded the final Supremes line-up in 1977, "I kept the gowns because I was paying the bills. I stored some at Motown, but hundreds of them have gone missing. I'm trying to find them, they're showing up on eBay. Someone found one in France. Fans have bought a couple and given them to me."
The book focused on the notion that the Supremes may have risen to fame as Motown's most successful girl group, but they came to represent far more. "We were so much more than just the artists," mused Wilson. "Our glamour was just as important as our music, and they've become hand in hand.
"Whoopi Goldberg [who wrote the foreword for Supreme Glamour] said it was the Supremes who helped her when she was young to know that everything is possible. So it's also what we represented to women. We've come a long way. I remember coming to the UK in 1964, and there were very few women CEOs. Then later there were vets from the Vietnam War who said it was the Supremes that helped get them through it, and some of them mention the gowns."
Along with fellow Motown originals such as Duke Fakir of the Four Tops and Claudette Robinson of the Miracles, Wilson took part in April's launch of the exhibition Motown: The Sound of Young America at the LBJ Presidential Library, at the University of Texas in Austin. Just like those in the Hitsville documentary, their conversations were full of happy memories.
"I can remember when it was Little Stevie Wonder, and the first time he came to Motown," glowed Wilson. "At the time, we were still the 'No-Hit Supremes.' He used to follow Mr Gordy around all the time. One time [Berry] said to us 'Girls, I heard that this little guy who's a genius is coming by. He's nine years old.' I'd never seen a genius before. [Stevie] came in and played every instrument. He was just fabulous."
'Down south, the bus was shot at'
But Wilson also remembered a darker side of the 1960s, and an early Motown package tour in particular. "We had a great education system in Detroit, but the neighborhoods were segregated, as most neighborhoods were in America. You didn't really get a lot of racism because you were in your own area. So we didn't really experience it the same way as it was in the south.
"One time [on the tour] down south, the bus was shot at after we did a gig. I remember Mary Wells was lying down in the stairwell of the bus and we couldn't get on. Later on we stopped, and there were gunshots in the bus. At first, the audiences were whites on one side and blacks on the other, or the blacks upstairs on the balcony and the whites downstairs. But once people got into the music, they started crossing the barrier, and everyone was dancing together."
Of the Supremes' often-underrated post-Diana period, when they amassed further substantial hits — some of them bigger in the UK than the US — Wilson singled out one track. "My favorite was 'Up The Ladder To The Roof,'" she said of the 1970 release, written by Motown long-server Frank Wilson with Vincent DiMirco. "I started to sing [more] lead, for the singles. 'Floy Joy' was one of my solos."
She felt  that the Motown legacy was in good hands. "Universal Music are very supportive, and I'm very happy they're handling all of the Motown catalog," she said. "It's not like it was in Detroit, where it was definitely a family. But now we're a bigger family."
Listen to the best of the Supremes on Apple Music and Spotify.