'Live In New Orleans': Maze feat. Frankie Beverly's Landmark Live Album
'Live in New Orleans' finally saw Maze featuring Frankie Beverly's capture their electrifying live shows on record.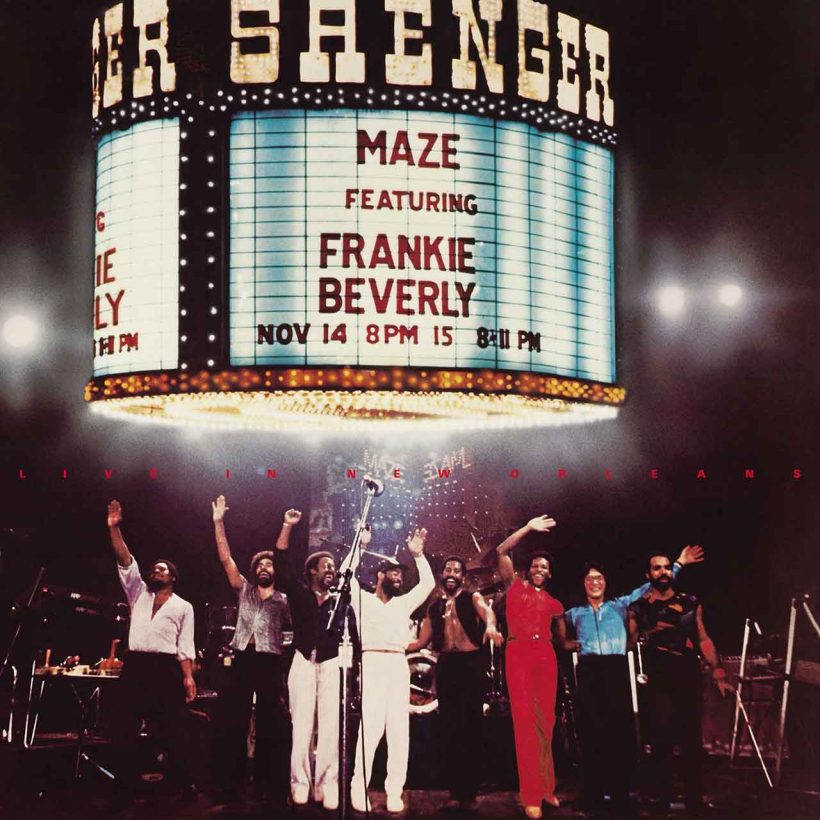 Maintaining a foothold in popular music is nearly impossible, yet Frankie Beverly and Maze have been entertaining audiences all over the world for decades. Their classic 1970s and 1980s catalog is rife with timeless musical moods and lyrics that transcend eras. Quite simply, Maze creates beautiful music that rounds off the edges of rough days.
Maze got their big break when they met Marvin Gaye. The Motown superstar mentored them and made them his opening act in their early years. Their 1976 debut album, Maze Featuring Frankie Beverly, was gold-certified and spawned the hits "Happy Feelin's" and "Lady of Magic." Three more chart-topping albums followed, establishing Maze as a mainstay on R&B radio stations.
While their studio albums touched the ears of music lovers through radio and vinyl, the magic of Maze truly came alive onstage. "I mean, we've really come from the bottom line, which is a working act, and that's why that live album is so good," explained Frankie Beverly in the NME in 1982. "In the studio, it's harder to make that energy happen, it doesn't come so naturally." The live album Beverly was referring to? Live in New Orleans, recorded on November 14th and 15th, 1980 at the historic Saenger Theatre.
Buy Live In New Orleans on vinyl now.
Beverly chose New Orleans, a Southern city celebrated more for its musical past than for its then-present instead of coastal entertainment hubs like New York and Los Angeles. Recording in New Orleans was an acknowledgment of the love Maze consistently received from the city. "I never thought we'd do well in the South. We weren't funky like Cameo. We had that California thing. We did songs… [But it was] like we were born and raised [in New Orleans]. It was like a disease here," Beverly told The Times-Picayune in 2013. He's said countless times – whether true or not – that the majority of sales of Maze Featuring Frankie Beverly came from the New Orleans area.
By the time they recorded Live in New Orleans, Maze had four certified gold albums, and a string of R&B hit songs that included "Southern Girl," "Feel that You're Feelin," and "Workin' Together." Much like James Brown's push to record and release his groundbreaking 1963 live album, Live at the Apollo, Beverly understood that capturing the magic that happens onstage at a Maze concert was the closest way to recording the full Maze experience. By the early 1980s, Maze were an incredibly tight live band, with a chill take on R&B and soul that placed them alongside groups like Kool and the Gang, as opposed to the intergalactic funk of Parliament-Funkadelic. Maze were intentionally low-key and unfussy in their stage presence.
Nonetheless, what they put to record in 1980 was special. The live performance of "Happy Feelin's" nearly eclipsed the studio version in popularity. And the moment where the audience takes over "Joy and Pain" and Beverly leads them in an acapella rendition of the chorus is transcendent. In an interview, Beverly once said that "The Saenger crowd "gave us a classic record."
Upon its 1981 release, Live in New Orleans became Maze's fifth gold-certified album and rose to #3 on the Billboard R&B chart and #32 on the Billboard US chart. But beyond the numbers, the cultural impact of Maze was even more impressive in an era where many of the bands from the 1970s began downsizing or struggled to stay afloat, Live in New Orleans solidified Maze's position as one of the premiere R&B touring for decades to come.
The album also served as a prelude to Maze's long-term relationship with New Orleans. Throughout the next few decades, the group became a regular closing headliner at the annual Essence Festival. There, Maze played to 40,000 fans of different generations who all clamored for their hit songs with the same energy as the Saenger theater audience did in 1980. As noted local DJ Melissa Weber once put it, "As a child… [they were] the biggest band in New Orleans… I had no idea until I was older that Maze and Frankie Beverly were, in fact, not from New Orleans at all."
While the album is a live album, it includes four studio recordings at the end. One tune, "Before I Let Go," went on to become what some call the unofficial "Black national anthem" because it's played at weddings, barbecues, family reunions, Historically Black College homecomings, and many other joyous occasions. But Live in New Orleans is all about the live performances, an album that shows us why live music will always matter.