Paco de Lucia: The Global Flamenco Legend's Story in 10 Songs
The global flamenco guitar legend brought the genre to international audiences on a massive scale.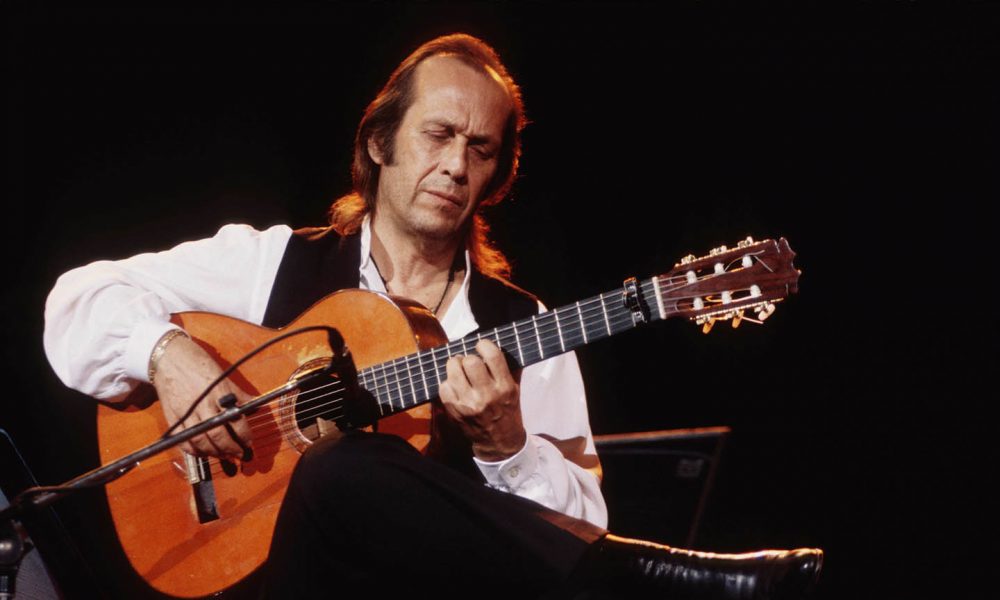 Who does Keith Richards regard as the world's greatest guitarist? Paco de Lucía. The global flamenco legend brought the genre to international audiences on a massive scale, and ensured the Spanish guitar's enduring influence on pop, jazz, Latin, and much more. Over the course of his remarkable career, de Lucia counted artists as varied as Carlos Santana, jazz fusionist John McLaughlin, and pop crooner Bryan Adams among his collaborators. Musicians from Rodrigo y Gabriela to Enrique Iglesias are among his legions of fans.
Listen to the best songs by Paco de Lucía.
A virtuosic composer who did not read music, de Lucía was a quiet man who believed in the tradition of flamenco and the magic of improvisation, and most of all, in the proven results of practicing. "I've spent three-fourths of my life alone playing the guitar," he said in a 1988 interview. "Music is my language."
Son of Luzia
De Lucía was born Francisco Sánchez Gómez in 1947, in a working-class neighborhood in the Andalusian port city Algeciras. The sound of the streets, and in his family home, was flamenco. His father was a struggling salesman and moonlighting musician; his older brother Ramón would gain fame as the flamenco guitarist Ramón de Algeciras. Paco started his career by the side of his brother Pepe, a singer, and he would perform and record with his brothers throughout his life.
That both Paco and Pepe adopted the Spanish spelling of the name of their Portuguese-born mother, Luzia Gomes Gonçalves, attests to her place in the eyes of her five children. Years later, after her death, Paco recorded a 1998 album in her honor.
By the time he started elementary school, Paco, a chubby and serious boy, was focused on the guitar, learning the complex flamenco styles called palos. Later, he would listen obsessively to recordings by the Spanish guitar master Sabicas. (In 1989, de Lucia and others honored Sabicas with a concert at Carnegie Hall.)
De Lucía took his stage name from his mother, but it was his father who instituted a perfectionist streak in his son. Seeing a possible way out of poverty for his child, Antonio Sánchez took Paco out of school and told him to focus on the guitar. By age 10, by de Lucia's recollection, he was practicing at least eight hours a day, and performing locally in a duo with Pepe. As teenagers, the brothers were hired by the Italian American flamenco dancer José Greco, founder of Ballet Clásico Español, to join his company and come to New York. One of their appearances was on The Ed Sullivan Show.
De Lucía was 20 when he recorded his first solo album, announcing his arrival with the splashy, self-fulfilling prophecy of a title, La fabulosa guitarra de Paco de Lucía, which included songs in diverse flamenco styles that referenced different parts of Andalusia and their flamenco styles, including the fandango "Punta Umbria," an instant classic.
Flamenco's greatest hit
The intro of "Entre dos aguas," ("Between Two Waters") is immediately recognizable to listeners who may not know much about flamenco, or even Paco de Lucía's name. The track was included on Fuente y Caudal, the 1973 de Lucía album that is generally acknowledged to have marked a before and after for flamenco guitar.
De Lucía spent months working on the songs for what would be his breakthrough recording. All except for "Entre," the tune that would rise on Spain's radio charts, which he improvised in the studio when his producer asked him to add a few minutes of music to complete the album. A rumba whose funky intro reflects the go-go vibe of a time in Spain when the Franco dictatorship was winding down, de Lucia wrote the song inspired by the psychedelic-tinged "Te estoy llamado locamente" a huge hit for the duo Las Grecas.
When "Entre dos aguas" became a hit itself, thanks to an enterprising publicist who refused to believe that a flamenco guitarist couldn't achieve pop star fame, de Lucia was soon performing the song on TV. "In two months I was famous," he later recalled in a documentary directed by his son, Curro Sánchez. In February 1975, de Lucía became the first-ever flamenco performer to play at the Teatro Real in Madrid.
Contemporary master of Spanish guitar
At the same time that de Lucía was gaining a reputation for making flamenco accessible to audiences in both Spain and abroad with a more modern sound, he was digging further into his heritage and his desire to interpret classical music of the great Spanish composers from a flamenco perspective.
With the masterful 1978 work Paco de Lucía interpreta a Manuel de Falla (Paco de Lucía Plays Manuel de Falla), he symbolically explored Spanish identity, bringing historically marginalized flamenco to the classical stage with his interpretation of "Amor Brujo" and other compositions by the great Andalusian composer.
De Lucia's 1991 live album Concierto de Aranjuez captured his uniquely rhythmic interpretation of perhaps the best-known Spanish orchestral work, by Joaquin Rodrigo, which he unfalteringly made his own.
Rodrigo: Concierto De Aranjuez: 2. Adagio
New Flamenco: Enter the Cajón
Today, the cajón is a familiar part of a flamenco ensemble. The wooden box that a percussionist sits on top of and slaps with their hands may now seem as tied to the ancient origins of flamenco as a singer's keening voice. It wasn't always this way: The Afro-Peruvian instrument only made its first appearance on a flamenco stage in the 1970s, with Paco de Lucía's band.
As the now legendary story goes, the Paco de Lucía Sextet was on tour in Peru when the musicians attended a party at the Spanish Embassy in Lima, where the iconic Peruvian singer Chabuca Grande was accompanied by her percussionist, Caitro Sotro on cajón. De Lucía's percussionist, Rubem Dantas, asked to try out the instrument. It was an aha moment for de Lucia, who had already tried incorporating bongos into his music in his search for a percussion instrument that would mark the rhythm as he played flamenco guitar. He instantly recognized that the sound of the cajón echoed those of the heels of a dancer, the rapping of knuckles on a table or hand clapping, which are traditional modes of percussion in flamenco.
Before the party in Lima was over, Dantas had borrowed money from de Lucía and bought the cajón to take home. He played it on the first album that Paco de Lucía recorded with the powerful sextet, Solo Quiero Caminar (1981). The album would later be described by one critic as the guitarist's "declaration of independence," on which he further enhanced the flamenco lineup with bassist Carles Benevent, and Jorge Pardo on the saxophone. The album inspired young flamenco musicians, many of whom ran out to have their own wooden boxes made. What's now called the flamenco cajón, widely manufactured in Spain and internationally, would become a standard onstage at flamenco performances.
The collaborations
For de Lucía, tradition was always a platform from which to take flight. His revolutionary albums together with the singer Camarón de la Isla – notably Como el Agua – would lay the groundwork for a change in sound for flamenco that was in tune with the age of rock.
Throughout his life, de Lucía's path was paved with experimentation, which would often come at the side of like-minded collaborators with whom he both created genre-busting fusions and took the flamenco tradition forward. In 1977, de Lucía performed with Carlos Santana for an audience of 15,000 in Barcelona. With John McLaughlin and Al Di Meola, he explored the commonalities of flamenco and jazz on the groundbreaking albums Passion Grace and Fire (1983) and The Guitar Trio (1996).
De Lucía became, and remains, synonymous with the flamenco guitar. As his fame grew, so did the demand for his playing; even Hollywood called. "Entre dos Aguas" is featured on the soundtrack of Woody Allen's Vicky, Cristina Barcelona. And it was no great surprise that when Bryan Adams wanted a flamenco guitar solo for his song "Have You Ever Really Loved a Woman," featured in the 1995 movie Don Juan DeMarco, de Lucía was called in.
Late career triumphs
The cheers and whistles that can be heard on the album Live in America attest to the excitement that surrounded the Paco de Lucia Sextet on a 1992 tour of United States cities. But one of the highlights is the reverent hush that accompanied the sublime musical tapestry he wove for his oldest son, "Mi Niño Curro."
Mi Nino Curro (Live In America / 1993)
Few artists could match Paco de Lucía's career consistency as he entered his last decade. In 2004, the year Spain officially named him "the most universal of flamenco artists," awarding him the Prince of Asturias Prize, he released Cositas Buenas after a five-year break from recording. The album is a celebration that explores the diversity of flamenco with a powerhouse band and featured guests that include Spanish pop star Alejandro Sanz, next-generation flamenco singer Diego el Cigala, and the voice of de Lucia's former comrade Camarón de la Isla, who had passed away in 1992.
On February 25, 2014, Paco de Lucía died of complications from a heart attack while in Mexico. He was 66 years old. He had just finished what would be his final album, Canción Andaluza, a compendium of classic songs featuring the moving "Te He de querer mientras viva" ("I Should Love You While I'm Alive"), with singer Estrella Morente. The album, released posthumously, won Album of the Year at the Latin Grammys nine months after de Lucia's death, adding to the immortal legacy of a humble genius.
"If I'm proud of something it's that I've contributed to a music I admire and that I've loved since I was born," de Lucía said in the documentary made by his son, called "La Busqueda," filmed shortly before his death. "My father was a guitar player, and my family were all flamenco players. My greatest pride is having left evidence of my journey through this music."