Peter Gabriel's departure from Genesis after The Lamb Lies Down On Broadway may have cast the band's future into some doubt. But as Phil Collins somewhat hesitantly took up the vocal reins on the first album of their new era, A Trick Of The Tail, it soon became clear that they were going to get along just fine. The new album reportedly sold twice as many copies as the previous one.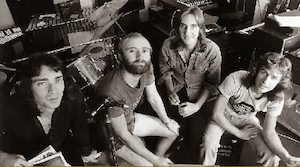 Released on 2 February 1976, it was a record that saw Messrs Collins, Banks, Hackett and Rutherford following their best instincts. "It's as strong as it ever was," Banks told Melody Maker as A Trick Of The Tail emerged, following that with a bold statement. "If it isn't, we won't play again. If it's not as good, there's no point in playing. Peter left and life goes on. We were all sort of sad. We spent some time trying to make him change his mind, but when he didn't, we just carried on."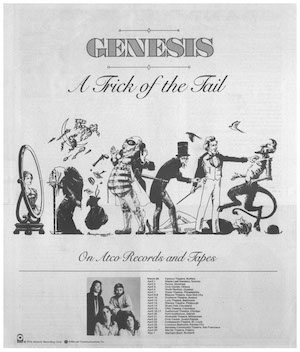 Nevertheless, Banks made no secret of his nervousness about how the LP would be received. "We are apprehensive about the album. We still are. We've always had confidence in our own ability. The apprehension is more on whether audiences will accept us without Peter. He was our visual logo. The things you remember are Peter and his costumes. It's losing that."
But in the same interview, Collins professed himself "supremely confident" about a record that he felt had more appeal than any previous Genesis release. And so it proved for the 51-minute set, produced by the now-four-piece with David Hentschel. It started with the powerful band composition 'Dance On A Volcano,' and never looked back.
For the first time on a Genesis album, band members were credited individually, which revealed how different combinations of writers were pooling their talents to great effect. The closing 'Los Endos' was the only other track ascribed to all four members, but Banks emerged as the most productive individual: two of the others were by the keyboard player with Rutherford, one with Collins, another with Hackett, and Banks wrote two on his own.
Among the most enduring pieces was 'Squonk,' the track on which Phil first tested himself (and the band's reaction) in the lead vocal role. The results were so successful that he took the job from that point on. The title track, written solely by Banks, was a delicate delight, and was released as a single, with the band's first promotional video.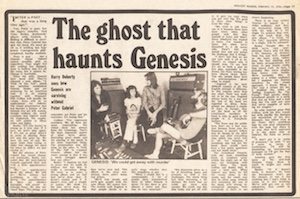 A Trick Of The Tail debuted on the UK chart at No. 5 and spent its first six weeks in the top ten, enjoying an unbroken 31-week run in the top 75 until September. It was still making occasional appearances on the survey more than two and a half years after release. By June, it went both silver and gold, and also struck gold in America, where it reached No. 31.
"We'll lose people and we'll gain people with the new album," said Banks in that Melody Maker interview. "We expect that. The trouble with England is that people decide at an early stage whether they like something or not. What I would like is a reassessment. A lot of people have preconceived ideas of what Genesis is about. I'd like them to give albums a listen and they might be very surprised."
And who doesn't like a nice surprise? As the album peaked in the UK at No.3, the band's highest charting album since Selling England By The Pound, and the their best performing album on the US album chart to date, it was clear that the genesis of the new Genesis bode well for the future.
Purchase A Trick Of The Tail here.
Follow the official Genesis Best Of playlist.