Review: Download Festival 2017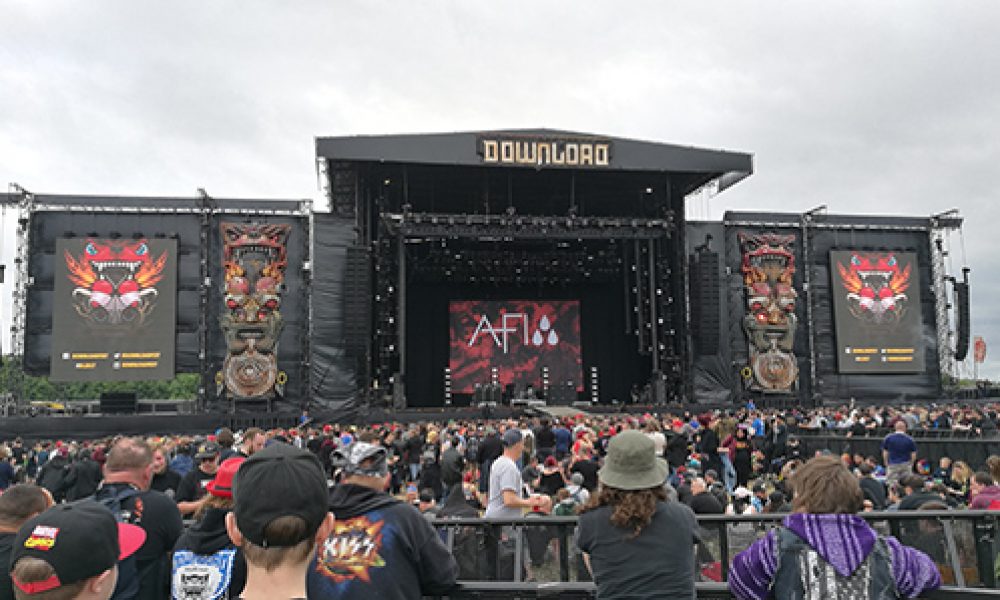 So, here we are again for another onslaught of the senses that is Download Festival.
Having not gone for a couple of years, it's refreshing to see another revamp of the site with even more available on offer than ever before. Surprisingly, for this most British of festivals, the rain stayed away and the dreaded wellies did not need to make an appearance. If anything, it was more of a dust-in-the-eyes experience.
The first day started promisingly, with the well-deserved reception of the Heavy Metal Truants: 52 cyclists who rode the 164 miles from London to Download, raising over £50,000 in the process for Teenage Cancer Trust, Childline and Nordoff Robbins. Well done, guys! You can still support them here: www.justgiving.com/teams/hmtv.
So, on to the bands that made the biggest impressions at Download Festival 2017…
Friday:

Machine Gun Kelly

First up is obviously a trip to the bar before heading to see Machine Gun Kelly. I'm intrigued to see how the crowd take to MGK being touted as the new Kid Rock. Judging by the sleepy crowd over on the Zippo Encore Stage this Friday afternoon, they need a post-late-night election kick in the nether regions. Which they get, with bells on, from the energetic Machine Gun Kelly. Opening up with the "Welcome to Download" of 'Wild Boy' followed by 'Alpha'.
The band get into their stride with the edgy 'At My Best' before the crowd really wake up to a over of Oasis' 'Wonderwall'. Going into 'BMF' he has the crowd by the throat and doesn't let up, quickly followed by the anthemic bombast of 'Sail'. It's quite clear to see where the "Machine Gun" comes in relation to Johnny "Rook" Cappelletti, the MGK drummer who is mesmerising in his playing.
The references to MGK being the new Kid Rock are clearly misplaced because they are way more than that – more diverse with closer leanings towards the better parts of Linkin Park than Kid Rock. Some think MGK are to hip-hop for a metal crowd, but as a live band they throw their energy on the line and leave nothing on the stage as they ramp up the crowd, backed with 'All Night Long', 'Bad Things' and 'Let You Go'… The crowd came to observe but left with converts. Expect to see MGK back in future years – and on higher billing.
Upon returning to the main arena, this writer goes full in on the "heavy metal" by taking on a JCB tractor with his body. It's fair to say the tractor wins, but A&E is not an option. We have a festival to enjoy.
Five Finger Death Punch
The Nevadan five-piece took to the stage in the early evening, setting out their stall with a brutal set of uncompromising metal. With a bassist in the shape of Charis Kael (who could double as Davy Jones from Pirates Of The Caribbean) they rattled through their set, with a twist including a cover of 'Bad Company' (via intros comprising of 'Crazy Train', and 'Smoke On The Water'), proving there's plenty of light and shade to the group. Crowd-pleaser (and by far the most well-received song of the set) was 'Burn MF', whipping up a moshpit that was still warming up to the opening day of the festival. Switching to ballad mode produced an acoustic 'Remember Everything' before notching it up a gear for 'The Bleeding'. Theirs was a confident set that should see the group higher on the bill in the future.
Prophets Of Rage
The supergroup moulded from RATM, Public Enemy and Cypress Hill showed exactly why they deserve their higher placement on the bill. This, their first UK show, was an all-encompassing and inclusive affair that from the get-go had a very receptive audience bouncing off the walls with an arsenal that included a salvo of tracks from their parent groups' combined back catalogue. Old tracks such as 'Take The Power Back', 'Bulls On Parade', and 'Bullet In Your Head' were given new life, but it was an instrumental tribute to the recently departed, and already greatly missed, Chris Cornell, in the form of 'Like A Stone', that had great poignancy. Tom Morello's playing soared throughout, and an amazing 'Killing In The Name Of' made this the act of the festival.
Prophets Of Rage Killing In The Name Live @ Download Festival 2017
System Of A Down
There are very few things in life that give you as much joy as pogoing around a field to Armenia- tinged metal. System Of A Down certainly gave the crowd their money's worth with a 30-song set that covers their entire discography, which the crowd gobble up with enthusiasm; the cacophonous echoes around the main area were felt much further away. Here is a band with a fanbase who passionately sings back every lyric and quirky vocal to every song. Highlights were the bounce of 'Violent Pornography', the anthem 'Toxicity', the intensity of 'Needles' and the fun of 'Radio'. Was it worth the wait? Oh yes. And some.
Saturday:

The One Hundred
Playing to a packed Avalanche Stage, The One Hundred show why they are one of this year's buzz bands. Having been hailed as ones to watch in 2015, they seems to have grown in confidence to start believing this could be their time. Delivering a set that encompasses elements of rock, rap, grime and R&B with an energy that makes it clear these guys are going to be one to really keep an eye on.
Kevelerak
The first thing to do with Kevelerk is to try and actually learn to pronounce their name. Not being Norwegian, it isn't the easiest way to say "stranglehold". What is striking today is that you can dump the "black metal" for a more "classic Rock" feel, but you can't lose that metal intensity. Delivering an eyeball-drying set of real intensifying passion is just what's required to blast that 4am hangover out of the system. Definitely worth checking out.
Pierce The Veil
The four-piece from San Diego made their Download Festival debut, opening with 'Texas Is Forever' from current album, Misadventures, without stopping for breath as they stormed through a relentless set that included material culled from that record and Collide With The Sky. The Cornell tributes continued with Vic Fuentes donning a Soundgarden T-shirt as he powered through a sound mix that could have been better, but with tracks such as 'Circles' igniting a partisan crowd and the sublime 'King For A Day' closing their time on the stage, it didn't matter to a band that will definitely have gained more fans. What's not to love when your bass player has R2D2 as part of his pick-ups?
Igor & Max Return To Roots
Clearly one of the sets people have been waiting for. The Cavalera brothers deliver everything you expect. Roots is one of the Sepultura albums that completely changed the metal landscape on its release, and, 20 years later, with its tribal, Brazilian-infused rhythmic beats, has the field going off in a sing-a-thong and a visual wave of headbanging. 'Ratamahatta' gets a huge roar and the intense cover of 'Ace Of Spades' leaves the crowd needing to catch its breath.
Max & Igor Cavalera - Ratamahatta @ Download Festival 2017
Rob Zombie
The demon ringmaster comes out with the usual Download sound gremlins before finding his rhythm. Rob's band of ghastly ghouls deliver a set that covers everything you wanted to hear: 'Superbeast', 'Thunderkiss 65', 'Black Sunshine', 'More Human Than A Human', and 'Dragula', alongside fun covers of 'Blitzkreig Bop' and parts of 'School's Out'. Triumphant!
Sunday:
Orange Goblin
Starting at the ungodly hour of noon after a Saturday night of, well, Saturday night, Britain's own Orange Goblin took to the stage with 'The Filthy And The Few' from 2012's A Eulogy For The Damned, and their brand of metal went down well with a crowd no stranger to the man mountain that is Ben Ward. The affable frontman (a hero to many for his efforts helping to organise funding through JustGiving when Metal Hammer journalists faced redundancy without compensation just before Christmas last year) prowled the stage, running through a set that plundered their impressive catalogue ('Scorpionica', 'Cities Of Frost' and 'Quincy The Pigboy' were highlights). With their eclectic mix of stoner and classic old-skool metal, they are a band that would have been better suited to a mid-afternoon chill-out on a day that brought the sun out. As Ben said, after closing with 'Red Tide Rising', "It's heavy f__king metal from Orange f__king Goblin, baby!"
Opeth
On a day too bright for such dark, complex music, Sweden's Opeth took to the stage. The self-effacing Mikael Åkerfeldt (we're a Swedish band… from Sweden) spoke little between tracks and chose to use their 45 minutes to squeeze as much in as they could. With a set that was primarily taken from their 12th studio album, Sorceress, the title track and its companion, 'Era', were well received, the death metal growls intertwined with the progressive metal time changes and unbelievable fretwork from both the guitar and bass department. It was set closer 'Deliverance' that, er, delivered, in spades. An outstanding set from an outstanding band.
Airbourne
The high-energy court jesters of the modern rock festival blast out the stage in their consistent Australian vigour. 'Ready To Rock' and 'Too Much, Too Young, Too Fast' get the crowd chanting away before the usual jokes start to flow: "Here's a song about girls that wear black. This is 'Girls In Black'." This time we don't get the climbing of the festival stage rigging; instead we get an Australian crew member dressed as a Kangaroo to take singer Joel O'Keefe down the runway to the crowd. The fact that the kangaroo looks more like a fox is not lost on the mainly British crowd before a full beer can gets broken on his head. Utterly ridiculous, utterly fabulous: if you want to drink beer, chant to songs and have fun, Airborne rarely disappoint.
Slayer
Today Slayer just feels right. The sun is out, giving the festival a slightly Californian feel, which seems fitting as the sun sets.
Having seen Slayer so many times on the festival circuit, it is something of a surprise to find that not only are they truly on form today, they are in top gear. They open with 'Repentless', which could be renamed 'Relentless', and is soon followed by 'Disciple'. 'Mandatory Suicide' and 'War Ensemble' create a cure from sleep deprivation.
'Dead Skin Mask', 'Hate Worldwide' and 'Seasons In The Abyss' deliver one punch after the other, before the grand finale of 'South Of Heaven', 'Raining Blood', 'Chemical Warfare' and 'Angel Of Death'. It's really incredible to see a band coming up to their 35th year, and remains as ferocious as they've ever been, hitting heights others cannot reach. If Satan had a wedding band, today it would be Slayer.
Aerosmith
The final act up of the weekend are the legendary Aerosmith, and the anticipation for a party is palpable. Is this the last ever UK performance? If it is, then surely we're in for a treat…
Unfortunately, if this is the last performance, it's more of a whimper than a bang. It's immediately that clear something isn't right: the plodding of 'Crazy', off vocal cues from Steven Tyler on 'Janie's Got A Gun', a self-indulgent trawl through a couple of Fleetwood Mac covers sung by Joe Perry before a drawn-out blues jam. It's not until the back end of the show that things finally seem to start clicking into place, but by then it's too late, with many people having streamed out of the arena. 'Sweet Emotion', the irony of the aptly named 'I Don't Want A Miss A Thing', 'Rag Doll' 'Dude (Looks Like A Lady)' get them back on track before an epic 'Dream On', 'Mother Popcorn' and 'Walk This Way' round out a set that, despite the finish, leaves you feeling incredibly disappointed and hopeful that they can come and do this again to correct things.
Download Festival Highlights
● Prophets Of Rage: showing younger bands what they have to aspire to.
● The Cadillac Three: A soulful band that reduced many to tears. Just beautiful.
● Tom Araya of Slayer was seen laughing at a punter who was dressed as a gingerbread man and moshing to their set. Not very metal, and out of character for Tom!
● The Lounge Kittens doing an interesting arrangement of The Drowning Pool's 'Bodies'.
● The One Hundred: Spinefarm signings riding high on the release of their debut album, Chaos + Bliss, they played the Avalanche Stage and the Firestone Stage with sets that embodied their album title.
Download Festival Lowlights
● Long walks when you can't get a cab back
● Dogtooth Stage, Saturday: Who puts Sick Puppies on after The Lounge Kittens? RSPCA needs to be called
● Security search queues: Yes, they're necessary but you can miss the start of a band's set
Liam Donoghue and Andie Daw
Format:
UK English