How Rihanna Has Dominated Music & Pop Culture Throughout Her Career
A celebration of Rihanna and her decade of influence.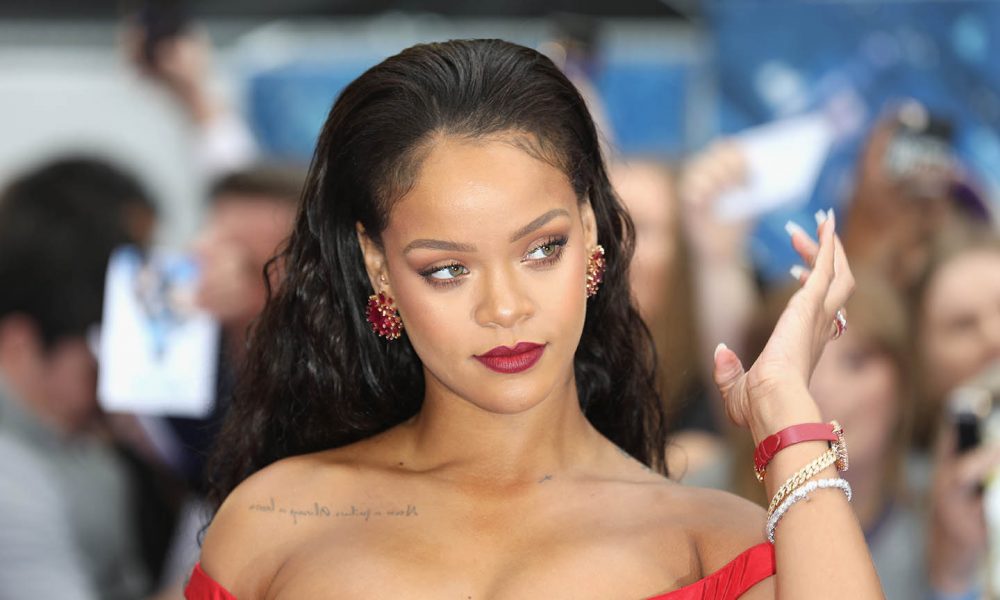 Rihanna has mastered the art of cockiness usually reserved for men in the entertainment industry. From rolling her eyes (and her window) when paparazzi asks her anything out of line, to responding, "I'm not looking for a man – let's start there" when asked about her romantic life, few other celebrities respond as succinctly to over assertive interviewers and nosy red carpet interviewers as Rihanna does.
Your twenties are undoubtedly associated with trying, recalibrating, and eventually getting it right (sort of). With "Never a failure, always a lesson" tattooed on her chest, Rihanna seems to have comfortably cracked the code to surviving as her authentic self while under the microscope of celebrity. She's been kicked out of hotels for smoking weed, staged goofy photoshoots with aliens, and argued with Piers Morgan on Twitter. She's also created a multi-million dollar beauty line specifically catering to women of color, released several successful collaborations with Puma, and was named Harvard's Humanitarian of the Year in 2017.
Listen to the best of Rihanna on Apple Music and Spotify.
Over the last decade, we've watched Rihanna transform from a sweet-faced popstar to a lace-wearing full-grown woman killing men in her music videos for everyone's favorite reason – revenge. The murders, execution style at point blank range, are captured so artfully that the internet is littered with viewer reactions that beg for Rihanna to kill them, as well. Speaking of videos, Rihanna's have undergone a transformation as well. Adapting to the times, her videos are no longer vibrant graffiti-laden adaptations of her songs. Instead, they now convey a pure, raw sensuality with a wardrobe to match.
Although Rihanna wasn't into style as a child, she's embraced it as a form of expression, and everyone has noticed. She's spotted on the streets rocking simple oversized white button downs or a complete runway look that didn't look desirable at first and nails it every time. She changes her hair as often as her style—Rihanna can make any look work. Period. In 2014, Rih was awarded the CFDA Style Icon Award, cementing her place in the ranks among Iman and Lady Gaga as a fashion influencer. The CFDA Awards also served as the site of an iconic Rihanna quote, when she asked a nervous-looking interviewer, "Do my tits bother you? They're covered – in Swarovski crystals, girl!"
Each of Rihanna's albums are iconic in their own right but her most recent release, ANTI, is perhaps the one that got fans most riled up. Possibly her most thematically cohesive album yet, ANTI narrated us through twists and turns of self-love and romantic demands. "Work," the first single from the album, garnered audio and visual acclaim (a double music video was released for the single). The single hit No. 1 on the Billboard Hot 100 Chart and sat cozily at the top of the chart for nine consecutive weeks. In other record-breaking news, "Work" became the first dancehall track to hit the Billboard Hot 100 in 10 years. "Needed Me," another single off ANTI, was visually adapted with a storyline in which Rihanna, true to form, murders a man in cold blood while oozing sensuality not usually associated with such a crime. The track begins with Rihanna confidently singing, "I was good on my own, that's the way it was," and the video follows that notion through. "Consideration," featuring SZA, was recently the eighth record-breaking single from ANTI. In the same year Lemonade was snubbed for Album of the Year, ANTI was nominated for eight Grammy awards and won zero. In 2017, Spotify named Rihanna the most streamed female artist of the year. ANTI was released in 2016.
Rihanna - Work (Explicit) ft. Drake
Fenty Beauty is Rihanna's makeup line that launched in September 2017. The brand has been lauded in Youtube and Instagram makeup reviews,  with beauty bloggers excitedly swatching the 14 Mattemoiselle matte lipsticks and boasting about Trophy Wife, a true gold highlighter that has been dubbed Rihanna's favorite. The most noteworthy release from the line is a range of 40 foundation shades meant to cater to people of color, a category in which longtime established makeup brands miss the mark or simply refuse to attempt. Fenty Beauty's slogan, 'Beauty For All' has globally hit high notes among makeup wearers and generated over 72 million dollars in its first month of sales.
"So, I made it to Harvard," Rihanna beamed over applause while accepting her Humanitarian of the Year award in 2017. Her charitable contributions include, but are not limited to: funding an oncology center in Barbados which will be crucial for diagnosing and treating breast cancer, founding a nonprofit educational program for students attending school in the U.S. from Caribbean countries, and assisting in raising money for children to have access to schooling in countries where it isn't affordable or readily available. Rihanna continues to champion crucial causes like education and healthcare for people who lack access to them.
To say that 2017 was Rihanna's year is an understatement. With her 30th "Rih-day" just behind us, we hope that her future is filled with more of an example of how to navigate growth, womanhood, and authenticity.
Listen to the best of Rihanna on Apple Music and Spotify.
Format:
UK English