Best Roger Daltrey Songs: 20 Career-Defining Cuts From The Pinball Wizard
Our tribute to arguably the greatest rock singer, from Who classics and live favorites to more recent solo projects.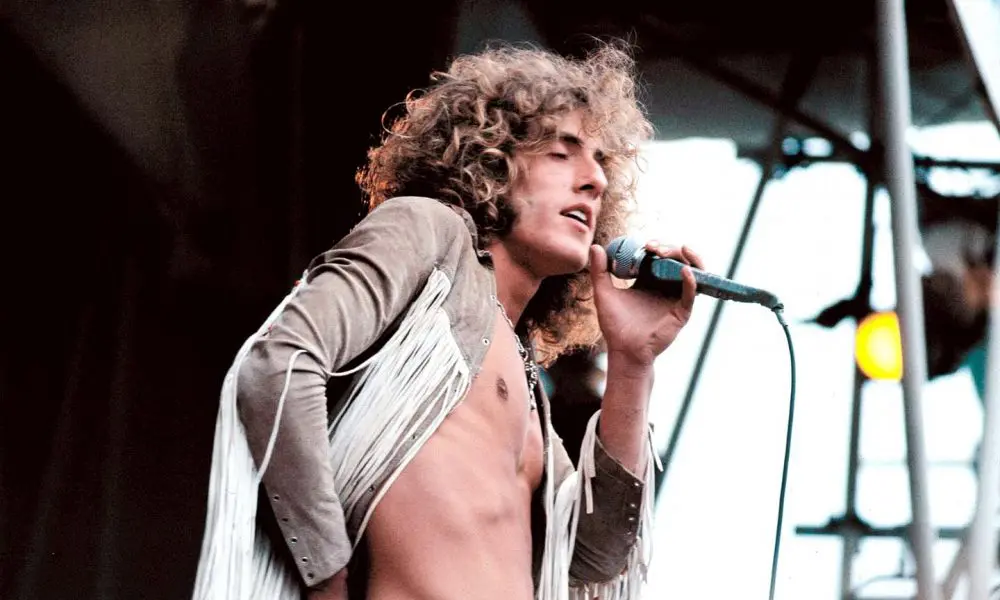 In May 1971, The Who were in London's Olympic Studios recording "Join Together," which came out a year later as a single in both the UK and America. Pete Townshend's lyrics include the line, "It's the singer not the song that makes the music move along." And that is so true of the way that Roger Daltrey, born on March 1, 1944, has propelled the Who from his position out front of the band. He's arguably the greatest rock singer that has fronted any group in that same half-century and this is our tribute to best Roger Daltrey songs.
Listen to the best Roger Daltrey songs on Apple Music and Spotify.
Where else could we start than with "My Generation," steered by Roger's unique stuttering vocal that is one of the greatest singles to be released in the 1960s. Not far behind it is "Pinball Wizard" from Tommy, which also has Daltrey in imperious form. Our third Who single to open this playlist is "I Can See For Miles," another great driving vocal.
"Behind Blue Eyes" comes from the Who's fifth album, Who's Next and it demonstrates the maturing of Roger's voice; in fact, it is one of his finest ever rock-god vocals. The same can be said of "Love Reign O'er Me" from Quadrophenia. "Won't Get Fooled Again" is another from the god-like rock locker. You can just see Roger marching as he sings this powerful vocal, and the scream towards the end is one of the finest moments in all rock. Here we see the band in all their glory, performing the song in Texas in 1975.
The Who - Won't Get Fooled Again (Live In Texas '75)
One of Daltrey's great gifts is that he seems able to reproduce his powerful recorded vocals on stage, making it seem effortless in the process. "Summertime Blues" from Live At Leeds is just perfection. His rendition of "See Me, Feel Me/Listening To You" from a Canadian concert is among the best versions of these moments from Tommy that the band has released.
"Baba O'Reilly" was a standout from the landmark Who's Next and the version from a concert at Shepperton, London in May 1978 is another outstanding example of the brilliance behind the best Roger Daltrey songs. Another non-Townshend song we've included is Bo Diddley's "I'm A Man," which harks back to the band's early blues influences and has Roger giving it his all, on one of the greatest covers of this blues classic.
According to the Flaming Lips' Wayne Coyne, "You don't realize how great a singer Roger Daltrey is until you try to do it yourself." That compliment could apply especially to "The Real Me" from Quadrophenia. In a similar voice, "Who Are You," the hit single from the album of the same name, bears out Coyne's assertion. It's also one of those songs that converted many a non-believer that The Who are the greatest rock band in the world.
"We're Not Going To Take It" became one of the highlights of the group's Woodstock Festival appearance in 1969, but we've chosen the Tommy original, which spotlights both sides of Daltrey's voice, from bombast to beauty. "Slip Kid" comes from the 1976 album The Who By Numbers and might not be the most obvious song to include, but it features Daltrey showing how controlled his vocals can be.
The Who - Who Are You (Promo Video)
"I Can't Explain" is 20-year-old Roger, and while it may not match the power of our other selections, just listen to it in context. Try hearing it alongside other 1965 pop singles and you hear the vocal brilliance when compared to the kind of dull material that was being churned out by most groups of the time.
Quadrophenia's "5.15" is another of Roger's turbocharged rock-god vocals, and the same can be said of the aforementioned "Join Together," where the absolute pinnacle is just after the final verse. Roger hits a high note while singing, "well everybody come on" that seems otherwordly.
Then come two tracks from Roger's outstanding collaboration with British guitar hero Wilko Johnson, 2014's Going Back Home, which became the highest-charting album either of them had had in decades. We feature the title song, written by Roger and Mick Green, and the frontman's intuitive interpretation of Bob Dylan's "Can You Please Crawl Out Your Window."
Can You Please Crawl Out Your Window
From 2018, and the new solo album that took Daltrey into the UK top ten, we have the title song "As Long As I Have You." It was a glorious and uplifting reminder of his R&B roots and his ability to combine rock and soul, this time on a cover of the Garnet Mimms song from 1964.
Perhaps there's only one song that could end a list of the best Roger Daltrey songs and it is "The Song Is Over" from Who's Next. It's majestic, at times gentle, at others unbelievably tough and it has everything that makes Roger Daltrey brilliant. His voice is every bit as powerful as Pete's guitar sound and his gift is to be whatever Pete has written for him to sing. He becomes Townshend's characters and as Roger says, "That's why I shut my eyes when I sing — I'm in another space, and the characters are living in me."
Looking for more? Discover "Pinball Wizard": The Magic Moment Behind The Who's "Tommy"