Music Of His Mind: Stevie Wonder At His Incredible Best
A stunning selection of career highlights by a true legend of Motown, and of all music.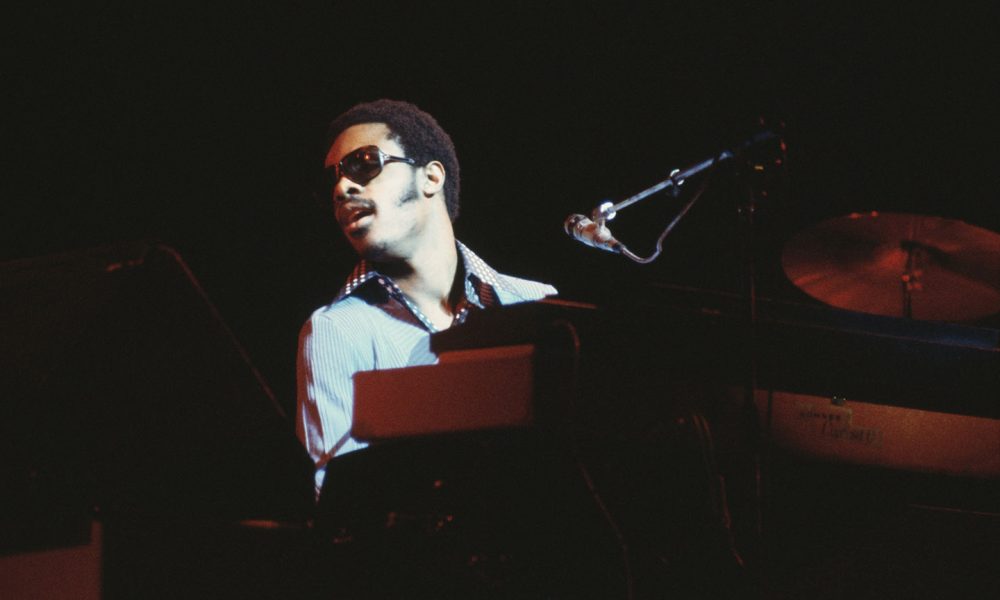 Today we rejoice in the music of one of the true greats, with a selection of career highlights from the hundreds of amazing achievements by Stevie Wonder.
Born Stevland Morris on May 13, 1950, the former 12-year-old genius remains a beacon of positive creativity, as he has reminded awestruck live audiences across North America in recent years. He still plays with the spirit that took him to No.1 for the first time in 1963 on our dynamic first inclusion.
Fingertips – Pt. 2
Read the full story of the remarkable live recording that gave him his first six weeks atop the R&B chart, and three on the pop side, when he had only just become a teenager. It's a brilliantly spontaneous record that capture all of his, and Motown's, boundless potential of the time.
Uptight (Everything's Alright)
Uptight (Everything's Alright)
Despite further R&B top tenners with "Castles In The Sand" and "Hey Harmonica Man," Stevie's next major crossover hit didn't come until 1966 with this unstoppable, horn-laden smash. Charting R&B on New Year's Day, it was written by young Stevie with Sylvia Moy and Henry Cosby. Johnny Allen provided the undeniable horn arrangement and Funk Brother stalwarts such as Benny Benjamin and Benny Benjamin were as rock-solid as ever.
Hey Love
Now we move to some underrated entries from 1967, and this Top 10 soul hit, which was an early example of Wonder's increasing vocal prowess. As a measure of the relentless Motown production line and of how hard Stevie was working, it featured on what was already his seventh LP release, including the live set, Down To Earth.
Until You Come Back To Me (That's What I'm Gonna Do)
Until You Come Back To Me (That's What I'm Gonna Do)
His own version of this gorgeous song, immortalized by Aretha Franklin, wasn't even released until years after her landmark late 1973 version. Wonder recorded this hypnotic song of thwarted love in 1967, but his original didn't emerge until it found a place on the 1977 compilation Looking Back, also known as Anthology. Vinyl crate-diggers will also appreciate that retrospective as the only one to feature material from his lesser-known, easy listening instrumental LP of 1968, Eivets Rednow.
I Was Made To Love Her
In 1967, Stevie had his own personal summer of love, spending an aggregate of four weeks at No.1 R&B (and two at No.2 pop) with this effusive highlight. It was also a landmark in his transatlantic career, becoming his first British Top 10 hit with a No.5 peak.
I Don't Know Why
From the charts of 1969, and included on the For Once In My Life album of late '68, this was a great transitional piece as Wonder's prodigious talents developed even further. It's one of several Stevie hits to carry a co-writing credit for his mother Lula Hardaway, as well as for Paul Riser and Don Hunter.
Heaven Help Us All
Now to the Signed Sealed Delivered album in the summer of 1970, when Wonder expanded his social conscience with this gospel-tinged piece of commentary. As Cash Box observed in their review, it was another step in his artistic evolution towards creative self-determination, and "the total performer portrait" we would come to recognize.
We Can Work It Out
Signed Sealed Delivered also featured one of the most brilliant of all Beatles covers, as Stevie made the Lennon--McCartney staple his very own, with a stellar clavinet intro and a typically limber harmonica solo.
Look Around
1971's pivotal Where I'm Coming From, which in many ways marks the arrival of the fully-formed Stevie Wonder. It was formed entirely of songs written with Syreeta Wright, whom he married during its recording, still aged a mere 20.
Never Dreamed You'd Leave In Summer
Never Dreamed You'd Leave In Summer
This elegant piece of heartbreak was another Where I'm Coming From highlight, and was chosen by Motown as the first single from the set. It peaked at only #11 R&B and No.26 pop, but was another marker for his ever more mature song craft. Stevie sang it, with great poignancy, at Michael Jackson's memorial service in 2009.
Superwoman (Where Were You When I Needed You)
Superwoman (Where Were You When I Needed You)
Next off the blocks in Stevie's album evolution was 1972's Music Of My Mind, his first album under the new deal he was able to insist on at Motown after turning 21. The record, from which this was an especial highlight, was enhanced immensely by the presence of associate producers and electronic masterminds Malcolm Cecil and Robert Margouleff, who brought their prototype TONTO synthesizer.
Superstition
Now we're moving into a peerless series of 1970s album masterpieces and some of their trademark hits. This pop and R&B chart-topper from 1972's Talking Book served notice of a genius at work. The funky drums that introduce it are by Stevie. The Hohner clavinet that follows is Stevie, is the Moog bass. In fact, apart from the trumpet by Steve Madaio and tenor saxophone by Trevor Lawrence, it's a one-man masterpiece.
I Believe (When I Fall In Love It Will Be Forever)
I Believe (When I Fall In Love It Will Be Forever)
Almost any other artist would have dug deep into an album with the profound creativity of Talking Book for singles, but so rich was Stevie's songbook that incredible tracks such as this co-write with Yvonne Wright, as well as "Blame It On The Sun," "Tuesday Heartbreak," and "You've Got It Bad Girl" remained within the body of the album.
Living For The City
From Innervisions, this Grammy winner for Best Rhythm & Blues Song was a piercing portrayal of inner-city racism and poverty. To emphasize its preeminence, the song won a Grammy again the following year, for Best Male R&B Vocal Performance, in the unforgettable rendition by Brother Ray Charles.
You Haven't Done Nothin'
Wonder went for the jugular with this angry denunciation of the Nixon administration, wrapped up in the most soulful treatment as a highlight (let's be honest, they were all highlights, if that's possible) of Fulfillingness' First Finale. The song gave Wonder his tenth R&B No.1, and fourth in 21 months.
I Wish
Stevie made us wait for 1976's Songs In The Key Of Life, but our patience was infinitely rewarded with another stunning work, to many the highest creative peak of his entire peerless career. The contagious groove of "I Wish" was augmented by a sassy horn section and Wonder's reminiscences on when he was "a little nappy headed boy."
Another Star
The impossible task of choosing one more song from a double LP (and extra EP) of masterworks lands on another of Key Of Life's hit singles. "Another Star" was a relatively modest hit, but its effusive, Latin feel has continued to entrance, as proved again when it was chosen by the BBC as the theme of its coverage of the 2014 soccer World Cup in Brazil.
I Ain't Gonna Stand For It
I Ain't Gonna Stand For It
1981 brought the Hotter Than July album, which lived up to its name both commercially and creatively. The million-selling set was Stevie's biggest studio LP in the UK, where it yielded no fewer than four Top 10 singles, including this one. Among those wooed by its charms was Eric Clapton, who had his own hit with it in 2001.
That Girl
This superb 1982 R&B No.1 (for a dizzying nine weeks) was one of the four new songs on his Original Musiquarium compilation. It crossed over into the US pop Top 5 but, inexplicably, barely made the Top 40 in the UK. "That Girl" is another of those many recordings to feature a dazzling harmonica solo by Stevie.
Moon Blue
An elegant co-write with Ghanaian actress, film director, author and songwriter Akosua Busia, from Stevie's A Time To Love album of 2005. He released three new studio tracks in 2020 and has continued to tantalize us with the promise of a new long player. Meanwhile, these all-time landmarks are plenty to be going on with.
Listen to the best of Stevie Wonder on Apple Music and Spotify.