'Sweet Child O' Mine': The Story Behind Guns N' Roses' Biggest Hit
From a nearly discarded riff to the top of the charts.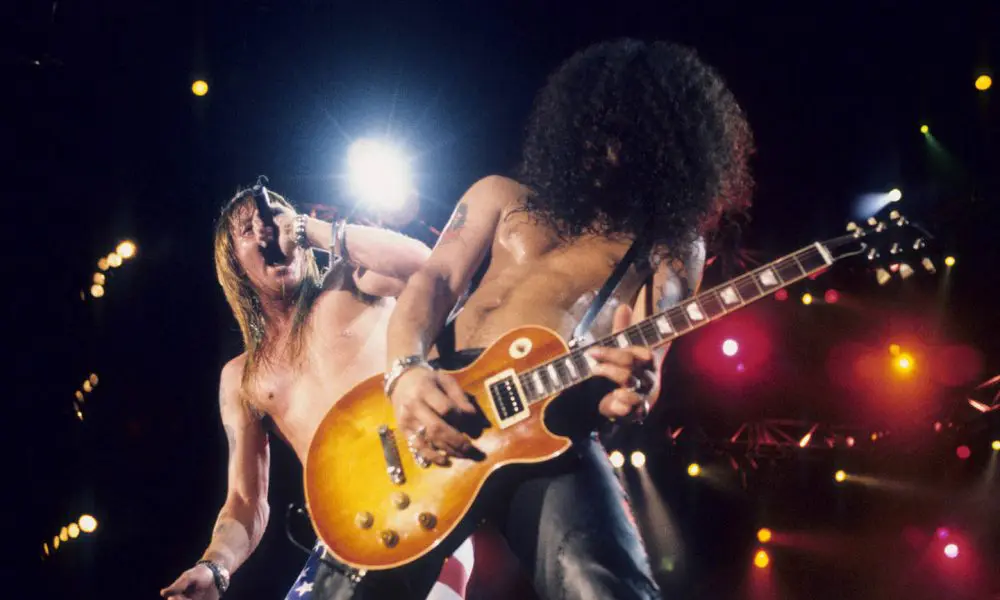 After the release of "Sweet Child O' Mine," nothing was ever the same for Guns N' Roses. Their debut album, Appetite For Destruction, hit the shelves in July 1987 and initially struggled to make an impact. The album debuted at No 182 on the Billboard 200 and its first two singles, "It's So Easy" and "Welcome To The Jungle" didn't do much better. Pressure from the band's record label, Geffen, encouraged MTV to give the "Welcome To The Jungle" video some late night plays, though, and the song eventually became the most requested video on the network. By April 1988, Appetite For Destruction had gone platinum in the US.
The stage was set for a breakthrough single, and "Sweet Child O' Mine" couldn't have been more perfect. From guitarist Slash's luminous opening riff to its skyscraping chorus, "Sweet Child O' Mine" was a big-hearted rock anthem with depth and an air of melancholy, demonstrating the beating heart beneath GNR's sleaze-rock exterior. It was released as a single in June and topped the US Billboard chart. All of a sudden, Guns N' Roses had become the biggest rock band of their generation.
Listen to Guns N' Roses' "Sweet Child O' Mine'" now.
The riff
It's incredible to think that, had Slash had his way, the song might've been cast aside. That opening riff was a result of Slash fooling around, playing what he later called a "circus melody" and "guitar exercise" while he and the rest of the band (sans Axl) were jamming in the group's communal home in Griffith Park, Los Angeles. "Initially it was just a cool, neat riff that I'd come up with," Slash told Total Guitar in 2012. "It was an interesting pattern, and it was really melodic, but I don't think I would have presented it to the band and said, 'Hey, I've got this idea!' because I just happened to come up with it while we were all hanging around together."
The other members of Guns N' Roses saw the potential in Slash's riff and acted upon it, as he told Guitar Edge in 2007, "I was playing the intro riff and they were playing chords behind it. And next thing you know, it was turning into something. I really just thought of it as a joke, but lo and behold, Axl was upstairs in his bedroom, and he heard it."
The lyrics
Axl Rose had recently been working on a poem dedicated to his then-partner, Erin Everly (daughter of Don, of Everly Brothers fame). It was a departure from the swaggering braggadocio that usually defined Rose's writing. Here he compared the feeling of being with his partner to that of a more innocent time, especially significant given Rose's traumatic childhood. He gave the Los Angeles Times a rare insight into the lyric in a 1991 interview, "The 'blue sky' line actually was one of my first childhood memories – looking at the blue sky and wishing I could disappear in it because it was so beautiful."
Guns N' Roses - Sweet Child O' Mine (Official Music Video)
When Rose heard his bandmates working up "Sweet Child O' Mine," his poem came to mind. "Slash and Izzy got working together on the song and I came in, Izzy hit a rhythm, and all of sudden this poem popped into my head," he said in Geffen press materials circulated in 1987. "It just all came together. A lot of rock bands are too f***ing wimpy to have any sentiment or any emotion in any of their stuff unless they're in pain. It's the first positive love song I've ever written, but I never had anyone to write anything that positive about, I guess."
Axl knew the song needed a different approach to the band's harder-edged material and looked to classic rock for inspiration, as he told Paul Elliott in March 1987, "In Indiana, Lynyrd Skynyrd was considered God – to the point where I ended up saying, 'I hate this f***ing band!' And yet, for 'Sweet Child…' I went out and got some old Skynyrd tapes to make sure we'd got that downhome, heartfelt feeling."
The recording
Rose wasn't the only member of Guns N' Roses aware that "Sweet Child O' Mine" would benefit from a different approach. "I think the best way to be noticed is for not being noticed," Duff McKagan told Musician in 1988, "In 'Sweet Child…', for instance, I thought of old Faces/Rod Stewart bass lines — real cool, not overplaying, but unique."
While Slash had misgivings about the track, the rest of the band wouldn't drop it, as he told Guitar Edge, "The next day, we were rehearsing at Burbank Studios and Axl wanted us to play what we had been playing the night before. Pretty soon, it shaped itself into a song, and all of a sudden, it took on this serious kind of tone. It was really hard for me to accept, but that song became Axl's favorite… I would've written that song off as history if anyone else complained about it. I had no idea it would become the biggest song the band ever did."
Demo sessions with producer Spencer Proffer saw the song evolve further as Proffer suggested the song needed a breakdown towards the end. Listening to a loop of the demo, Rose was unsure of a direction and repeatedly sang to himself, "Where do we go now?" Proffer realized Rose had hit upon the perfect lyric and an epic rock moment was born. As far as finishing touches go, Slash's monumental solo proved the cherry on top.
The legacy
On its single release, the impact of "Sweet Child Of Mine" was immense. When the song hit No. 1 in the US, GNR were touring as Aerosmith's opening act. Before long, they were a far bigger draw than the veteran rock act. A re-release of "Welcome To The Jungle" followed, this time it hit No. 7 in the US, and the raucous party anthem "Paradise City" was next, hitting No 5. A year on from "Sweet Child" hitting the top spot, Appetite For Destruction had sold 8 million copies in the US alone.
"Where do we go now?" asked Axl Rose in "Sweet Child O' Mine." He couldn't have ever guessed the places the song would take him.