'Ruby Tuesday': The Story Behind The Rolling Stones Song
A graceful song of pain and despair, 'Ruby Tuesday' was the last great collaboration between Keith Richards and Brian Jones.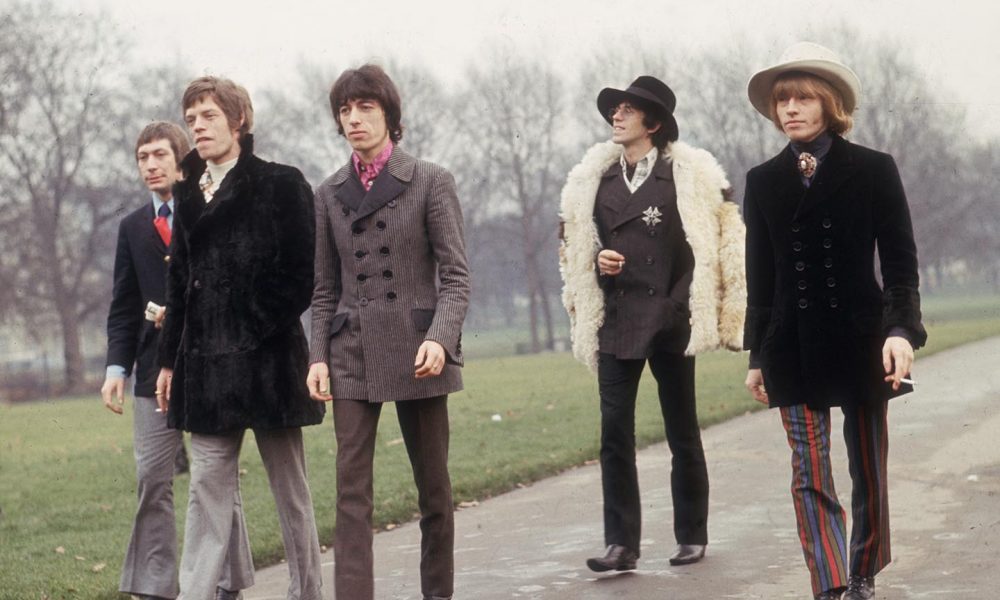 The Rolling Stones had achieved a major milestone in April 1966: their album, Aftermath, which arrived that month, was the group's first release consisting of entirely original Jagger/Richards compositions. Having been preceded in the US in March by Big Hits (High Tide And Green Grass) – a compilation of their chart-topping singles thus far – it certainly felt like the beginning of a new chapter for the Stones; one in which they'd define their status as accomplished, pioneering songwriters.
Their strength lay not only in the symbiotic collaborations of Mick Jagger and Keith Richards that would produce the basic elements of each new song, but also in the keen experimentation of guitarist Brian Jones, whose inquisitive musicianship often helped bring them to life in extraordinary, vivid ways.
Listen to "Ruby Tuesday" by the Rolling Stones now.
It was Brian who, having become disenchanted with the guitar, had embellished Aftermath with curious and dramatic textures drawn from unlikely sources. He had played a dulcimer to great effect on "Lady Jane," provided the signature hook to "Under My Thumb" on marimba, and crowned "Paint It Black" with his evocative sitar riffs. Unfortunately, Brian's eminence in the studio did little to improve his status in the band – caught up in a power struggle between himself, Mick, and Keith, Brian turned to drink and drugs by means of escape. And, as his already precarious personality became increasingly unstable, Brian further distanced himself from his bandmates in the process.
Improved outlooks
A reprieve to all of this seemed to come in the shape of that summer's month-long American tour. "To some extents, the hatchets with Brian were buried on that '66 tour," said Keith Richards. "We were totally wrecked every day on real good Mexican grass. It was much easier to get along with Brian because we were all into the same thing. Mick too. This was like a rapprochement with Brian. Brian was very happy that everybody was getting along."
In September 1966, Brian was able to indulge his own creative ambitions beyond the confines of the Stones when he began work on the soundtrack to A Degree Of Murder, a German movie starring his then-girlfriend, Anita Pallenberg. His improvised compositions were made both as a solo venture and with a host of friends, which included Small Faces drummer Kenney Jones and future Led Zeppelin guitarist Jimmy Page, and deftly verified Brian's visionary credentials. "Brian was extremely together and confident while he was working on it," engineer Glyn Johns would affirm. "When it was finished, he was both pleased and relieved."
With a studio booked that November for The Rolling Stones to start recording new material, no doubt Brian faced the prospect with a renewed sense of purpose. As it turned out, he would play a crucial part in the creation of one of the group's most exquisite, heartrending classics.
Entering the studio
Though the Stones had laid down a couple of new songs at RCA Studios in Los Angeles back in August, when the band and producer/manager Andrew Loog Oldham made their first visit to Olympic Sound Studios in Barnes, London – a venue to which they'd frequently return to make a string of classic recordings – it was, according to bassist Bill Wyman, "the first studio session at which we concentrated on an album as a finished product."
This "month of adventure," as Wyman called it, would produce Between The Buttons, the Stones' last great pop masterpiece. One of the first tracks from that album to be worked on was a song they called "Title 8." Bill Wyman claims that Keith Richards brought the seeds of the song to the table, but singer Marianne Faithfull, who was Mick Jagger's girlfriend and a regular presence during the sessions, remembers it differently.
"Brian was obsessed by his notion of a hybrid of Elizabethan lute music and Delta blues and would hold forth on the essential similarities between Elizabethan ballads and Robert Johnson," she explained. "Brian, in his sheepish way, very softly played a folkish, nursery-rhyme melody on the recorder. It was nothing more than a wispy tune, but it caught Keith's attention. He cocked his head. 'What's that… thing you just played, man. On the recorder! Can ya do it again?' Brian came back into focus and played the quavery, lilting tune again on the recorder. Perfectly. Beyond perfect! 'Yeah, nice, man,' said Keith and went over to the piano to bang it out."
However it started, the development of the song became a joint effort between Brian and Keith, at the expense of Mick Jagger, whom Brian determinedly attempted to sideline.
The recording
For days, the pair directed the sessions in pursuit of the song. Indeed, Jimi Hendrix, who visited the studio during this time, claimed that Brian seemed to be in charge of proceedings. Together, they would draw from a range of classical instruments to render the song's prevailing plaintiveness.
The basic rhythm track consisted of Keith on acoustic guitar and Brian on piano, with Bill's bass and Charlie Watts' rolling drums elevating the choruses. American producer/composer Jack Nitzsche, an old friend of the group who'd played keyboards on earlier albums, was brought in to enhance the piano track. The low, sweeping drone of the double bass, meanwhile, required a team effort. "I've got small hands, and I can't play a regular double bass," Bill would admit, and so he fingered the notes on the instrument while Keith played the strings with a bow.
It is Brian's recorder, however, that steals the show. Its winding, wistful melody evokes the very essence of Brian Jones at that precise moment – fragile, haunting, and sorrowful – and instills the song with a genuine and unique poignancy. "I was amazed when he played those melodies," said engineer Eddie Kramer, "both by the way he thought to use it, and the way he played this thing – it was a descant, or the next size up, something you'd see in English schools. Mick and Keith, not to put them down, would never have thought of something like that."
The song's inspiration
Unlike the shared responsibilities of producing the music, the song's lyrics – in another first for the Stones – were penned solely by Keith. While Mick Jagger's compositions seemed to often scold and denounce his female subjects, Keith Richards, in comparison, could be considered something of a romantic. His treatment would be considerably more compassionate, born as it was from his despairing introspections.
In March 1964, at the same party that Mick Jagger first met Marianne Faithfull, Keith Richards encountered the "self-assured" 17-year-old model Linda Keith. Linda, who was best friends with Andrew Loog Oldham's girlfriend (and future wife) Sheila, made a beeline for the guitarist. The pair fell, as Keith described, "totally, absolutely in love," and were an item for the next two years, before their relationship began to unravel.
Linda's bohemian lifestyle and carefree attitude was the ideal foil to Keith's innate shyness, but it would also prove the couple's undoing. The Stones' relentless schedule meant that Keith was regularly away for protracted periods of time, and it was unfair and unrealistic to expect Linda to sit at home awaiting his return.
Returning from the Stones' lengthy stay in the United States in August 1966, Keith discovered that Linda had finally left him for good. "That's the first time I felt the deep cut," he'd admit. His anger and heartbreak had, by November, given way to forgiveness, and Keith channeled his contemplations on Linda's youthful transience into song. "The thing about being a songwriter is, even if you've been fucked over, you can find consolation in writing about it, and pour it out," he said. "Basically, Linda is 'Ruby Tuesday.'"
The Rolling Stones - Ruby Tuesday (Official Lyric Video)
The release
"Ruby Tuesday" was complete once the vocals were recorded – Mick's soft enunciations a sympathetic interpretation of Keith's melancholic theme – and the song was quickly readied for release. On January 13th, 1967, it appeared as the B-side to new single "Let's Spend The Night Together," a track the Stones had previously recorded at RCA.
Quickly, however, it became apparent that the hard-driving A-side was facing a backlash from American DJs, who objected to the song's blatantly sexual subject matter – an opinion shared by TV host Ed Sullivan, who forced the band to censor the song when they played live on his show on the 15th. (Jagger would sing "Let's spend some time together," while rolling his eyes in open disdain.)
Let's Spend The Night Together
Facing an outright ban on radio and the consequent failure of the single, Oldham shrewdly announced that the record was a double A-side, and DJs could decide to play whichever of the two songs they wished. Mick Jagger pre-empted their decisions when he opined: "I think I prefer ["Ruby Tuesday"]. It may prove to be the side that everyone goes for."
As Mick predicted, "Ruby Tuesday" would eclipse "Let's Spend The Night Together" in the US, reaching No.1 while the flip side stalled at 28. Both songs would reach No.3 in the UK.
Impact and legacy
The lush instrumentation of "Ruby Tuesday" was just one charming aspect that made Between The Buttons, which came a week after the single, such an inventive and endearing album. The Stones had fused their own quixotic blend of pop rock, taking influence from baroque and music hall to create a prototype of what would become known as psychedelia – a gilded path they would fully explore on their next album, Their Satanic Majesties Request.
After being played at the majority of shows on their European tour in spring 1967, it would be another 20 years before the Stones would perform "Ruby Tuesday." Brian Jones died in 1969, and was replaced by virtuoso guitarist Mick Taylor, who helped usher in the group's decadent and imperial rock and roll phase. The elegance of "Ruby Tuesday" would have been at odds with their rough, ragged sound.
Furthermore, to Mick Jagger, the song stood as a reminder of Between The Buttons, an album he'd grown to resent. "Oh, I hate that f—ing record," he once moaned, citing the loss of quality in its sound after too many overdubs had flattened the songs' dynamics.
After it reappeared in the band's live sets during the Steel Wheels tour in 1989, Jagger's feelings towards "Ruby Tuesday" – which may have been exacerbated by the fact he'd been largely excluded from its creation – seemed to improve. "That's a wonderful song," he told Rolling Stone in 1995. "It's just a nice melody, really. And a lovely lyric. Neither of which I wrote, but I always enjoy singing it."