'Mambo Diablo': Tito Puente's Late Career Masterpiece
The album secured a renaissance that elevated him to living institution status.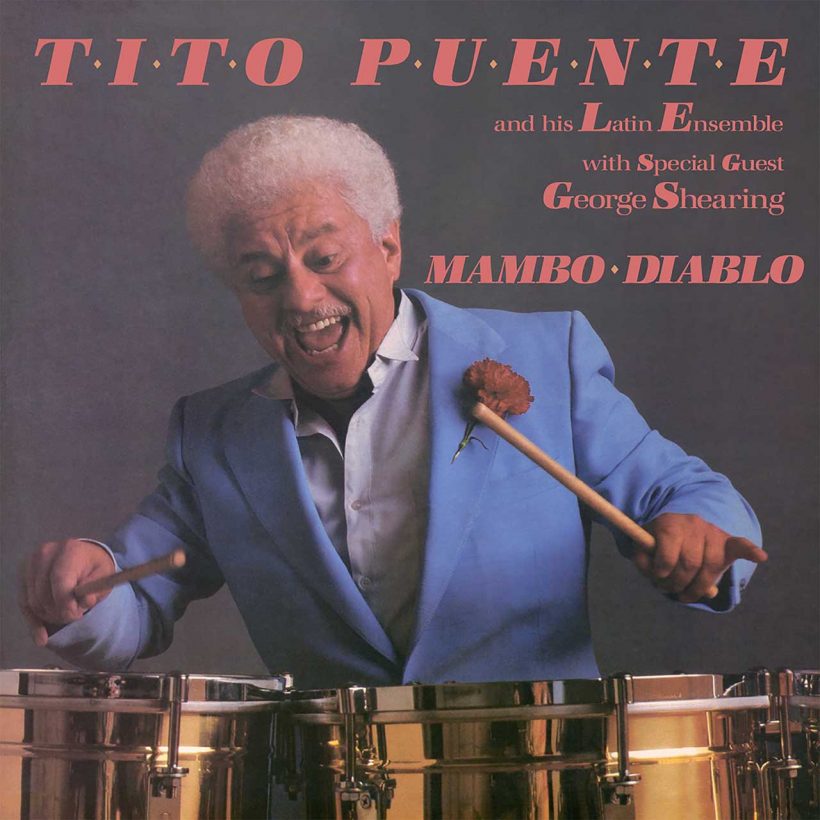 A legendary bandleader, multi-instrumentalist, composer, and consummate showman, Tito Puente's talents and flamboyance were exceeded perhaps only by his longevity. Commencing his career as a percussionist/timbale soloist and arranger on NYC's mambo scene, the Spanish Harlem native catapulted to success after forming his own orchestra in 1948, captivating the crowds that swung, stepped, and swooned to his myriad Afro-Cuban rhythms at his pivotal residency at Manhattan's Palladium ballroom. As one of Latin music's Big Three (alongside his former employer Machito, and rival bandleader Tito Rodriguez) Puente would earn the title "El Rey," i.e. the King of Latin Jazz, and enjoy massive popularity via classic recordings for Tico Records like "Abaniquito," "Ran Kan Kan," "Oye Como Va," and many others.
By the early 70s, Puente had continued accumulating accomplishments – collaborating with Cuba's queen vocalist Celia Cruz, playing with the Metropolitan Opera, hosting his own television program, and being covered by Santana to huge notoriety. But his profile was largely eclipsed by the youth movement and innovative All-Stars of Fania Records, who represented the then-new vanguard of Latin music, salsa. El Rey, like other elder bandleaders bristled at the catch-all category as a reductive marketing term that oversimplified the complexities of the Afro-Cuban musical heritage he'd popularized. "Salsa is sauce, I play music," he was fond of saying contemptuously. Seeking a recording home that respected his nominally purist pursuits, Puente signed with Concord Records in the early 80s, resulting in a rejuvenating and celebrated series of recordings that would return him to the spotlight. Maybe none were more well-received than his third for the label, 1985's Mambo Diablo, an exemplary mix of adroitly arranged jazz standards interspersed with TP originals.
Order Tito Puente's Mambo Diablo on vinyl now.
It's the finest of the latter, the brilliant opening title track, that sets the album's tone. Puente lays down a simple but relentlessly catchy thematic line on vibraphone, nimbly jumping octaves and riding the groove of his bubbling rhythm section (percussionists Jose Madera and Johnny "Dandy" Rodriguez, bassist Bobby Rodriguez) and piano (Sonny Bravo) before jousting with horns (brass players Jimmy Frisaura and Ray Gonzalez, reeds-man Mario Rivera) and eventually yielding to Rivera's hi-octane sax solo. Cooking reinterpretations of Dave Brubeck's "Take Five" and George Shearing's "Lullaby of Birdland" – both of which feature the latter's composer sitting in as a special guest on piano – provide dynamic showcases for Puente's ever-vibrant playing on timbales. Elsewhere on the standards side, the ensemble transforms Jerome Kern/Dorothy Fields's "Pick Yourself Up" into a lively descarga, and manages the not-so-simple trick of infusing new life into Billy Strayhorn's "Lush Life," thanks largely to Tito's gorgeous, shimmering vibes and another dexterous Rivera solo.
The album garnered Puente his third Grammy award, taking home the hardware for Best Tropical Latin Album and securing a renaissance that elevated him to living institution status until his passing in 2000 at age 77. Somewhere between being immortalized on a US postage stamp, receiving a presidential award for artistic excellence, seeing his life story dramatized in The Mambo Kings, and becoming a New York Puerto Rican icon, he told the New York Times, "I'm finally getting some due… Better now than never." Mambo Diablo provides a fitting soundtrack to his career's second act.