ABC
Martin Fry's English new-wave band is best known for their Trevor-Horn produced 1982 debut The Lexicon of Love.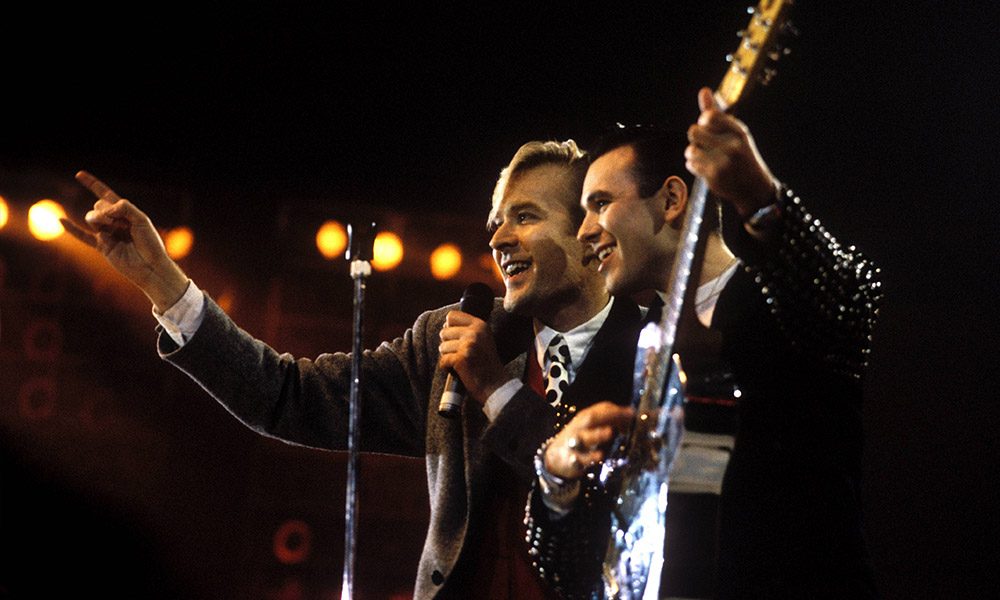 The English new wave and dance group ABC burst onto the scene in the early 1980s when their debut album The Lexicon Of Love, produced by the in-demand Trevor Horn (dubbed 'The Man Who Invented the Eighties' on account of his impact on recorded culture in that era) went to Number One on the UK charts. A virtual greatest hits from the outset, The Lexicon Of Love, contains the classic singles "Poison Arrow", "Tears Are Not Enough", "The Look of Love (Part One)" and "All of My Heart", distinctive sounds that gave the scene a well-dressed and sophisticated allure. The group were as impeccably turned out as their music, which is often laden with soundtrack strings and soulfully multi-tracked vocals. That's what the fans love and can hear again on the recent studio album, The Lexicon Of Love II.
ABC went from strength to strength with a string of grand albums including the underrated Beauty Stab, the witty How To Be A… Zillionaire! and Alphabet City. Combing elements of pure pop with neo-classical arrangements and latter elements of house, disco and techno ABC remained one of the definitive acts in that era, also masters of the 12" mix, but they were far from confined to the epoch and gave us further goodies in the shape of Up and Abracadabra. They are well represented here with the studio discs – often in augmented form – joined by live and compilation sets.
The ABC name has been kept alive by their frontman Martin Fry, writer of so many brilliant songs in their repertoire, and ABC's legend ensures that whenever they perform they retain not just their loyal fan base but also a new generation of listeners eager to discover their superbly polished and unique style of music.
Go back to the late 1970s and the vibrant Sheffield scene where we find Stephen Singleton and Mark White fronting Vice Versa for their own independent label Neutron Records. A fortuitous meeting with one Martin Fry, a local fanzine editor from Stockport, led them to enlist the elegantly attired writer as synthesiser player. One of their most significant dates was with The Human League at Sheffield University (Fry is now an Honourary Professor at this establishment). On a short tour of Holland Fry started to improvise on vocals and the results were strong enough to push him into the limelight. Given the change, it was decided a new name and concept was called for and so in 1980 Vice Versa became ABC. Easy as…
The first single, a funky synthpop extravaganza called "Tears Are Not Enough" was released ahead of the first album in October 1981 and headed for the Top 20. It also made inroads into the underground dance movement thanks to a 12" version released by Neutron/Phonogram that stretched out the A-side, and the flip, "Alphabet Soup", giving them a cachet as well as prime time TV exposure.
With the newcomer David Palmer on drums and Mark Lickley providing bass, ABC captured the moment. Trevor Horn, engineer Gary Langan and orchestrating genius Anne Dudley also had a surprise up their sleeve in the guise of JJ Jeczalik whose Fairlight CMI programming added another vital ingredient. The group were delighted with this arrangement and were keen to stretch out, utilising Singleton's saxes and White's keyboards and guitars with assists from Kim Wear on trumpet, Gaynor Sadler on harp, Luis Jardim on percussion and Andy Gray the trombone. Already revealing a perfectionist nature ABC were more than happy to include guest female vocalists Tessa Webb (on "Date Stamp") and Karen Clayton; her speaking voice part on "Poison Arrow" is essential to the mood.
Lush and often experimental The Lexicon of Love threw up so many good things. "The Look of Love" became their biggest UK chart hit and broke them in America when it made #1 on the Billboard Dance/Disco chart, an incredible achievement given the calibre of dance music bubbling around then. Ever savvy and with a weather eye on the zeitgeist ABC also specialised in provocative promotional videos and ABC would be worth discovering for the debut disc alone. The ten-track original has since been pleasingly expanded. Remastered in 1996 with remixes, live and demo material, in 2004 it received a total makeover – here you get the original disc plus the singles, the 1981 Phonogram demos and a Live show from Hammersmith Odeon (November 1982), the whole thing beautifully packaged.
The Lexicon experience, though wildly successful, was also a drain on resources, financial and physical. For Beauty Stab (1983) ABC retained much of their stylised approach but added a gustier guitar/bass/drums backing with Roxy Music sidemen Andy Newmark and Alan Spenner bringing a more muscular feel to the sessions.
Retaining Gary Langan the group also decided to take production control and carried off proceedings well enough to ensure that the hits didn't dry up. "That Was Then but This Is Now" and "S.O.S" might have signalled a somewhat baffling diversion – indeed some contended they'd deliberately set out to bamboozle their audience – but that now seems like overstatement. The 2005 re-release adds "Vertigo" and a tongue in cheek medley called "Selections from the Magnificent New ABC Long-Player Beauty Stab" (something of a pastiche or dig at standard promotional hyperbole) as well as a free form take on "That Was Then…"
Bands often make their more interesting music at a time when they could easily rest-up and thanks to tracks like "By Default by Design" and "The Power of Persuasion" Beauty Stab adheres to that rule.
Romance and glossy electro-funk are all over the third disc, How To Be A… Zillionaire! (1985). Although Singleton had made his departure incoming friend Fiona Russell-Powell (aka Eden) brought her fashion sense and vocal styling to the party as well as her journalistic nous (she worked for The Face at the time) and since she had been involved in Vice Versa just before Fry's arrival her character enriched the set-up.
ABC configured in a different format now with guest guitarists and Chris Whitten on drums. White moved towards the synthesisers and co-production. Overall this is another deeply satisfying disc that contains the international hits "(How To Be A) Millionaire" and "Be Near Me", another assault on the American pop and dance charts. Released with extra bonus tracks on the CD and greatly expanded on the 2005 version, this is as good as it gets in the mid-80s and remains a firm fan favourite.
In 1987 ABC re-emerge with producer Bernard Edwards for the fine Alphabet City, a disc that casts an eye towards New York City. The standout track "When Smokey Sings", a tribute to Smokey Robinson and the Miracles will become one of their best-loved singles. Now fronted solely by Fry and White again there is no shortage of classy guests. Richard Niles provides the string arrangement for "Smokey" and "The Night You Murdered Love", Danny Thompson plays double bass, Judd Lander the harmonica and Howie Casey the sax, with other friends also paying a visit. Edwards's production acumen helps make this classic and there are several songs that require re-examination: notably "Minneapolis" and "Chicago" on the 2005 remastered version. The dance mix of "King Without a Crown" kept ABC at the forefront in America.
In 1989 ABC offered their take on house music with Up where Fry and White bossed the main sound with assists from Blaze, Julian Mendelsohn and Sonic Bob Kraushaar. The singles "One Better World" and "The Real Thing" were written with the prevailing ecstatic culture in mind but "North" and "The Greatest Love of All" are also typically lush, late-night ABC.
By 1990 they were due a comprehensive greatest hits package and Absolutely fits that bill with a career sweeping examination of all their commercial highs. This is an excellent entry-level disc or primer for those who wish to hear what all the fuss is about and a memory jerker for everyone else. But not wishing to rest on their archive ABC returned to the studio in 1981 to make Abracadabra, the last album to feature Mark White. Sessions began in Detroit, Chicago and New York but the bulk was finalised in London. A perfect marriage of mood and style the album did have an impact within the ranks. The process was as intense as ever and Fry would later voice reservations. Even so "Spellbound", featuring Roxy Music's Phil Manzanera, and the work of Cleveland Watkiss and Marius de Vries, shouldn't be overlooked. A tight fusion of glossy pop, techno and dance, Abracadabra also features one of those singles that slipped away, the sublime "Love Conquers All."
Nor should Skyscraping and The Lexicon of Live be forgotten. Look of Love – The Very Best of ABC (2001) adds two new Fry songs, "Peace and Tranquillity" and "Blame". The expanded version of this is Gold (2004) a 2-CD set with extra mixes. In more recent years the excellent 2008 disc Traffic returns ABC to their familiar hunting ground with some of Fry's finest writing and drummer David Palmer back in the fold alongside producer Gary Langan.
Incredible as it seems it's now well over thirty years since this idiosyncratic group first entered our consciousness. Thanks to the retro and regeneration movement they will always have a place in the hearts of the devoted. The recent studio album, The Lexicon Of Love II, reunites Martin with orchestral arranger Anne Dudley and features modern ABC classics the likes of 'The Flames of Desire', 'Viva Love' and 'The Love Inside The Love'. The 2016 Christmas EP, A Christmas We Deserve, is another festive treat, with acoustic versions of songs and old and new.  Given that they began with the desire to emulate such heroes as David Bowie and Roxy Music it is entirely to the credit of Martin Fry and his ABC cohorts that they are viewed as a classic act in their own right. So there you have them: made in Sheffield and sold all over the world.
Max Bell
Format:
UK English