Helmet
Specialising in clever distortion and expertly fine-tuned syncopation and repetition Helmet have been able to explore a variant on systems music but since they are pioneers and trailblazers they've swept tastes along their path and sold millions of album in the process.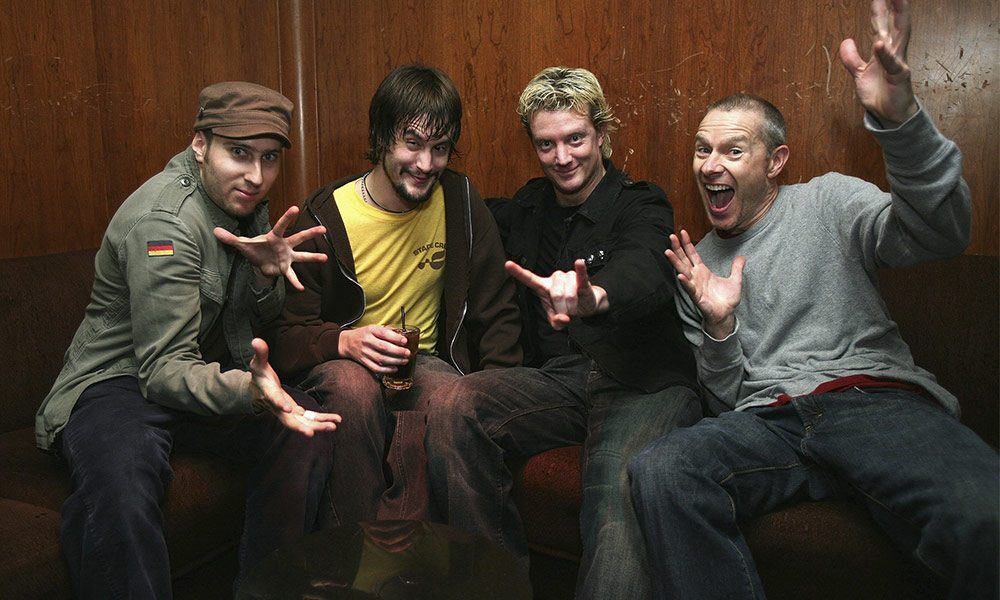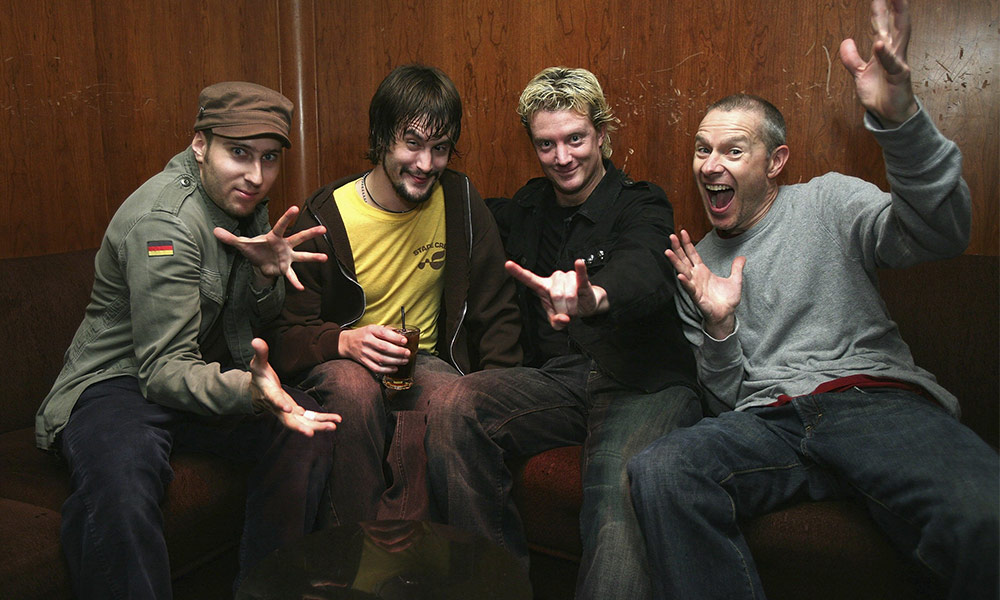 The mighty Helmet, formed by ace guitarist Page Hamilton pretty much hit the ground running in terms of success, though theirs was not so much overnight as hard-won since their uncompromising brand of alternative hardcore metal, groove/noise and experimentation was never designed to cater for the faint-hearted. Often dubbed – the thinking person's heavy metal band, Hamilton and his crew adapted the New York look of bands like Talking Heads – dress like students – and offered a crisp style and fashion that was light years away from the hair metal norm. Specialising in clever distortion and expertly fine-tuned syncopation and repetition Helmet have been able to explore a variant on systems music but since they are pioneers and trailblazers they've swept tastes along their path and sold millions of album in the process.
Smart rockers to be sure Helmet's music is a major influence on everyone from System of a Down and Slipknot to funkier outpost acts like Deftones. One thing they profess to detest is being lumbered with the title of inventors of nu-metal – a pretty crass assumption since they are nothing like that and probably have more in common with English bands such as Wire or Gang of Four than any bunch of leather-clad stoners. They've enjoyed two distinct periods of activity from active formation in 1989 to 1998 and then from 2004 to the present. They remain highly active and in demand. Are you ready to climb aboard?
Page Hamilton was a member of The Band of Susans, another New York legend in their day, and after releasing the independent single "Born Annoying" they made an album for AmRep called Strap it On (1990) that is now acknowledged to be one of the most significant releases of that decade. With Hamilton and other guitarist Peter Mengede trading tuned down riffs over a thrilling rhythmic backdrop provided by drummer John Stanier and Henry Bogdan's full phat bass, this is a short and sharp shock to any system. The cuts "Repetition" and "Bad Mood" do what they promise while "FBLA", "Murder" and the magnificently moody "Distracted" throw down a marker that says – ignore this at your peril.
Meantime (1992) finds Helmet with a healthy advance and a great contract at Interscope. Not only will this album chart it will go Gold, sell over 2 million copies and unleash the now-classic "Unsung". Everything about Meantime works. The production and mix-down from Steve Albini and Andy Wallace are beyond contemporary and it became no surprise when whispers were heard that here was the new Nirvana/U2 etc. Ludicrous hype and nothing to do with the band who rightly sniffed it off and concentrated on delivering their best possible work via  "In The Meantime" and the New York caterwaul of "Turned Out" and "Ironhead" which sound like you're being dragged through the streets with all the traffic noise turned up to eleven.
If this is a definitive post-metal statement that challenges one to dance across the ruins then Betty (1994) maybe even better. Continuing to be promoted via Helmet's elaborate video programme, Betty belies the sweetness of its cover artwork with a ferocity inside that brooks no argument. Crunching riffage and nerve-shredding rhythms abound but Hamilton also lights out in jazzier territory with a bitter coating of hard blues. Stand out pieces are everywhere but certainly look for "Milquetoast" and the funked-up numbers like "Biscuits for Smut" and "Street Crab" that take in the view from their surroundings – the legendary Power Station being one of three facilities bossed by producers Butch Vig, T-Ray, Wallace and the band.
Could they now provide their third definitive metallic text in a row? Surely they could. Aftertaste was three years in arriving but was totally worth the wait. Guitarist Rob Echeverria had left in the meantime to join Biohazard so Page planned to work as a trio with the additional assistance of cellist Jane Scarpantoni on the acerbic "Like I Care", a track that had some scuttling back to weird reference points pointing towards the Velvet Underground and Television. No bad thing then.
Hamilton deliberately altered his game plan again as he preferred to avoid simply delivering bone-crunching eyeball socket popping noise and injected some clean, clear moments of space and atmosphere into "It's Easy to Get Bored" and  "Crisis King" – in other words, he grabbed attention and then kept it so that one listened and didn't just respond in Pavlovian style.
Now to take stock – we offer Unsung: The Best of Helmet (1991-1997), a smart packed 21-track beauty that enables one to play catch up and recall some more obscure moments like "Just Another Victim" and the terrific "Disagreeable" – from the soundtracks to Judgement Night and Feeling Minnesota respectively. Released in 2004 as a taste bud livener for the next new Helmet album this compilation is highly recommended.
Although they broke up in acrimonious circumstances in 1998 the comeback regime was put into place for Size Matters (2004). Now Helmet is Hamilton plus guitarist Chris Traynor – from the excellent Orange 9mm and box-fresh rhythm men Frank Bello and John Tempesta. Luckily, while the line-up is revolutionary Hamilton's line in a lucid rage hasn't been dissipated. "See You Dead:" and "Crashing Foreign Cars" lead into the bizarre "Drug Lord" and the sturm und drang of "Everybody Loves You" whose menace and cynicism could give ole Lou Reed a run for his 26 dollars. Good to know that Page's staccato attack hasn't gone either and Traynor adds a melodic meander that reminds one he's studied guitar with Richard Lloyd and worked closely alongside Peter Green. So he ain't no slouch.
Just as Size Matters turns it's magnifying glass gaze outward on the world so Monochrome (2006) ventures further into the dark recesses of the psyche with intimate savagery reminiscent of Killing Joke in their pomp. Small wonder then that the accompanying road extravaganza was nicknamed 'The Warped Tour'. As bent out of shape albums go this is a humdinger. We're grooving along to the title cut, as featured in slasher flick Saw 111 and the equally horror-stricken "Goodbye", a song that's as epic as anything from the earlier incarnation of Helmet.
Seeing Eye Dog brings the Hamilton camp full circle in 2010 and comes in a variety of packages and formats. Hey, they even cover The Beatles' "And Your Bird Can Sing" just to confuse the distracted but there's noise to inspire on  "Morphing" and "Miserable",  to prove Hamilton's sense of dark humour is in full effect. By now they almost sound familiar but if they're an old friend then he's the type of guy who'll put you through the wringer and probably spend your lunch money on something unsavoury.
They never intended to make life easier and more pleasant – they threw down a gauntlet and scampered into the undergrowth when it suited them. Bands like this don't come along too often. If you've never experienced them you're a lucky soul. Strap up and protect your head – you're in for a bumpy ride. We're on the same Page.
Format:
UK English