Bob Marley & The Wailers – Uprising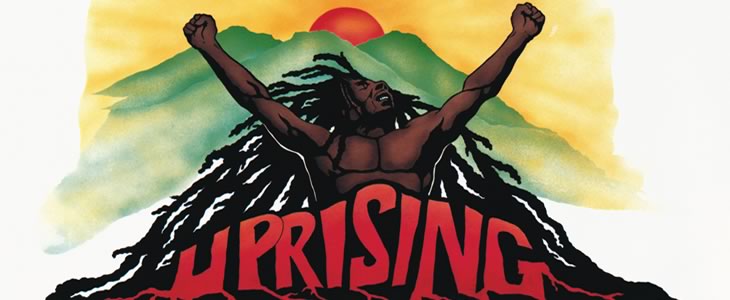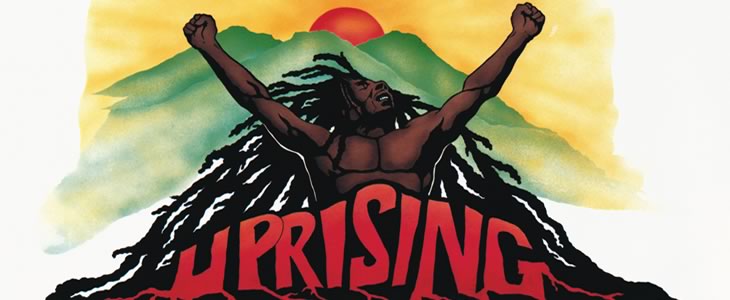 Uprising was the last album by Bob Marley to be released in his lifetime. The day it reached the shops on 1 June 1980, Marley and the Wailers opened for Fleetwood Mac at the 69,000-capacity Reitstadion in Munich. It was the second night of the Uprising tour, a European trek which took them to some of the biggest venues on the continent and to several countries they hadn't played before, including Switzerland, Ireland, Scotland and Italy. Headlining at the San Siro Stadium in Milan, on 27 June, Marley and the Wailers attracted a crowd of 120,000, said to be an all-time attendance record for a concert in Italy and indeed Europe (in a stadium). At the 15,000-capacity Crystal Palace Bowl on 7 June, they headlined on a stage which fronted on to a pond in the London park. Many fans waded waist-deep into the water while others climbed (and fell off) trees to get a better view of the show.
The European leg of the tour ended at New Bingley Hall, Stafford on 13 July 1980, after which Marley returned to London for a break before the American leg was due to begin. It had now been three years since the discovery of cancer in his big toe, and his health was giving growing cause for concern.
Marley soldiered on. 'Could You Be Loved', the first single from Uprising, became a major hit in the UK (No.5) and all across Europe. A sensationally cool adaptation of a reggae groove to the requirements of the pop-disco playlist, 'Could You Be Loved' also became a summer favourite on the dance floors of America where it took urban radio playlists by storm, increasing Marley's popularity in that sector of the market more than any other of his songs, before or since. So it was with a sense of renewed excitement that the band reconvened to begin the American stretch of the Uprising tour at the JB Hynes Auditorium in Boston on 16 September 1980. Two shows at Madison Square Garden on 19 and 20 September, found Marley and the Wailers co-headlining with the Commodores, a starkly contrasting combination of musical and presentational styles which left the New York Times reviewer in no doubt who had come out on top: "After Mr. Marley's intense singing and electric stage presence, the Commodores were a letdown," he reported.
But the next day Marley collapsed while jogging in Central Park. An examination revealed that the blackout had been caused by a brain tumour. Later tests confirmed that the cancer had spread throughout his lungs, liver and brain and would continue to do so. Thin, weak but determined, Marley gave what would be his last live performance two days later in Pittsburgh, Pennsylvania on 23 September.
Initially given about ten weeks to live, Marley's stay of execution lasted another eight months during which he visited specialist clinics in New York, Miami and Mexico before ending his days in the care of Dr Josef Issels in Bavaria, Germany. Marley died on 11 May 1981 in Miami, Florida, en route from Germany to Jamaica. He was 36.
Whether or not Marley suspected his time was running out while he was making Uprising, his final musical statement was an album freighted with incredible emotional resonance. Much like Survival before it, Uprising was a deep and serious collection of songs that explored fire and brimstone themes of sin and salvation.
In 'Real Situation' it seemed as if the apocalypse was at hand. "Total destruction the only solution," Marley sang as the Wailers took off on an oddly jaunty skank. 'Zion Train' was a more positive exhortation to the multitudes around the world to join the train bound for heaven. "You got a ticket, so thank the Lord," Marley sang like the preacher of the Rastafari gospel that he plainly was. 'We And Dem', set to a more sombre groove, was a stern message straight out of the Old Testament: "Someone will have to pay…/It's what the Bible say". Even slower and more sacramental was the valedictory salute to the Lord of "Forever Loving Jah" in which Marley sang "So, Old Man River, don't cry for me/I've got a running stream of love, you see."
Recorded at Dynamics studio in a bleak, industrial area close to Trench Town, Uprising was the band's tenth album for Island Records and was produced by Marley and the Wailers with firm overall guidance from Chris Blackwell. When Marley first presented Blackwell with the songs he intended to put on the album, Blackwell advised him to add a couple of uptempo numbers to redress the balance of the many slow and serious songs. Marley duly obliged with 'Could You Be Loved' – which became the album's biggest hit – and 'Coming In From The Cold', a sprightly, optimistic romp that was chosen as the opening track.
But the song which truly defined Uprising, and became a fitting elegy to the greatest reggae star the world has ever seen, was the closing track 'Redemption Song'. A stark ballad sung by Marley accompanied only by his own acoustic guitar, it was a song and a performance unlike any he had previously recorded. The simple arrangement – so simple, it actually had nothing to identify it as a reggae song – was arrived at with the encouragement of the canny Blackwell. And the words opened a window on to the singer's soul.
No other major artist has penned and performed their own epitaph with quite such perfect timing – and to such poignant effect. 'Redemption Song' was one of the last songs Marley wrote and recorded, and the last single released before he died. It was also the last song he performed live in public. Sitting on a stool, alone on the stage at the Stanley Theatre, Pittsburgh, he closed the show singing through a veil of unbearable sadness, as if giving account of himself before his audience and his God: "Won't you help to sing/These songs of freedom/'Cause all I ever have/Redemption songs."
David Sinclair
---
Bob Marley And The Wailers
Kaya 40
New Full-Album Mix By Stephen Marley Is Paired With Original 1978 Mix In A Stunning Anniversary Edition.
Buy the Double Vinyl LP here:
Recorded in London concurrently with the material that ultimately comprised 1977's Exodus — a record proclaimed by Time Magazine in 1999 to be the Best Album of the 20th Century — Kaya is the perfect sonic-sibling bookend that shares all the joy, spirit, and literal DNA of some of Marley's most groundbreaking material. Kaya contains a number of the most enduring, heartfelt songs in the entire Marley canon, including "Is This Love," "Easy Skanking," and "Sun Is Shining."
Kaya was initially released just one month ahead of Bob Marley & The Wailers headlining the legendary One Love Peace Concert at The National Stadium in Kingston, Jamaica on April 22, 1978, an event that featured 16 of reggae's biggest acts. One Love Peace was heralded as Marley's triumphant return to his native soil, following his long exile in London after having fled the country as a result of a December 1976 assassination attempt at his Kingston homestead.
The album was recorded with the then-new configuration of The Wailers that comprised brothers Carlton and Aston "Family Man" Barrett on drums and bass, Tyrone Downie on keyboards, Alvin "Seeco" Patterson on percussion, and the I Threes — Rita Marley, Marcia Griffiths, and Judy Mowatt — on backing vocals, along with newest member Julian (Junior) Marvin on guitar. Two of Kaya's songs had previously appeared in different arrangements on 1971's Soul Revolution — the title track, and "Sun Is Shining."
Stephen's goal in mixing Kaya 40 was to create a balance that drew heavily from the original versions. Using Bob's vocals from demos from original Kaya sessions that were recorded at different tempos, Stephen synched the vocals with alternate takes and layered it over different instrumental arrangements. Stephen tried to keep the flavour as authentic as possible. To mix the album, he used a similarly minimal approach, basing his version heavily off the classic analogue concepts they used in the 1970s.
---
Vote for your all-time favourite Bob Marley song or album now!
---
Bob Marley: The Stories Behind The Albums...