Crowded House Classics Get Stunning Extensions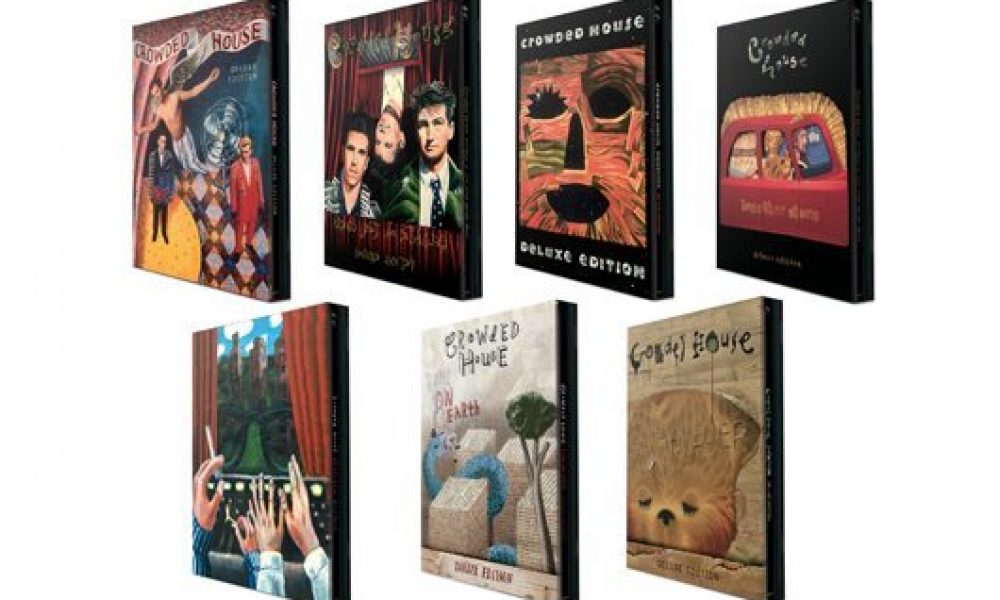 Thirty years after Crowded House's self-titled debut album topped the charts in their homeland of Australia, establishing the band as a global force whose insightful songwriting and pop nous attracted fans from all over the world, the group celebrate their career with long-awaited deluxe editions of all six of their albums (plus the 1999 rarities and outtakes collection, Afterglow). Due for release on 4 November, each album, from 1986's Crowded House through to 2010's Intriguer, will be reissued both as deluxe 2CD editions and on 180g vinyl, with many of the albums returning to wax for the first time since their initial release.
Rightly proud of the band's legacy, songwriter Neil Finn notes that each album is "accompanied by a rich trove of rarities, including writing demos and other unreleased musical curiosities". Describing the process of compiling these exhaustive reissues as "a labour of love" many years in the making, Finn revealed: "our mission all along was making a superlative quality, definitive document of Crowded House's unique history for all the fans who have given us their affection over the years".
In an interview with Australia's 60 Minutes, Finn and bassist Nick Seymour went further into the band's unique history:
Featuring home demos of Crowded House classics such as 'Don't Dream It's Over' and 'Weather With You', along with rare B-sides, alternate recordings and brand new artwork, these lovingly compiled reissues are a fitting celebration of the three-decade career of one of the world's most beloved bands.
Scroll down to read the full tracklistings for each of the deluxe edition CD reissues. Each of the albums will be reissued on both CD and vinyl, and have been made available as complete bundles with an exclusive tote bag here:
The full tracklistings are:
Crowded House:
Original album:
'Mean To Me'
'World Where You Love'
'Now We're Getting Somewhere'
'Don't Dream It's Over'
'Love You 'Til The Day I Die'
'Something So Strong'
'Hole In The River'
'Can't Carry On'
'Tombstone'
'That's What I Call Love'
Bonus disc:
'Something So Strong' [home demo]
'Hole In The River' [studio demo]
'Love You 'Til The Day I Die' [home demo]
'That's What I Call Love' [studio demo]
'Can't Carry On' [studio demo]
'Walking On The Pier' [studio demo]
'Does Anyone Here Understand My Girlfriend' [studio demo]
'Oblivion' [studio demo]
'Walking On The Spot' [studio demo]
'Something So Strong' [studio demo]
'Now We're Getting Somewhere' [studio demo]
'Stranger Underneath Your Skin' [home demo]
'Don't Dream It's Over' [home demo]
'Left Hand' [live]
'Grabbing By The Handful' [live]
'World Where You Live' [writing demo]
'Recurring Dream' [original version]
Temple Of Low Men:
Original album:
'I Feel Possessed'
'Kill Eye'
'Into Temptation'
'Mansion In The Slums'
'When You Come'
'Never Be The Same'
'Love This Life'
'Sister Madly'
'In The Lowlands'
'Better Be Home Soon'
Bonus disc:
'Whispers And Moans' [home demo]
'Never Be The Same' [home demo]
'Dream On' [home demo]
'Never Been Born' [rehearsal excerpt]
'Think I'm Gonna Change' [home demo]
'Into Temptation' [home demo]
'Fire Will Keep Me Warm' ['In The Lowlands' home demo]
'Love This Life' [home demo]
'Sister Madly' [studio out-takes]
'Mansion In The Slums' [live]
'This Is Massive' [live]
'Love This Life' [live]
'In The Lowlands' [live]
'I Feel Possessed' [live]
'Burnt Out Tree' [live]
'Mr Tambourine Man' [live]
'Eight Miles High' [live]
'So You Want To Be A Rock'n'Roll Star' [live]
'When You Come' [live]
'Sister Madly' [live]
'Better Be Home Soon' [live]
Woodface:
Original album:
'Chocolate Cake'
'It's Only Natural'
'Fall At Your Feet'
'Tall Trees'
'Weather With You'
'Whispers And Moans'
'Four Seasons In One Day'
'There Goes God'
'Fame Is'
'All I Ask'
'As Sure As I Am'
'Italian Plastic'
'She Goes On'
'How Will You Go'
Bonus disc:
'Burnt Out Tree' [home demo]
'I May Be Late' [home demo]
'She Goes On' [home demo]
'As Sure As I Am' [home demo]
'My Legs Are Gone' [studio]
'You Got Me Going' [home demo]
'Italian Plastic' [home demo]
'Be My Guest' [home demo]
'Weather With You' [home demo]
'Chocolate Cake' [home demo]
'How Will You Go' [home demo]
'It's Only Natural' [home demo]
'Four Seasons In One Day' [home demo]
'There Goes God' [home demo]
'Catherine Wheel' [home demo]
'All I Ask' [home demo]
'Fields Are Full Of Your Kind'
'Creek Song/Left Hand'
'Fall At Your Feet' [early version rehearsal]
'The Burglar's Song (Medley) – Around The UK In 7 Minutes' [live]
'I'm Still Here' [full version]
Together Alone:
Original album:
'Kare Kare'
'In My Command'
'Nails In My Feet'
'Black & White Boy'
'Fingers Of Love'
'Pineapple Head'
'Locked Out'
'Private Universe'
'Walking On The Spot'
'Distant Sun'
'Catherine Wheels'
'Skin Feeling'
'Together Alone'
Bonus disc:
'Blue Smoke' [home demo]
'Fingers Of Love' [writing demo]
'Private Universe' [home demo]
'The Same Language As Me' [live]
'Tail Of A Comet' [live]
'Distant Sun' [writing demo]
'I Am In Love' [band demo]
'Fingers Of Love' [band demo]
'Fingers Of Love' [alternative studio take]
'Black And White Boy' [early rough mix]
'Locked Out' [Zen mix]
'Newcastle Jam' [studio version]
'Convent Girls'
'Zen Roxy'
Time On Earth:
Original album:
'Nobody Wants To'
'Don't Stop Now'
'She Called Up'
'Say That Again'
'Pour Le Monde'
'Even A Child'
'Heaven That I'm Making'
'A Sigh'
'Silent House'
'English Trees'
'Walked Her Way Down'
'Transit Lounge'
'You Are the One to Make Me Cry'
'People Are Like Suns'
Bonus disc:
'She Called Up' [home demo]
'A Sigh' [home demo]
'Here's A Note' [studio demo]
'Purple Light' [studio demo]
'So Dramatic'
'Stare Me Out' [alternative version]
'Distance Across' [studio demo]
'Lost Island'
'Stare Me Out'
'Bound To Rescue' [home demo]
'Don't Stop Now' [home demo]
'Won't Be Silent' [home demo]
'People Are Like Suns' [piano version]
Intriguer:
Original album:
'Saturday Sun'
'Archer's Arrows'
'Amsterdam'
'Either Side Of The World'
'Falling Dove'
'Isolation'
'Twice If You're Lucky'
'Inside Out'
'Even If'
'Elephants'
Bonus disc:
'Only Way To Go Is Forward' [live]
'Beautiful Life' [live]
'Either Side Of The World' [live]
'Twice If You're Lucky' [live]
'Bound To Rescue' [live]
'God Lives Over The Road' [studio demo]
'Isolation' [studio demo]
'Better Things' [studio demo]
'Even If' [Take 1]
'Archer's Arrows' [alternative version]
'Saturday Sun' [alternative version]
'The Intriguer' [studio]
'Turn It Around'
'Eyes Grow Heavy'
'Two Minutes Of Silence'
'Harken Angels'
'Nonsense Of Course'
Afterglow:
Original album:
'I Am in Love'
'Sacred Cow'
'You Can Touch'
'Help Is Coming'
'I Love You Dawn'
'Dr Livingstone'
'My Telly's Gone Bung'
'Private Universe' [acoustic mix]
'Lester' [demo]
'Anyone Can Tell'
'Recurring Dream'
'Left Hand'
'Time Immemorial'
Bonus disc:
'I Am In Love' [home demo]
'Instinct' [home demo]
'Spirit Of The Stairs' [home demo]
'I'm So Scared Of Losing I Can't Compete' [home demo]
'Everything Is Good For You' [home demo]
'Not The Girl You Think You Are' [home demo]
'Anthem'
'I Don't Know You' [studio demo]
'Taste Of Something Divine' [studio demo]
'Spirit Of The Stairs' [studio demo]
'Loose Tongue' [rough mix]
'Instinct'
'Everything Is Good For You'
'Not The Girl You Think You Are'
Format:
UK English