Adam And The Ants' 'Young Parisians' Turns 45 With Vinyl Reissue
The legendary UK band's debut single, 'Young Parisians' was first released in October 1978.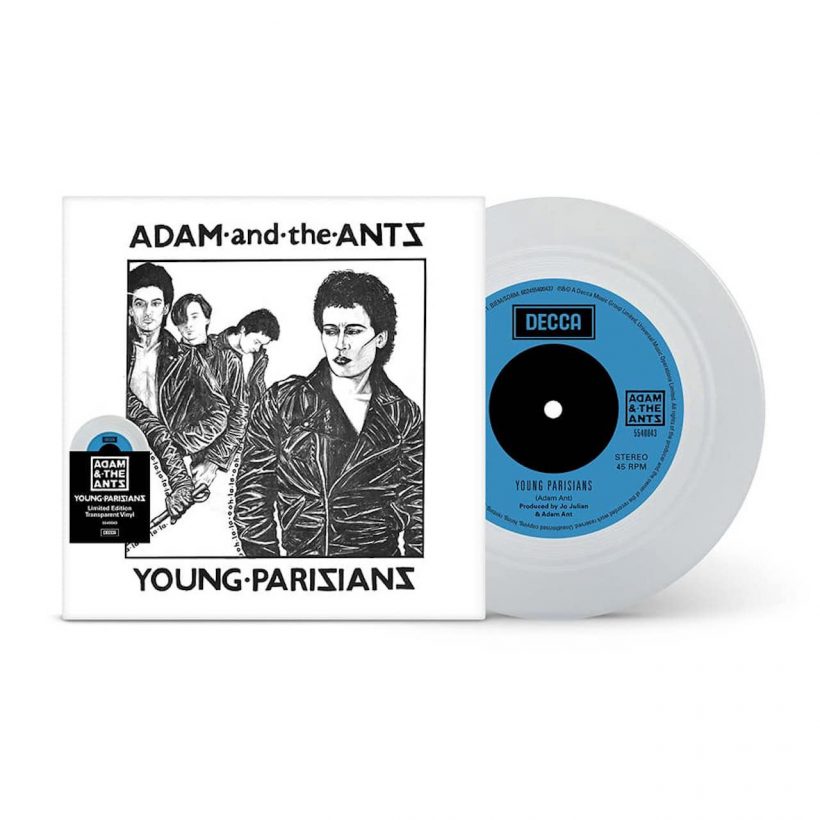 Adam And The Ants' legendary debut single "Young Parisians" and its lost gem of a B-side, "Lady" is set for reissue on 7" on translucent vinyl on October 23. The song will also be released on digital platforms for the very first time. Hand drawn illustrations from Adam himself are also featured on both sides of the sleeve.
"Young Parisians" is an acoustic cabaret-style number that was deliberately chosen as a single to confuse people who viewed Adam And The Ants as a punk band. "Lady," however, demonstrated the band's capacity for fast-paced punk rock. In Australia, DJs on Sydney's Double J radio station preferred to play the B-side, which garnered enough attention for "Lady" rather than the A-Side to appear on the 1980 compilation album In the Bag.
New Wave icons Adam and the Ants formed in 1977 with Adam (real name Stuart Goddard) and a group of friends who had met at Malcolm McLaren and Vivienne Westwood's iconic London fashion boutique, Sex. By 1980, their subversive, ground-breaking sound and iconic fashion had built up a large brigade of loyal fans. Between 1980 and 1982, Adam and The Ants released 3 albums, which all reached the top 10 of the UK Official Albums Chart, including the BRIT Award winning Kings of the Wild Frontier which held the number 1 spot for twelve weeks, and two Number 1 singles in the UK Official Singles Chart, "Stand and Deliver" and "Prince Charming."
Nearly 45 years later, on October 20, 2023, Decca Records will re-release a limited edition translucent 7" of the "Young Parisians" single with its B-side "Lady," which hit number 9 in the UK Official Singles Chart, featuring the original artwork hand drawn by Adam Ant himself. Both singles will also be released digitally, the first time ever "Lady" will be available in digital form.