Blessthefall's Acclaimed 'Hollow Bodies' Set For Vinyl Return This August
Arguably the Arizona band's most successful album, the record went Top 5 on three Billboard charts on first release in 2013.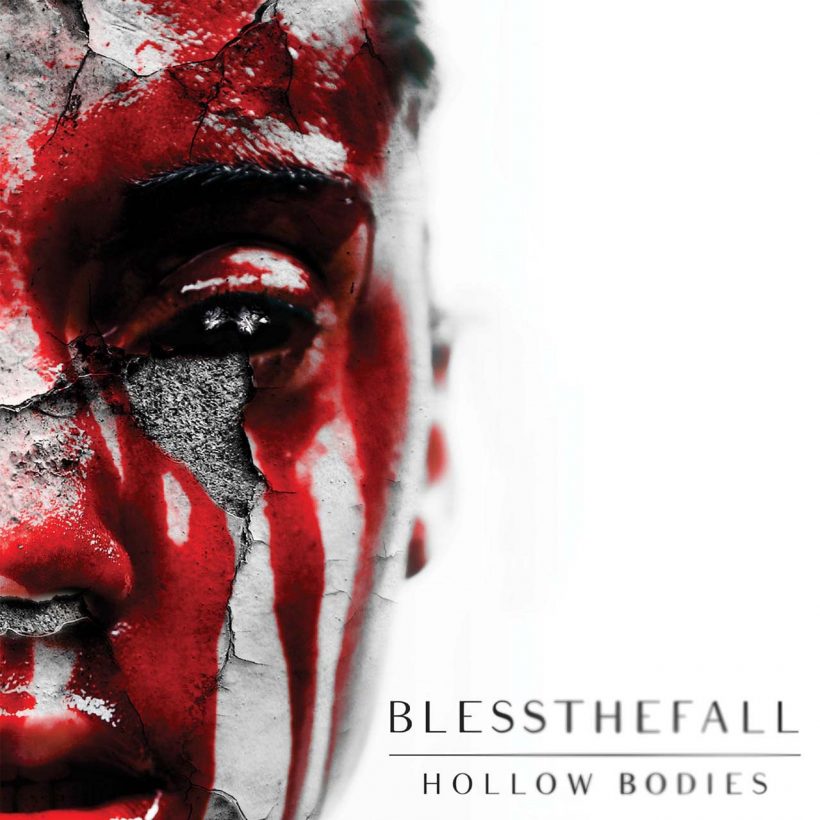 Blessthefall's bestselling fourth album, Hollow Bodies, is set to celebrate ten years a new vinyl reissue, including various limited colored variants, through Craft Recordings on August 18.
Ambitious in its quest to fuse metalcore with electronica, the acclaimed 2013 album includes the singles "Déjà Vu" and "You Wear a Crown But You're No King," and features cameos by Lights, plus members of August Burns Red and Stick to Your Guns. In addition to the widescale release on classic black wax, the LP can be found in a variety of limited-edition color pressings, including clear with bone, red and black splatter, translucent red, red with black splatter and clear and red vinyl. Fans can also pick up a special pressing (black and red vinyl with black splatter) in person during Blessthefall's extensive North American 'Hollow Bodies' anniversary tour this summer. Visit the band's official website for information on all their forthcoming dates.
blessthefall - You Wear a Crown But You're No King
Blessthefall was first formed in 2004 by a group of high school friends in Phoenix, AZ. Within three years, they signed their first label deal, released a bestselling debut, His Last Walk, and established a loyal fanbase. The band embarked on a nationwide run with the 2007 Warped Tour and played supporting slots for acts like All That Remains, From First to Last and Alesana. In 2009, Blessthefall signed to Fearless Records, where they continued to build upon their foundation, thanks to acclaimed albums like Witness (2010) and Awakening (2011), both of which performed well on the Billboard 200 and landed in the Top 10 of the US Hard Rock and Independent Album charts.
By 2012, the band's lineup settled upon vocalist/bassist Jared Warth and clean vocalist/keyboardist Beau Bokan, as well as Eric Lambert (lead guitar, backing vocals), Elliot Gruenberg (rhythm guitar) and Matt Traynor (drums) when they entered the studio to begin work on their eagerly anticipated fourth album. Produced by Joey Sturgis (The Devil Wears Prada, Asking Alexandria), Hollow Bodies saw the band experimenting with a heavier, darker sound, while still retaining their trademark sound of symphonic instrumentals with rapid-fire riffs and beats.
Setting the tone for the album is the dramatic opening track, "Exodus," which transitions between ethereal melodies and ferocious breakdowns, as Warth's growls contrast with Bokan's emotive vocals. Equally as cathartic are the breakneck singles "You Wear A Crown But You're No King" (which the band premiered at Warped Tour 2013) and "Déjà Vu." In contrast, the record also includes the heartbreaking, synth-driven ballad "Buried In These Walls," and an emotive duet with the Juno Award-winning singer-songwriter Lights, "Open Water." The band also sought out several other collaborators on the album, including Pierce the Veil's Vic Fuentes, who co-wrote the hook-filled "See You on the Outside," and Stick to Your Guns frontman Jesse Barnett, who adds vocals to "Youngbloods." The anthemic "Carry On," meanwhile, features August Burns Red singer Jake Luhrs.
Released in August 2013, Hollow Bodies was met with broad critical acclaim, as journalists and fans alike embraced the band's heavier sound. Alternative Press praised Hollow Bodies as "an ambitious, impressive album," while Rock Sound declared, "This group is still the undisputed ruler of the post-hardcore scene." Hollow Bodies also marked the band's most commercially successful record to date, debuting at No.15 on the Billboard 200, topping the Hard Rock chart, and peaking in the Top 5 on Billboard's Alternative Albums, Independent Albums and Rock Albums charts.
Reflecting on the LP, as well as the band's return to the road, Beau Bokan says, "Hollow Bodies was the album that took our band to the next level and for that, we are forever grateful. Being able to do a 10th anniversary tour and play the record in its entirety is going to be incredibly special. It's been four years since we played a live show and want to pick up right where we left off. We can't wait to see your sweaty faces in the crowd!"
Since the success of Hollow Bodies, Blessthefall has released two more bestselling albums, To Those Left Behind (2015) and Hard Feelings (2018), both of which landed in the Top 5 of Billboard's Alternative and Independent charts, as well as the Top 10 of the US Hard Rock and Rock charts.