The Rolling Stones' 'Exile On Main St."s Influences, Explained
Aretha Franklin, Angela Davis, and English tax law are just a few of the things that made the album so special.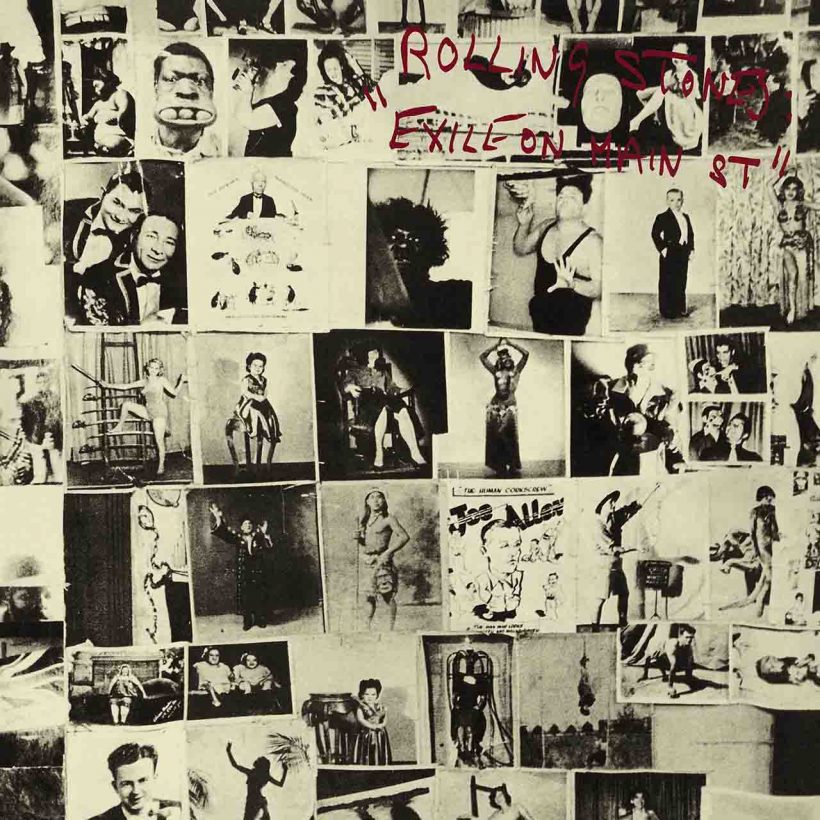 For years, Mick Jagger had denounced the virtues of Exile On Main St., the Rolling Stones' louche double album from 1972 that many fans consider the group's pièce de résistance, claiming that the sheer breadth of sonic diversity across its 18 tracks made for a "sprawling" affair.
This was, in part, due to its genesis – some songs date back to 1969, when they were worked up in Olympic Studios in London, or the following year at Jagger's English country house, before sessions were held in the South of France over the summer of 1971, then finished up in Los Angeles at the beginning of 1972. Jagger and drummer Charlie Watts mixed and recorded a lot in Los Angeles, it must be said, pulling together, polishing up, and dramatically changing some of the songs that would make it on the record.
Listen to The Rolling Stones' Exile On Main St. on Apple Music or Spotify.
Nonetheless, Jagger once explained, "it's not a concentrated two-month period. If you make a record over a concentrated two-month period, you'll somehow encapsulate what you felt. Whereas if you record something over a three-year period, you're not – but you're going to get something else."
That something else, of course, is exactly what defines Exile's distinct, exquisite beauty. It's an indefinable vibe that exudes from its grooves, a sense of exuberant looseness that no doubt reflects the free manner in which it was recorded. Thrillingly raw and gloriously sleazy, Exile is a cluttered scrapbook of influences picked up along the way. In celebration of those influences, here is a bit more about just a few of the intriguing ingredients that fed into this most enchanting masterpiece.
The Inland Revenue
In 1970, the Rolling Stones made an uncomfortable realization. Management had not paid the group's income tax in the preceding years and, under Prime Minister Harold Wilson's Labour government, where highest earners faced a supertax of up to 98%, the Stones owed the Inland Revenue millions of pounds. The bill was impossible to pay while continuing to live in the UK and their new advisor, Prince Rupert Loewenstein, recommended in early 1971 that their only chance of solvency was to leave the country immediately, before the end of the financial year, to ensure that the year's profits would be tax exempt. Their new album, therefore, was set to be recorded in sunnier and arguably more agreeable climes, as the group decided to relocate to the South of France.
Villa Nellcôte
Upon arriving in France, the Stones scattered themselves around the country. Drummer Charlie Watts bought a farm in Arles, bassist Bill Wyman ended up in Vence, guitarist Mick Taylor opted for Grasse, while Jagger split his time between Biot and Paris, where his pregnant wife, Bianca, was living. With few professional studio options in the area, Villa Nellcôte – Keith Richards' 16-room Belle Époque mansion in Villefranche-sur-Mer – quickly became the center of operations. The newest resident chose to forego the inspirational views of the Mediterranean by setting up a makeshift studio in the villa's labyrinthine basement.
As much as the sound of Exile On Main St. was impacted by the revolving door of guests who'd stay upstairs as well as the musicians who played on it, the album is positively imbued with the resonant ambience of its birthplace.
Its signature murkiness can be attributed to the intense heat and humidity in the basement – with temperatures often reaching 100 degrees, it's little wonder sessions would often begin at night. ("Everybody's gonna need a ventilator," Jagger sang in "Ventilator Blues," surely a nod to the sticky working conditions.) The album's roughhewn nature is a marked reflection of its environment, where old carpets were laid down to muffle sounds, and chiffon scarves were draped over lampshades.
"It was a dirt floor," Keith said of the rustic refuge. "You could see somebody had walked by, even after they disappeared 'round the corner, because there'd be a residue of dust in the air. It was a pretty thick atmosphere. But maybe that had something to do with the sound – a thick layer of dust over the microphones."
Another issue? Electricity. The Stones knew that they would require more power than Nellcôte could provide to keep their amplifiers and mobile recording truck running. ("I mean, it's France, man," Keith would say. "They were still using horses to plow – a telephone call would take half an hour.") To circumvent this issue, the band's engineers illegally tapped into the railway grid across the street.
William S. Burroughs
At 57, the American writer William S. Burroughs was a whole lifetime older than most of the guests who'd descend upon Nellcôte during Keith's residency. Though he professed to hating rock music, Burroughs' path had crossed with that of the Stones' a few times previously in the circles of the late 60s underground scene. Notably, he was one of the first people to hear the recordings made by original Stones guitarist Brian Jones of the Master Magicians of Jajouka group from Morocco in 1968, later providing liner notes for the album's reissue.
In early 1971, Burroughs was in London, and aided Keith Richards with a quick yet brutal method of aversion therapy to cure his heroin addiction before embarking on their "farewell" UK tour. That summer, Burroughs visited Keith in France where it's thought Burroughs was also courting Mick Jagger for a part in the movie adaptation of his notorious novel, Naked Lunch.
By the time the Stones had moved their operation to LA, some recordings were still incomplete and required lyrics. Lacking inspiration for one number, "Casino Boogie," Mick and Keith resorted to Burroughs' "cut-up" technique, in which words or phrases are mixed up and rearranged into a new and random order (a method David Bowie would also successfully adopt).
Gram Parsons
Gram Parsons enjoyed an extremely long stay at Nellcôte – ostensibly because he was able to pay his own way, but mostly because his deep knowledge and appreciation of country music made him a kindred spirit of Keith's. The music they'd play together, inspired by their endless conversations about Merle Haggard, Buck Owens, Hank Williams, George Jones, et al., was hugely impactful on the songs Keith would compose with Mick. You can hear Gram's influence clearly in "Torn And Frayed" and especially "Sweet Virginia."
The Rolling Stones - Sweet Virginia (Live) - OFFICIAL
It was even rumored that Gram could be heard on the latter, but it seems any contributions Gram may have made to the recordings never made it to the final mix. "You know, if I have a friend – and Gram was my friend," Keith stated, "Mick sometimes gives off a vibe like, 'You can't be my friend if you're his.' It could be a bit to do with why Gram's not playing on the record."
Aretha Franklin
The Rolling Stones were no strangers to the divine influence of gospel music. But the tangible presence of that influence on songs like "Tumbling Dice," "Loving Cup," "Let It Loose," and "Shine A Light" can be traced to the overdubs that were added to the songs in Los Angeles, after Jagger and Charlie Watts attended a legendary concert by the Queen of Soul, Aretha Franklin.
The Rolling Stones - Tumbling Dice (Live) - OFFICIAL
Franklin, the daughter of a Baptist minister, had wanted to revisit her roots in the most authentic fashion, and decided to record a live album in the New Temple Missionary Baptist Church in LA. Backed by the Southern California Community Choir, over two nights Franklin delivered from the lectern an incredibly powerful and deeply impassioned performance of spirituals that would form her wonderful 1972 album Amazing Grace. In 2018, the film of the same name, which documents the entire glorious sermon, reveals the joyously stunned faces of Jagger and Watts amid the congregation.
Angela Davis
Though the Stones had never met Angela Davis, the civil rights activist who was arrested in 1970 on charges of murder, kidnap, and criminal conspiracy, the group – Keith later declared – "admired her from afar."
A former philosophy professor at UCLA, Davis had bought guns that were used in a failed attempt to raid a courtroom and free three black men, known as the Soledad Brothers, who were accused of murdering a prison guard. The defendants, and the judge they took hostage, were all killed in the gunfight that ensued, leading Davis to flee California to escape capture. Caught two months later, Davis – branded a "dangerous terrorist" by President Richard Nixon – was imprisoned for 16 months before facing trial.
While she was incarcerated, a swelling of support rose to defend Davis: Aretha Franklin offered to pay her bail, John Lennon and Yoko Ono penned the song "Angela" in tribute, while The Rolling Stones set to work on "Sweet Black Angel."
The percussive acoustic country folk song pleaded for justice on behalf of Davis ("Ain't someone gonna free her?" Jagger implores) and is as swampy as it is funky, but the legacy of "Sweet Black Angel" has diminished over the years as Jagger's attempt at patois and use of a racial slur incurred much derision.
Angela Davis was found not guilty at her trial in the summer of '72, and today is a celebrated icon of feminism, a fierce advocate of prison abolition, and a leading proponent of Black liberation.
Listen to The Rolling Stones' Exile On Main St. on Apple Music or Spotify.