Carrie Underwood Set To Return To 'Sunday Night Football' In 2023
Underwood will perform her now-classic track 'Waiting All Day for Sunday Night.'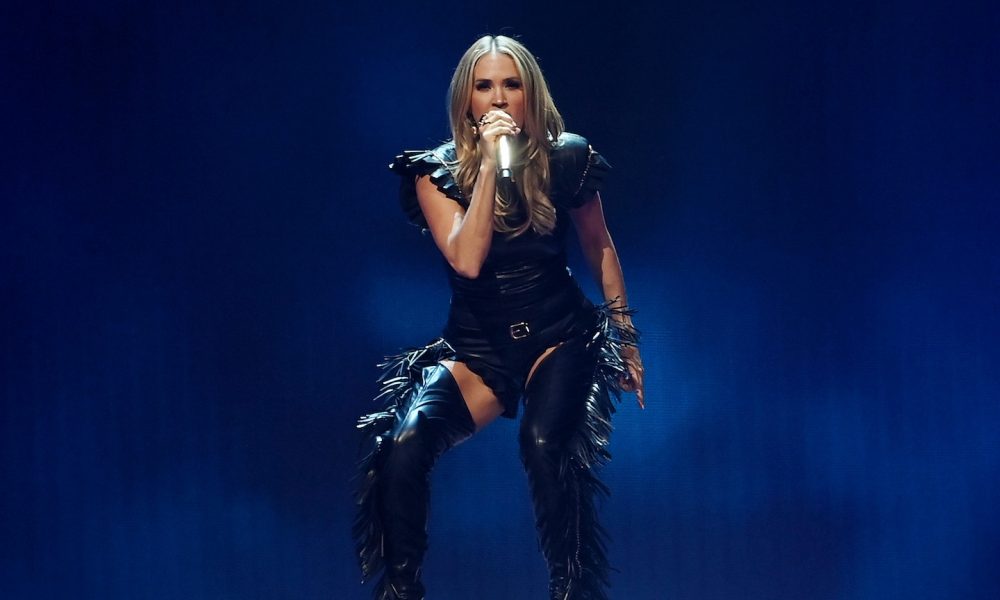 Carrie Underwood will return to Sunday Night Football in 2023 to sing the show's opening theme for an 11th straight year. Her new NFL intro will lead into a game featuring the team she rooted for growing up.
The new show open for Sunday Night Football on NBC will debut on September 10 before the Dallas Cowboys host the New York Giants.
Underwood will once again perform an updated version of "Waiting All Day for Sunday Night," a song based on Joan Jett's hit "I Hate Myself for Loving You."
A preview of the new show open will broadcast during NBC's Hall of Fame Game on Thursday, August 3. This year's Sunday Night Football opener was shot at the Resorts World Theatre in Las Vegas, where Underwood performs an ongoing residency. The concert footage will be spliced with a surprise element.
Back in June, Underwood announced a deluxe edition of Denim & Rhinestones. The forthcoming project, which is due out in September, will feature six new tracks, in addition to the 12 on the original version.
Underwood began teasing the deluxe edition in June when she released "Take Me Out." Limited edition packages of Denim & Rhinestones (Deluxe Edition) will be available, including a double picture disc vinyl version, CD, poster, and more.
In "Take Me Out," the eight-time Grammy-winner sings "Ain't nothin' wrong with us; it's just that sometimes love gets covered up in life." The Nash News writes of the track: "'Take Me Out' is meant to slow dance to. The tempo lays the groundwork for the longing in Underwood's voice. She sings about wanting to spend more time with the person she loves.
"As life can be chaotic at times, it's important to make time for those who matter most. Especially in relationships, sometimes all it takes is time alone. 'I miss your touch / I miss that fire/So kiss me like it's the first time tonight.' The softer, more vulnerable Underwood songs make people realize why they love her all over again."
Listen to the best of Carrie Underwood on Apple Music and Spotify.