Dave Mustaine Of Megadeth Picks Five Records He Can't Live Without In New Interview
Mustaine picked albums from The Beatles, Led Zeppelin, and more.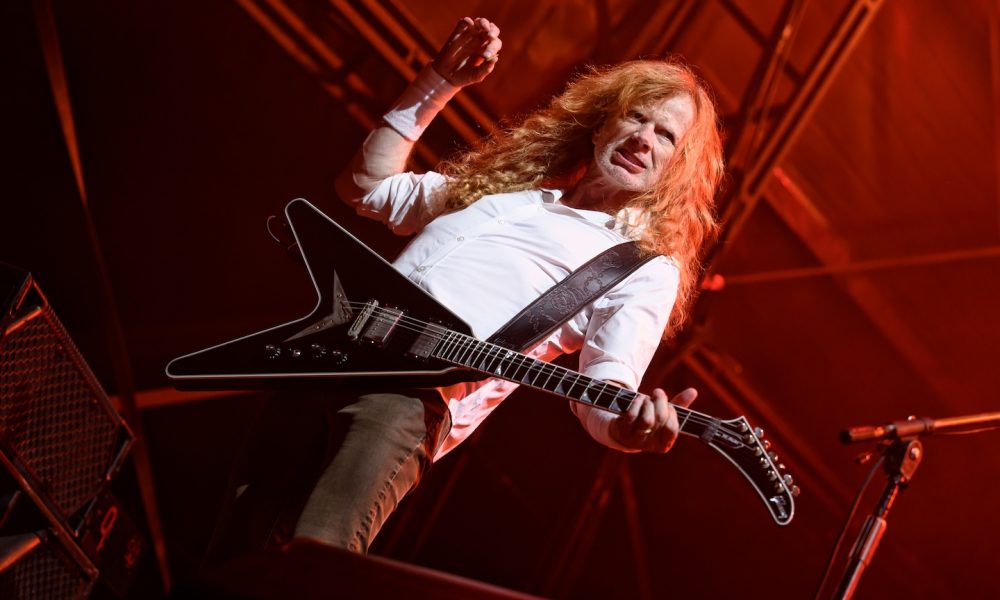 Dave Mustaine of Megadeth has shared the five albums he can't live without in a new interview, selecting records from artists like The Beatles, Led Zeppelin, and more.
Shop the best of Megadeth's discography on vinyl and more.
Speaking to Spin for the publication's Five Albums I Can't Live Without feature, Mustaine revealed his picks from Nashville, Tennessee. When asked to describe what he was best known for, Mustaine wrote, "Probably guitar playing and probably a little bit of sarcasm and probably a lot about political lyrics."
Mustaine kicked things off with The Beatles' White Album, writing, "One of the most influential records for me as far as songwriting is concerned is the Beatles' White Album — brilliant bass work and harmonies. I think Sir George Martin was immortal amongst mortals and his talent is just mind-blowing. Where would we be if it wasn't for his overdubbing? I don't know. We'd still be using four tracks, I'm sure. I love the combination of McCartney and Lennon, although it's really easy to see the difference between John's writing and Paul's writing. John's stuff was kind of the intense stuff, and Paul's stuff was kind of the love song, syrupy kind of stuff. I love them both."
He then went on to explain his love for Led Zeppelin IV, saying, "The way that they were able to feature a solo guitarist and have a band with such breadth and depth…it doesn't really seem like four guys can get on a stage and make that sound. It's almost like an occurrence, like the soundtrack of a fucking train wreck or a hurricane coming through. When you picture something like that, it's just awe-inspiring.
"I loved the Tolkien stuff that Robert Plant sang about…I felt that it was really neat because the medieval approach that the band emoted with their music. It dovetailed nicely with the Tolkien lyrics."
Mustaine also penned tributes to UFO's Phenomenon, AC/DC's Let There Be Rock, and Diamond Head's Lightning to the Nations.