Def Leppard Shares Episode Seven Of 'Beyond The World Tour' Video Blog
This week, the legendary rockers travel to Scandinavia for a trio of rapturously-received festival shows.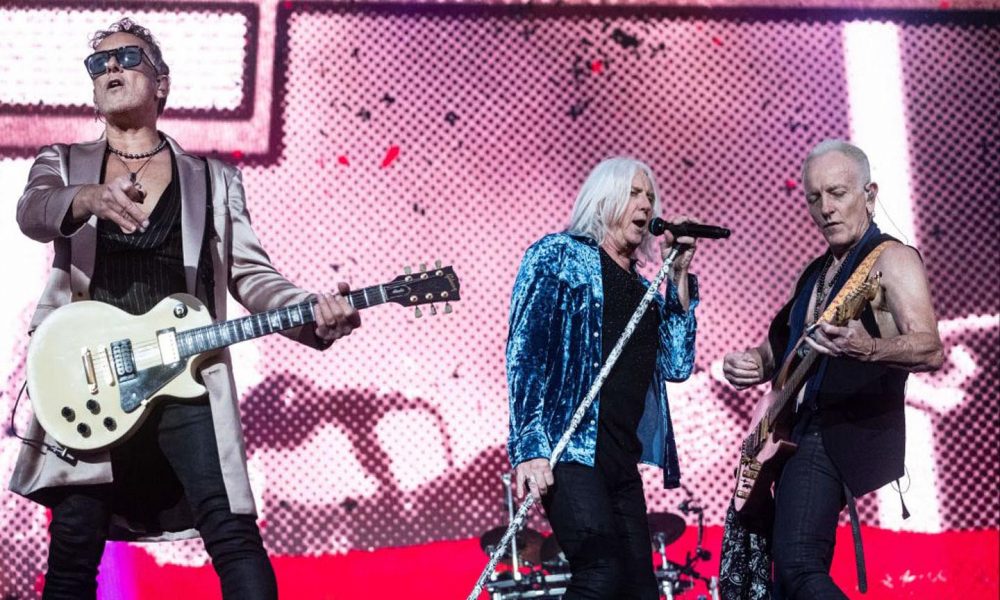 Def Leppard has shared episode seven of the on-going video blog series 'Behind The World Tour', charting the European leg of its "The World Tour" with Motley Crue. You can watch the newly-released episode seven on the band's official YouTube channel, but if you scroll down, you can firstly enjoy a few extracts from it in advance.
Shop the best of Def Leppard's discography on vinyl and more.
The previous episode of 'Behind The World Tour' followed the band as they touched down in Eastern Europe for a hectic run of shows in Budapest, Krakow and Prague. This week – following a short break ("We were based in Prague for six days and I went home for two, it was awesome!" Joe Elliott says) – episode seven of 'Beyond The World Tour' sees Leppard and the Crue head to Scandinavia for festival shows in Sweden, Finland and Norway, which just get better and better.
"We've just had an astonishingly good gig", Joe Elliott says following the band's set in Solvesborg, Sweden. "I feel really blessed to be in this band and to do this. Tonight, with that audience…the "woah" bits at the end of "Hysteria"? Hold God…that was unbelievable! Thank you everyone."
However, the band keep raising the bar as they visit Finland and Norway, despite playing long sets finding them going onstage – and also coming back offstage – in daylight. In Finland, guitarist Vivian Campbell notes "It's almost 10.30 at night, but you wouldn't know it, because it's so bright I have to wear shades" but Leppard are playing triumphant shows regardless.
"So we just played in total daylight and it was amazing," guitarist Phil Collen says in summation following the band's show in Trondheim, Norway. "I think we've hit our stride. It doesn't seem to matter if the sun's up or we haven't got all the lights, we're just on fire at the moment."
Following on from "The World Tour's European leg, Def Leppard and Mötley Crüe will team up with Alice Cooper for a U.S. mini-tour this summer. The trek will kick off on August 5 in Syracuse, New York and include stops in the Midwest before concluding in El Paso, Texas on August 18.
Just prior to the UK and European leg of "The World Tour", Def Leppard released Drastic Symphonies, the much-anticipated new album which sees the legendary rockers teaming up with the UK's widely-renowned Royal Philharmonic Orchestra.
The album is now available on CD, 2LP black vinyl, limited edition 2LP colored vinyl, limited 2LP picture disc, CD/Blu-Ray (Atmos), and on digital platforms.