Def Leppard Release Royal Philharmonic Orchestra Collab 'Drastic Symphonies'
Out now, the new album finds some of the band's best-loved songs deconstructed and rebuilt with the majestic accompaniment of the iconic RPO.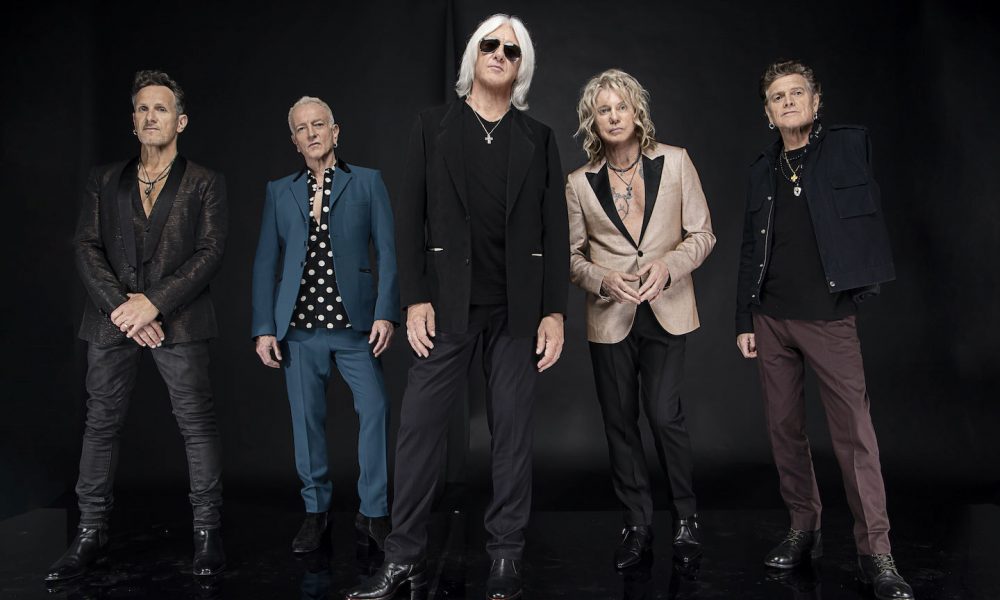 Def Leppard has released Drastic Symphonies, the much-anticipated new album which sees the legendary rockers teaming up with the UK's widely-renowned Royal Philharmonic Orchestra.
The new album finds some of the band's best-loved songs deconstructed and rebuilt with the majestic accompaniment of the iconic orchestra. However, while the record largely presents the original audio of Leppard classics, newly combined with the RPO, Drastic Symphonies also includes new vocals and guitars to create stunning new symphonic arrangements. At different stages of the record, listeners will even be able to discern frontman Joe Elliott duetting with his younger self.
Shop the best of Def Leppard's discography on vinyl and more.
The Royal Philharmonic Orchestra was recorded at Abbey Road in March 2022, and the album was produced by Def Leppard, Ronan McHugh and Nick Patrick, the producer of RPO orchestral albums by Elvis Presley, Roy Orbison, the Beach Boys, and Buddy Holly. Arrangements are by Eric Gorfain, known for his work with Neil Diamond, Ryan Adams, Christina Aguilera as well as his contributions to Def Leppard's last studio album, Diamond Star Halos and for Elliott's other band, Down-N-Outz.
The band spoke in detail about their collaboration with the Royal Philharmonic Orchestra and the making of Drastic Symphonies in a recent interview with Talk Shop Live, where guitarist Phil Collen said, ""When you hear an orchestra I mean it gives you goosebumps anyway. But that particular orchestra, you know, they're amazing. That's the guys you want you know."
"When they were doing it we were just blown away", he added. "Couldn't have been any better. And it does give it a different dimension."
"Once we got started with this, the mantra within the band was "this has got to sound like James Bond", we wanted this John Barry-type sound", vocalist Joe Elliott furthered.
"We love all these classic movies with amazing car chases and we wanted to music [on Drastic Symphonies] to be giant screen-sounding. Certain songs [from our catalog] wouldn't have worked in this context. We were very picky about the track selection. Some of the hits are in there, but there's also some really deep stuff that does sound spectacular."
Phil Collen agrees, concluding, "Our label actually suggested it originally, and we said we'd do it so long as we could be really involved with the process, with the song selection and everything else. We're really proud of the results, but then we wouldn't have done it if we didn't think it would be spectacular."
Drastic Symphonies is now available on CD, 2LP black vinyl, limited edition 2LP colored vinyl, limited 2LP picture disc, CD/Blu-Ray (Atmos), and on digital platforms.