Demi Lovato Delivers Riotous Performance Of 'Substance' On 'Kimmel'
The latest track from their upcoming album 'Holy Fvck' arrived last week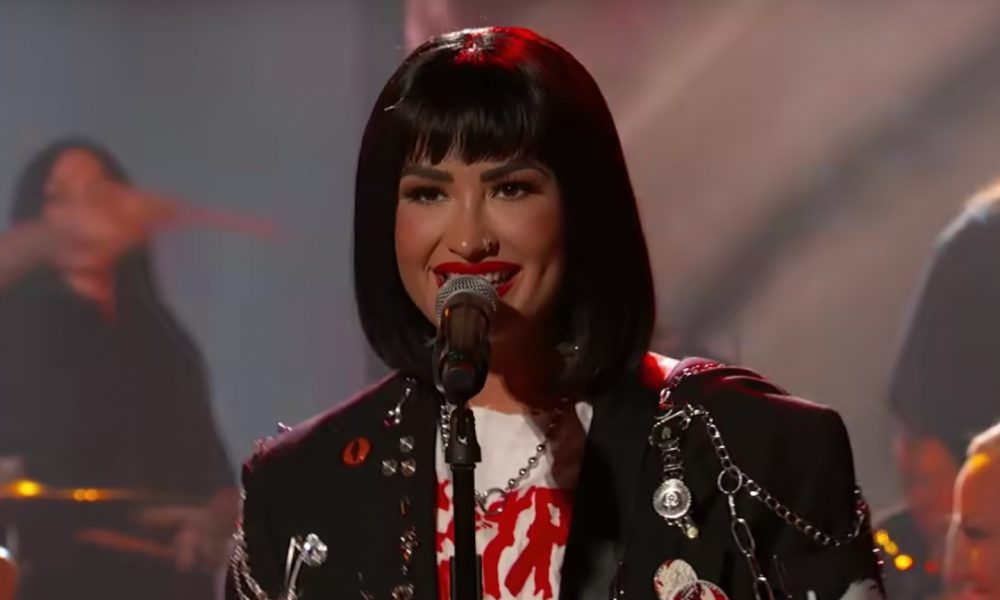 Demi Lovato stopped by Jimmy Kimmel Live! last week to perform their new single "Substance," showcasing its pop-punk roots.
The track arrived last Friday (July 12) and marked the second preview of Lovato's upcoming album Holy Fvck.
Backed by a live band, the singer rocked out on a stage framed in red light and showed images from the music video on the screens behind them. They also strapped on a guitar and played through the choruses, adding an extra layer to the anthemic new song.
Demi Lovato - SUBSTANCE (Live On Jimmy Kimmel Live! / 2022)
During an interview on Kimmel on Thursday, Lovato spoke about the sound of their new record. "I'm so excited – I'm going back to my roots," they said of the record's sound. "When I started out in this industry, it was pop rock and I was a huge fan of the Warped tour days and the emo days, so I'm just going back to that. This is all about rock and roll."
Holy Fvck will arrive on August 19 via Island Records. The star has previously shared one track from it before "Substance" – "Skin Of My Teeth." "I'm alive by the skin of my teeth / I survived, but it got harder to breathe / Askin' why doesn't make it easier / Go easier on me," Lovato sang on the chorus of that song, with gut-punching passion over a bed of electric guitars. "G______n it, I just wanna be free / But I can't 'cause it's a f_____g disease."
The new album will feature collaborations with Yungblud, Royal & The Serpent, and Dead Sara. Speaking in a press release when the record was first announced earlier this year, Lovato said: "The process of making this album has been the most fulfilling yet, and I'm grateful to my fans and collaborators for being on this journey with me.
"Never have I been more sure of myself and my music, and this record speaks that for itself. To my Lovatics who have been rocking out with me since the beginning and those who are just now coming along for the ride, thank you. This record is for you."