Don McLean Reflects On Tyson Fury, 50 Years Of 'American Pie,' And More
'It just thrills me that he enjoys singing the song and has sort of attached himself to it,' McLean explains regarding Tyson Fury.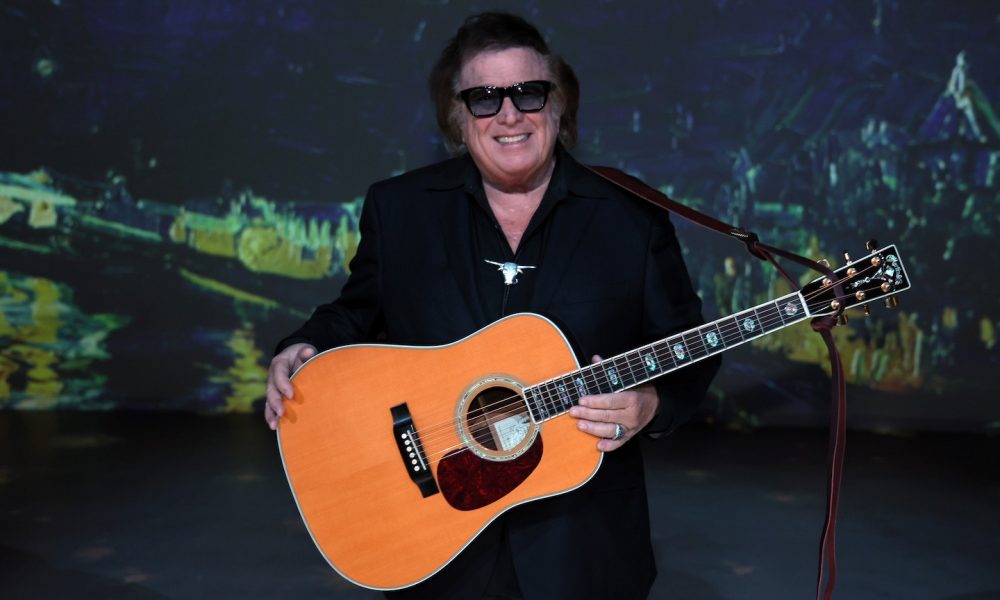 When Don McLean first heard world heavyweight champion Tyson Fury perform his classic, iconic song "American Pie," he was thrilled. Fury has become synonymous with the track, singing it after knockout victories and iconic moments in his career. His charm, charisma, and ferocious fighting style have brought a new perspective to the song, and introduced it to a new audience, much to the delight of McLean.
"It just thrills me that he enjoys singing the song and has sort of attached himself to it," McLean explains to uDiscoverMusic. It was a rather fortuitous development for McLean and his team, who were brainstorming ways to help celebrate the 50th anniversary of the song and the album of the same name.
Don McLean Shares Message With World Heavyweight Champ Tyson Fury.
"I started hearing about this guy and I started catching the fights that he was doing and he has a rather unorthodox style but he beats everyone. He's the champ," McLean explains. "He starts singing my song and it went all over the place. That's another thing that happened in this 50th anniversary celebration, which we certainly didn't plan on, is having the heavyweight champion of the world sing 'American pie.' I thought it was hilarious."
To help promote his boxing match with fellow Brit Dillian Whyte at Wembley Stadium on April 23 (Fury won) the fighter joined forces with McLean to create a brand-new rendition of  "American Pie." The latest iteration of the song sees McLean singing the verses to "American Pie," perfectly articulating Tyson's comeback story, before he's joined in the chorus by the Gypsy King himself. The Morecambe-based fighter is no stranger to jumping on the mic, having previously appeared on Robbie Williams' song "Bad Sharon" in 2019.
McLean was ultimately impressed by Fury's vocal performance. "A lot of people thought that was me singing, but it's him," he explains with a chuckle. "He sings it perfectly in tune, and he's got a fine voice." McLean also took some inspiration from Fury's story and his mentality as a winner. "You're not a champion unless you get up, 'cuz we all get knocked down."
Fury's adoption of "American Pie" may seem fortuitous, considering it came shortly before the 50th anniversary of the song, but McLean is used to the sort of happy accidents surrounding the song. "I call 'American Pie' Donny's Comet, because it comes back every 10 or 20 years just like Halley's Comet," he says. "Every few years it comes back and you see it in the sky."
Though it has become one of the most important songs in American pop music, parts of its success still eludes McLean on the track's seminal anniversary. Part of it, certainly, is how it chronicles American life and the development of children into adults. " I really don't know [why it still resonates so intensely]. It's been adopted by people and they've made it their own. They've handed it down to their children. It starts out as a children's song," says McLean. "They grow up with it and learn more about Buddy Holly and rock and roll and American history, they grow old and they hand it down to their kids. I think that's part of it. That's what a folk song is all about."
Don McLean Shares The Story Behind "American Pie"
Don McLean has had 50 years to reflect on "American Pie" and its role in pop culture, but he is still bewildered by the gorgeous magic he was able to manifest with his rock epic. "It's an elliptical kind of a mystical story," he explains, before reflecting on the role art plays in our lives. "It's the same reason that poetry stays alive. It's the same reason that certain movies stay timeless."
Still, McLean credits the mysteries of songwriting for the song's success. He tried his hardest, and it turns out his hardest was more than enough. "Every song that you write you try to do the best you can. I had no idea that something would happen in this realm with 'American Pie.'" McLean is, after all these years, just grateful for the opportunity to continue pursuing his life's passion, thanks to the lasting nature of his work and the stars like Tyson Fury who become adopters of his message. "I never thought I'd be around in 50 years," McLean concludes with a chuckle, before adding, "I certainly never thought I'd be singing in 50 years."