Eddie Vedder's 'Earthling' Debuts As Top-Selling Album In North America
The achievement marks Vedder's highest solo album debut on the Billboard Top Album Sales, Top Rock Albums, Top Current Album Sales Chart.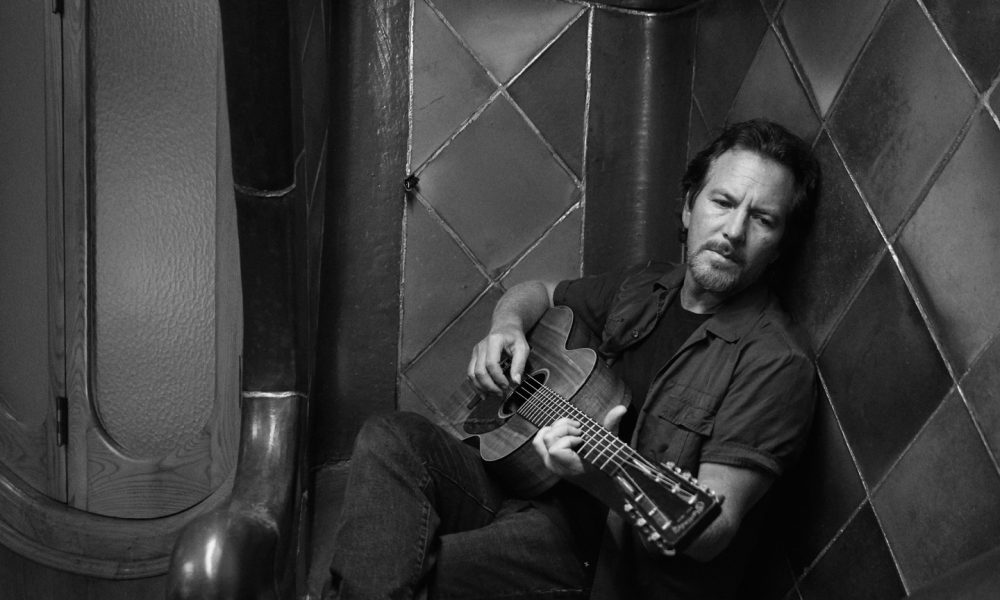 Eddie Vedder's new solo album, Earthling, has debuted at No. 1 on Billboard's Current Albums Sales, Album Sales, Rock Albums Charts and is currently the top-selling album in North America.
Across the globe and in the US Earthling has made history as it marks Vedder's highest solo album debut on the Billboard Top Album Sales, Top Rock Albums, Top Current Album Sales Chart, and #1 on Alternative Album Sales (per MRC Data), No.1 on the Canadian Top Current Albums, Top Canadian Album Sales, Alternative Album, Current Digital Albums, and LP Vinyl Albums Charts, and continues to hit new highs in numerous countries including Switzerland (#3), Belgium (#5), Netherlands (#5), Germany (#11), UK (#36). In addition, the album was the highest international debut in Italy (#10) and hit Top 10 in Australia.
In celebration of the recent release, Eddie has done numerous interviews including speaking with Bruce Springsteen at his farm in New Jersey where the two discussed the album at length -directed by Thom Zimny, sat down for a beautiful and honest conversation with New York Times Magazine's David Marchese, chatted with Jason Bateman, Sean Hayes & Will Arnett for their SmartLess Podcast, and gathered The Earthlings for a discussion with Zane Lowe.
Eddie Vedder - Brother the Cloud (Lyric Video)
In addition, press have been raving about Earthling with NPR calling it "a raging solo album" and Rolling Stone praising Eddie's performance saying "It's his most revealing solo release, since, musically it feels more like Vedder we've known for 30 years and not a purposeful departure from Pearl Jam… (On Earthling) he bares his soul." Billboard described the album with "…Vedder sounds like he's having a ball," and American Songwriter named it: "it's his best yet."
Earthling, which was produced by Grammy Award-winning producer Andrew Watt, is Vedder's first album since 2011's Ukulele Songs and his first solo tour in over a decade. The record  illuminates every side of Vedder and includes collaborations with some of music's most iconic legends, including Stevie Wonder, Ringo Starr, and Elton John as well as Andrew Watt, Chad Smith, and Josh Klinghoffer.
In order to bring the album to life on stage, Eddie Vedder and bandmates the Earthlings are on continuing on the road for a series of U.S. concert dates in February for The Earthlings Tour 2022. After a string of shows in Vedder's hometown of Seattle the tour wraps up on February 27 in San Diego after its sold-out run. Special guest Glen Hansard will open the shows.
The Earthlings are drummer Chad Smith, keyboardist/guitarist/vocalist Josh Klinghoffer, bassist Chris Chaney, guitarist/vocalist Glen Hansard, and guitarist Andrew Watt. The newly formed group gave their live debut at Vedder's own Ohana Festival this past September.